After the huge success of Thuppakki and Kaththi, director AR Murugadoss and Vijay have teamed up again for Sarkar. The film is an intense political drama that is based on recent political developments including the Tamil Nadu chief minister's death.
The music of Sarkar has been composed by AR Rahman. The songs of the film are already a hit.
Also Read | Sarkar movie review: Not a Sarkar Deepavali
Produced by Sun Pictures, the movie also stars Keerthy Suresh, Varalaxmi Sarathkumar, Yogi Babu and Radha Ravi among others.
Read updates in Tamil | Malayalam | Hindi
Sarkar was released in over 3,000 screens across the globe and in more than 80 countries, including South Africa, Poland and Ukraine among others.
Live Blog
Read all the updates about Vijay's Sarkar.
Our verdict
If Sarkar was a political launchpad for Vijay, then you could say, he won. But unfortunately, this is a film. Those slo-mos, action blocks and stylish-tossing-cigarette-moments doesn't help if you see the film as a whole. Vijay's terrific screen presence makes this underwritten saga somewhat bearable. But that doesn't mean one would enjoy everything in a star-driven film.
Also Read | Sarkar movie review: Not a Sarkar Deepavali
Watch CEO In The House from Sarkar
Strong message well delivered, says Harish Kalyan
Actor Harish Kalyan wrote on Twitter, "#Sarkar A strong msg well delivered.. kudos to the entire team! Namba #thalapathy does it again! Whatteee presence and style! #SarkarDiwali."
Fans outside theatres are crowding to watch Sarkar in Chennai
Dhananjayan on Sarkar
Filmmaker G Dhananjayan wrote on Twitter, "#Sarkar is very stylish with a good social message from @ARMurugadoss sir. Certainly a good watch this Diwali for @actorvijay sir's most stylished acting with impactful dialogues. Go & celebrate with family 💐💐💐👍👍"
Hema Rukmani on Sarkar
Hema Rukmani posted on Twitter, "#TopTucker #SARKAR pakka entertainer #Thalapathy semma style & performance. Vere level dialogue delivery. Impressive screen presence @varusarath A bold mass film by @ARMurugadoss @sunpictures @arrahman 💥💥💥 #ThalapathyDiwali #SarkarDeepavali @ThenandalFilms @MuraliRamasamy4"
Vijay fan reactions
Vijay was literally everywhere… cut-outs, posters, T-shirts. The moment he appeared on screen, fans went crazy as they whistled, howled, danced and threw their hands up in the air. Half the hall took photos of their 'action hero' on their mobile phones and tablets. The flying squads kept telling them to not click pictures or shoot videos.
Also Read | 'Sarkar is all about the mass-y feel'
Fan celebrate the release of Sarkar in Kerala
Sarathkumar on Sarkar
"Wishing the entire team if Sarkar a grand success and a happy diwali #Thalapathy @ARMurugadoss @KeerthyOfficial @varusarath @sunpictures . #Sarkar," R Sarathkumar wrote on Twitter.
Sarkar performing well outside Tamil Nadu
Taran Adarsh shared on Twitter, "The hugely awaited #Tamil biggie #Sarkar, which opened today, has got fantastic showcasing outside Tamil Nadu as well. In Mumbai, for instance, the plexes have allotted 8, 9, even 11 and 12 shows every day, which is a rarity. The hype is truly tremendous.. #SarkarDiwali"
Atlee on Sarkar
"#Sarkar mass &emotionally connected @actorvijay Anna Vera level mass👍👍👍@ARMurugadoss sir ur always an inspiration sir🙏 @arrahman awesome sir👏@KeerthyOfficial 👌super nanba @varusarath 👌Nanba @Lyricist_Vivek 👌Na @sunpictures thanks for the gr8 film 🙏 #IdhuDaanNammaSarkar," Atlee said via Twitter.
Arya on Sarkar
Arya tweeted, "Happy Diwali 🎉 🎉 May the festival of lights bring u and ur family loads of happiness and joy #SarkarDeepavali Wishing team #ThalapathyVijay anna @ARMurugadoss @varusarath @KeerthyOfficial @SunTV a huge success 💪💪💪 Have a lovely day"
Soori on Sarkar
Soori wrote on Twitter, "#Sarkar Vetripera valthukkal #Thalapathy @actorvijay anne @ARMurugadoss sir @KeerthyOfficial @varusarath @sunpictures and #sarkar team💐💐💐"
Anirudh Ravichander on Sarkar
Anirudh Ravichander posted on Twitter, "Wishing a blockbuster Diwali to @actorvijay sir, @ARMurugadoss Sir and team @sunpictures 🎉🎉 #Sarkar"
On the fence about watching Sarkar? Take a look at the teaser of the Vijay starrer
Satish on Sarkar
"Best wishes to our #Thalapathy @actorvijay sir @ARMurugadoss sir @KeerthyOfficial @varusarath @sunpictures and #SARKAR team. Releasing today. Watch in theatres. #IdhuThalapathyDeepavali 💪💪," Sathish said via Twitter.
Udhayanidhi Stalin on Sarkar
Tamilrockers threatens to leak Sarkar
GV Prakash Kumar on Sarkar
GV Prakash Kumar wrote on Twitter, "Best of luck team #sarkar 🔥🔥#sarkardiwali ... #thalapathy @actorvijay @arrahman @ARMurugadoss best wishes from team #watchman and thanks for the lovely response #WatchmanTeaser have a lovely Diwali #HappyDeepavali"
Vignesh Shivn on Sarkar
Filmmaker Vignesh Shivn tweeted, "#Thalapathy @actorvijay sir combining with the greatest in the industry @arrahman sir @ARMurugadoss sir, market giants @sunpictures &a super solid Cast&Crew is gonna make #Sarkar RULE & show some ginormous numbers at the Box-office! ALL RECORDS TO BE BROKEN🔥#HappyDiwali"
'Sarkar was one step above Mersal'
Suresh, a city based engineer who had come with his friends for the 4:30 am show, said, "Sarkar was one step above Mersal, and will be a sure shot success. No Diwali is complete without a Vijay film."
Varalaxmi Sarathkumar on Sarkar
Varalaxmi Sarathkumar posted on Twitter, "Get ready folks... idhu nammaaa #sarkar woohooooooo #SarkarDeepavali Happyy Diwalii...it's an emotional Diwali for me..6 yrs back #podaapodi released along with #thuppaki..today I'm in a #thalapathy @actorvijay movie with @ARMurugadoss so excited thank u God..!! @sunpictures"
PHOTOS: Vijay fans are ready for Sarkar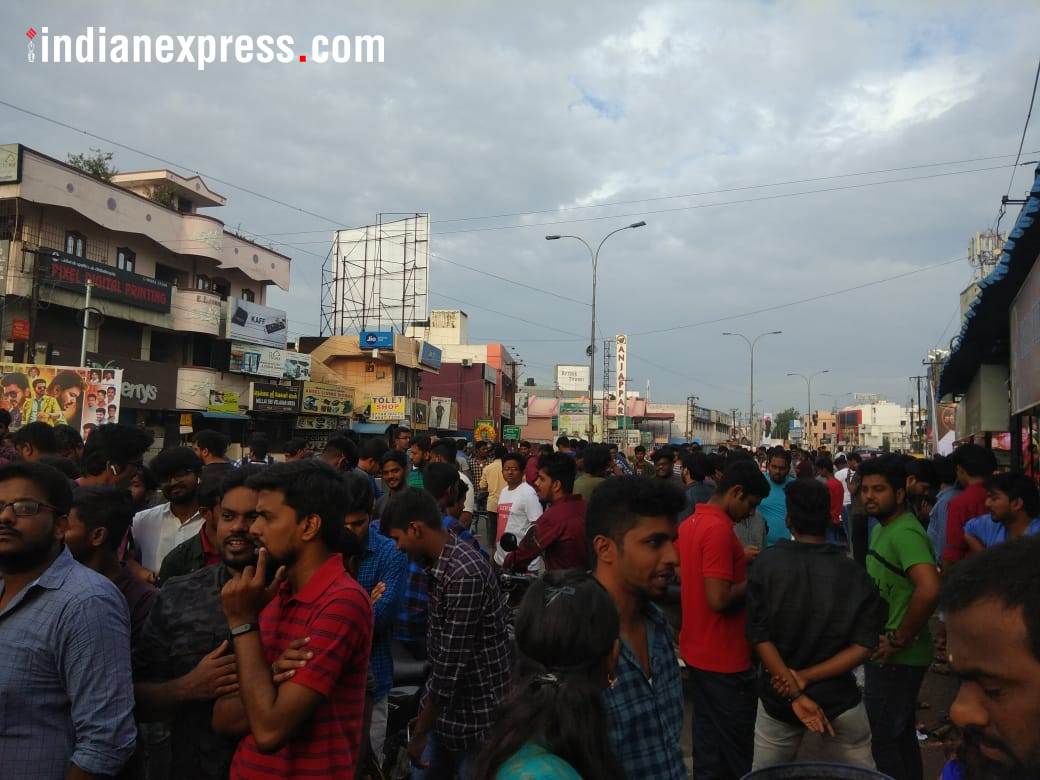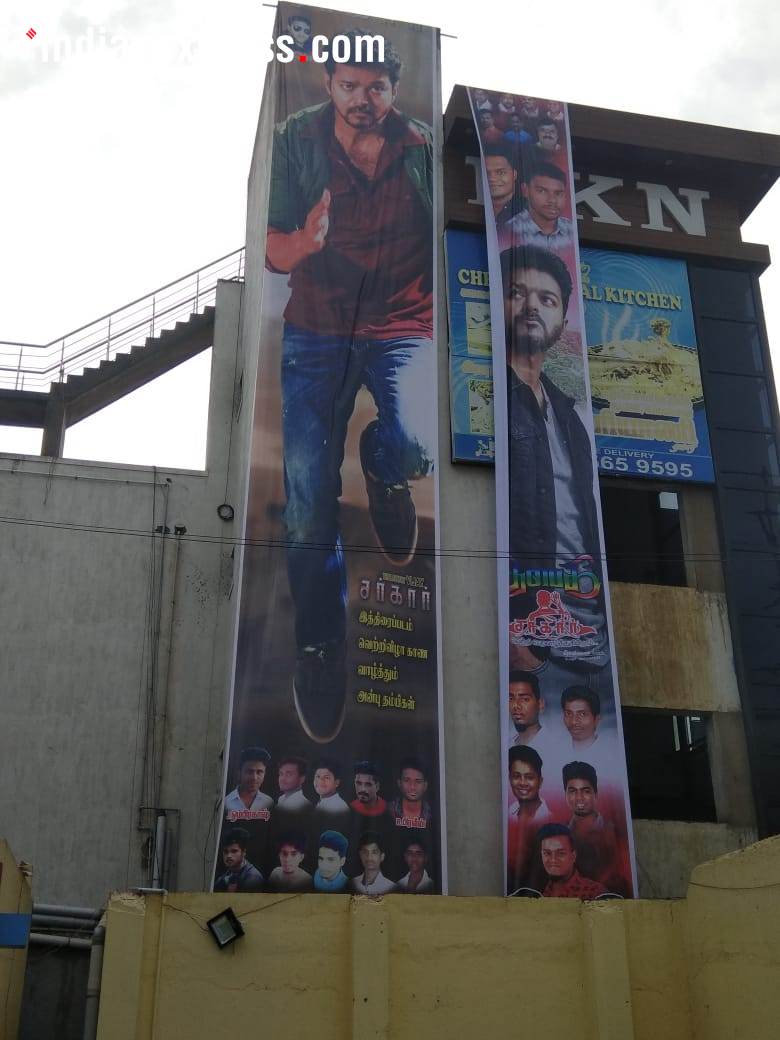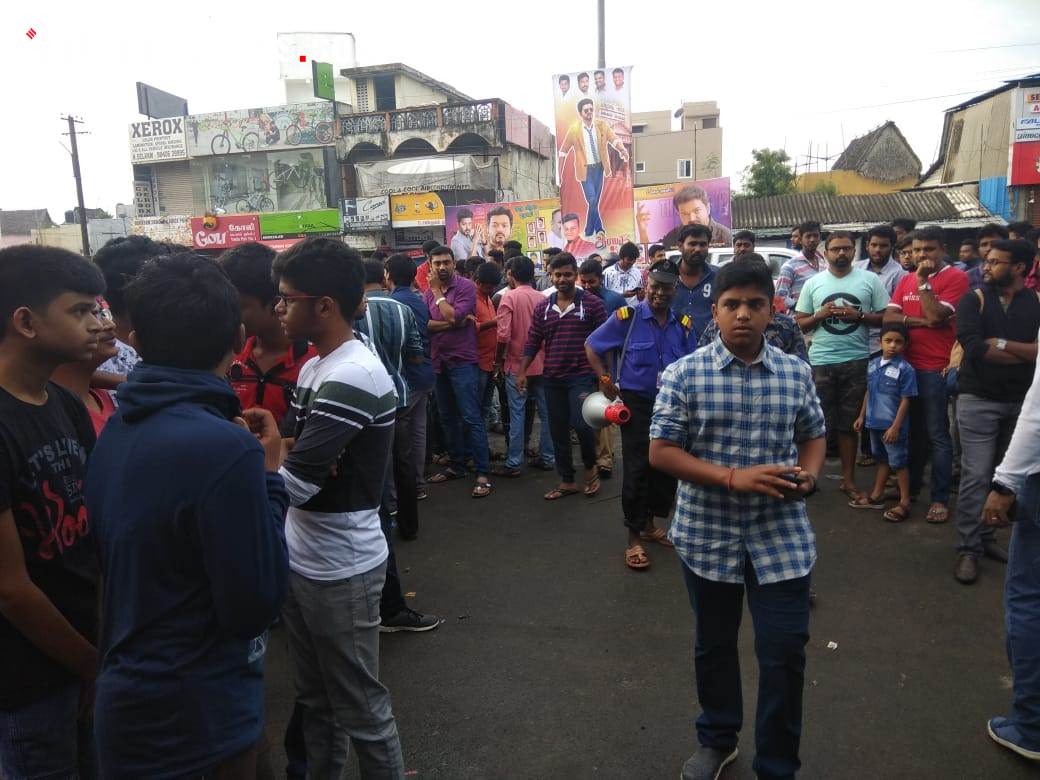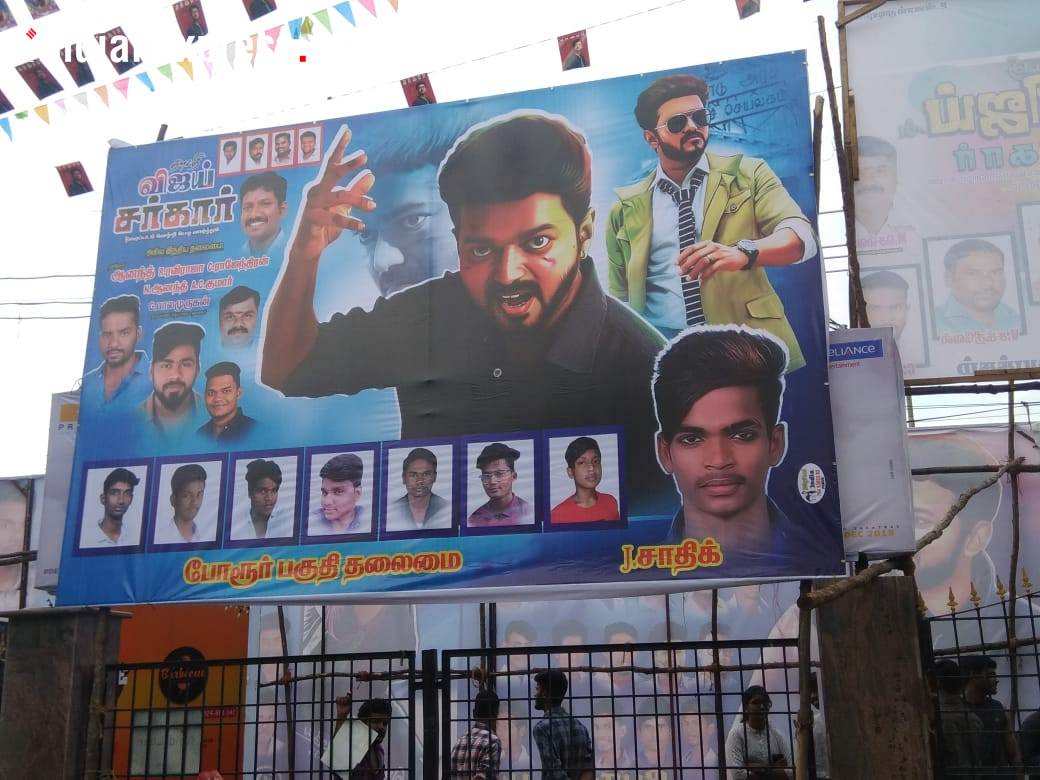 Fans gather in large numbers for Sarkar
Fans are screaming thalaiva thalaiva. They have been bursting crackers outside. Huge hoardings of Vijay are seen all over. It is drizzling and despite all this, the crowd is crazy.
Early morning shows of Sarkar
Rohini Theatre in Koyambedu and GK Cinemas in Porur were two cinema halls that had an early morning show of Sarkar. They had a show at 4.30 am, which was houseful.