Suchitra became a household name as an RJ before she started to sing. Listeners fell in love with her voice and her jovial conversations with the callers. In fact, her show Hello Chennai was one of the top rated shows in Tamil Nadu. She gained popularity and lent her voice to many hit numbers. Post that, she has performed live shows, and much more and has remained people's favourite throughout. However, her Twitter account and what she has posted about celebs such as Dhanush, Anirudh Ravichander, Rana Daggubati etc. in the last few days have left her fans and followers shocked.
It started with a picture of a hand that clearly looks bruised. The post claimed that actor Dhanush's team manhandled Suchitra in Coimbatore. This was right before the big celebration at The Isha Foundation in the presence of Prime Minister Narendra Modi on the occasion of Mahashivratri. The post stated that she (Suchi) was back safe and was ready to tell everyone what really happened. It said that Dhanush played a lousy game. There was mention of Jaggi Vasudev and how he wouldn't stop messing; and that Dhanush lacked imagination; and how Simbu is. A series of tweets that makes no sense whatsoever. The mentioned actors were tagged and the post claimed to out them because now it was war. No one knew what this meant exactly, or why it was posted then. But, what is furthermore interesting is how none of the actors who were tagged made any comments or statements regarding this.
More from the world of Entertainment:
Actor Dhanush has been active on Twitter, talking about his upcoming directorial Power Pandi, the release of Rajinikanth's film Baasha and more. But he doesn't seem to take notice of the allegations made by the posts from Suchi's Twitter handle. Actor Silambarasan, who is quite vocal when it comes to allegations and mud-slinging, kept mum too.
It did not stop there, there were tweets about how she and husband, Karthik — the co-founder of Evam — are no longer together and more. Following this, Karthik wrote a statement on Twitter stating that this is a tough time for their family. That and the fact that Suchitra's Twitter account was hacked.
But Suchitra's tryst with allegations and accusations have not ended, or should we say her Twitter account's tryst? A few photographs of actors Dhanush, Trisha, Hansika Motwani and music composer Anirudh Ravichander with Andrea Jeremiah was leaked through the account. Every media organisation has reported about this latest development, and how following this Suchitra made her Twitter account private. Everyone is talking about private pictures that were leaked, but when you take a look at the photographs, something is off.
See | Pictures leaked through Suchitra's Twitter account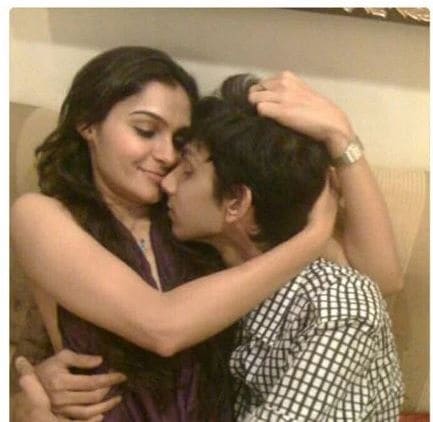 Dhanush and Trisha are seen taking a selfie, nothing insidious there. Hansika Motwani is posing for a picture with a group of her friends, and the picture of Anirudh and Andrea is old news. There is more where that came from and we have seen it already. Her captions with each picture are about "revealing" the true colours of these actors and how fans shouldn't judge her.
Adding to all this confusion, before Suchi made her account private, she posted "Verified info: apparently Mr Hacker thinks by including himself in the leaked pix, he won't invite suspicion on himself. I am not going to blame anyone, am not going to go to the cops. Haters – pls unfollow me. The rest – just trust in me. Will beat this."
Also read | Suchitra confirms her divorce, denies tweeting nude pics and clips of celebs
There are two known male faces in these pictures and that is Dhanush and Anirudh. Wouldn't it be simpler to officially file a complaint about this 'Mr Hacker' to prove that she is being targeted? Suchi's husband Karthik released a video statement about how Suchi is emotionally stressed right now, and how 'media should not go to town about this and treat her like family.' He also points out that people who have been named in the tweets so far have been understanding and supportive.
But, everything changed this morning. If Suchi was ever worried about her name or people slinging mud at her, the time is long past. Probably, she realised this too. As of this morning, nude pictures and videos of actor Sanchita Shetty and Anuya were also leaked through the same account. Suchi also made allegations against singer Chinmayi, actors Amala Paul and Parvathy Nair about their alleged affairs with lead actors from the industry. Parvathy Nair and Chinmayi took to Twitter to refute these claims, and so did Sanchita Shetty.
Also read | Suchitra tweets sexual assault claims against Dhanush, husband says she is under emotional stress
She went on to add that actor Dhanush and his close friend and music composer Anirudh spiked her drink at a recent party. Now, the Twitter account is deactivated. Last night, over a telephonic interview with a Tamil News channel, the singer has confirmed that she and husband Karthik are going through the divorce and also denies tweeting about the celebrities and the allegations that she has made.
From the beginning, till now — whatever has happened leaves one burning question: Why would Suchitra take this route because she is in a bad state emotionally or if she is depressed? What triggered her to make such serious allegations against people who also happened to be her friends at some point? And, where is she getting all of these clips and pictures from, if indeed it is her or a hacker?
📣 The Indian Express is now on Telegram. Click here to join our channel (@indianexpress) and stay updated with the latest headlines
For all the latest Entertainment News, download Indian Express App.
The Indian Express website has been rated GREEN for its credibility and trustworthiness by Newsguard, a global service that rates news sources for their journalistic standards.