After the success of 2.0, Rajinikanth is back in theaters with Petta. Directed by Karthik Subbaraj, the film also stars Vijay Sethupathi, Trisha, Nawazuddin Siddiqui, Simran and Bobby Simha among others.
Subbaraj is a big fan of Rajinikanth and had revealed at the audio launch of the movie that Thalaiva was the one who asked him whether he had any scripts for him. Music composer Anirudh Ravichander has been successful in creating hype around the movie with tracks like "Marana Mass" and "Ullaallaa".
Petta clashes with Ajith starrer Viswasam and it is to be seen how the two films fare and if their release on the same day will affect the business of both these films.
Also See | Petta: Rajinikanth fever takes over Chennai
Petta is expected to be a 'typical Rajinikanth film' unlike Kabali and Kaala. It is also Superstar's first Pongal release in 24 years. The film promises a throwback to the vintage Rajinikanth and seems to have 'mass' moments to suit the taste of his fans.
Live Blog
Follow all the latest updates about Rajinikanth's Petta. Read updates in Tamil and Hindi.
'Petta is a pure Thailavar swag'
Tamil actor Sivakarthikeyan watched Petta and tweeted, "#Petta- #Thalaivar Full on mass mode💥👍stylish,energetic @rajinikanth sir on screen...@anirudhofficial sirrrr bgms vera level... it's a pure #Thalaivar swag.. Wishes to @karthiksubbaraj and full team 👍😊 #Rajinified."
Our verdict
The director Karthik Subbaraj has taken us back to the '90s Rajinikanth that we sorely missed for a long time. Most of the scenes, gestures, dialogues and songs remind us of his blockbuster films including Aboorva Ragangal, Baashha, Annamalai, Chandramukhi and so on. It works like a dose of nostalgia. Even the names of the characters are inspired by the actor's previous films. Rajinikanth is named Kaali (a hostel warden) in Petta.
Also read | Petta review: More celebration, less film
Lingusamy on Petta
Filmmaker Lingusamy watched Petta and enjoyed it thoroughly. "#Petta - Completely enjoyed an out & out @rajinikanth sir movie after years. Got #Rajinified for sure. Happy for u @karthiksubbaraj..! Congrats to the entire team for this @trishtrashers @SimranbaggaOffc @VijaySethuOffl @anirudhofficial @DOP_Tirru @SasikumarDir #PettaParaak," he tweeted after watching the Rajinikanth starrer.
Petta is purely a superstar special, says Aadhav
Aadhav Kannadhasan posted on Twitter, "#Petta is purely a superstar special! Get #Rajinified in this marana mass movie. thank you @karthiksubbaraj for giveing our Thalaivar Back in his Style 🙏🙏 @anirudhofficial bro vera level BGM & songs ! Loved it 😇🎉🌟💫 lets celebrate this film!"
Best wishes to team Petta
Actor Chandrika Ravi tweeted, "Sooooo excited to watch #Petta!!! The great @rajinikanth sir! Our thalaivar! What a dream it would be to share screen space with you sir 🙏🏽 All the best to team Petta!"
Petta paused in theaters on Rajinikanth's entry
Trade analyst Girish Johar took to Twitter to share the excitement around Petta among the fans of the Thalaivar. He tweeted, "Crowds & Fans going berzerk !!!🔥🌟💫🎉 #Petta ... The film is actually paused by the projectionists... in various cinemas ...at the entry of #MegaStar @rajinikanth .... really love to see this madness !!! ❤🔥#PettaFDFS."
Actor Vishal on Petta
Actor Vishal wished both, Petta and Vishwasam, become blockbuster hits. He tweeted, "Wishing Blockbuster Hits for #SuperStar , #Thala & their Team for their Movies releasing today & Wishing all my Dear & Near ones Happy Pongal Holidays....GB."
Actor Sathish wishes team Petta
Actor Sathish tweeted, "Best wishes to our super star @rajinikanth sir @anirudhofficial bro @karthiksubbaraj bro @VijaySethuOffl bro @SimranbaggaOffc @sunpictures and #Petta team. Releasing today. Watch in theatres."
Telugu actor Manoj Kumar Manchu on Petta
Telugu actor Manoj Kumar Manchu said he is "Rajnified" after watching Petta. "Each character he plays is just crafted & created for him!😍What swag! Thalaivaa da..💪💪😍😍❤️❤️#Petta! Extremely #Rajinified!😎😎🙌 Congratulations to entire team! Special thanks to @karthiksubbaraj for such a grand visual treat & @anirudhofficial with his best one ever!👍✌️," he tweeted.
Rajinikanth mania hits the young and the old alike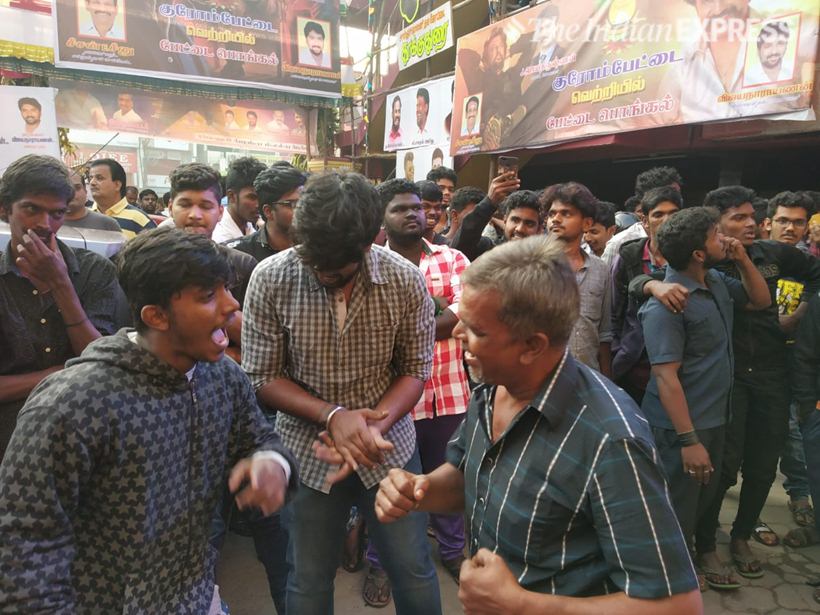 Also read | Petta: Rajinikanth fever takes over Chennai
Women pray for Petta's success in Mumbai
Watch: Petta fever grips India
'Petta is a classic Rajinikanth film'
A fan of Rajinikanth, after watching Petta said, "It is a very good movie. After five years, I liked a Thalaivar's film. It's a classic film and the action sequences are too good." Another fan came out of the theater cheering for Rajinikanth and called Petta a "superb" film.
Fans in Mumbai celebrate Petta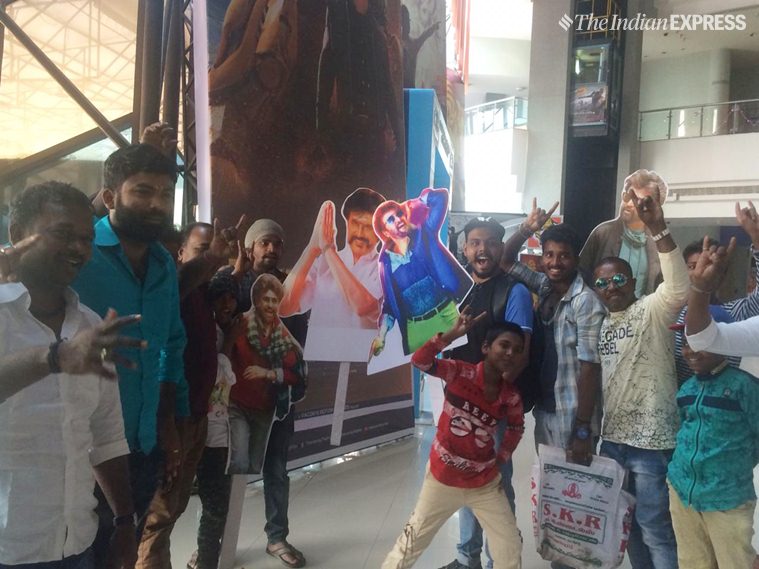 The fans of Rajinikanth has thronged the theaters to watch Petta in Mumbai as well.
Petta opens to good numbers in USA
Ramesh Bala shared Petta's performance in the USA. He tweeted, "#Petta crosses $500K at the #USA Box office.. Premiere. As of 8:30 PM PST, it has grossed $502K."
Petta: Quick Review
Indianexpress.com Antara writes, "The plotline of Petta is fairly simple but there is that Karthik Subbaraj touch that we have all come to know and love that keeps this movie from turning predictable. The first half is full of amazing Thalaivar moments. He is seen joining a hostel as a warden named Kaali and quickly becomes the coolest guy in the campus. The romance scenes with Mangalam (Simran) are heartwarming without them trying to hide their age."
Also read | Petta quick review: Thank you Karthik Subbaraj for bringing back the old Rajinikanth
Filmmaker Suseenthiran on Petta
Petta director's plea
Petta director Karthik Subbaraj posted on Twitter, "#Petta response is so overwhelming and awesome...Thank you Thalaivar fans...Love you Thalaivaaaaaa...Thank you @sunpictures & whole TEAM!! One sincere request: PLS DONT SHARE FILM CLIPS FROM THEATRE.. PLS DONT REVEAL THE STORY... Let everybody #GetRajinified like you did!! 🙏😊"
Simran on sharing screen space with Rajinikanth in Petta
In an interview with The Hindu, Simran said, "I have been a Rajinikanth fan for a long time. There have been times when I have tried walking like him and putting on my glasses like him. I thought I would forget my dialogues because I was star-stuck on the first day. But he ensured that everything was calm on sets and kept telling us that what we are doing is to entertain people."
'Petta is gonna be a sure shot hit'
The city-based theater owner adds the response so far has been overwhelming in his theater. He says, "I was sitting at the back row, and couldn't hear half the dialogues. All I could hear was whistles and claps. Petta is gonna be a sure shot hit."
'Many people thank us for holding early morning shows'
A city-based theater owner, on condition of anonymity, says, "So many people thank us for holding early morning shows. Most of Superstar's fans watch the film and head to their workplace or colleges and get on with their daily routine. I don't think anyone goes by the press reviews or Twitter updates at least for the early shows. It is all pure love that these fans have for Rajini sir."
'There is no way we will miss watching Thalaivar on-screen on his film's release day'
Viswanathan is here with his wife. "She is a Rajini maniac. So, I ensured that I got two tickets for the morning show. There is no way we will miss watching Thalaivar on-screen on his film's release day."
'I haven't missed any Rajinikanth films'
Vijay Andrew, an MBA graduate, says, "I was so desperate to watch 4 am show, but couldn't. By the time I came from Adyar to Porur, it was 5.30 am. I waited at one of my friends' place for a couple of hours, and now all set for the 8.30 am show. I am an ardent fan of the Superstar, and so far, I haven't missed any film of his. Somehow I will make sure I begin the day with his film."
'It is a marana mass Rajinikanth film'
Sathya Prakash and his friends are at GK Cinemas to watch the morning show of Petta. Sathya says with a laughter, "We have applied for half a day leave because it is a 'marana mass' Rajinikanth film."
Petta: Quick take
Indianexpress.com's Antara says, "The second half dragged a bit but the entertainment in the first half more than makes up for it. There are lot of references to old Rajini films so it induces a lot of good nostalgia. I think it will go down as one of the Rajinikanth movies that people watch over and over, like Padayappa or Sivaji."
Here's what the audience has to say about Petta
Petta is epic, says Dhanush
"#petta is EPIC ... superstar .. love you thalaivaaaaa ... tharamaana sambavam senjiteenga. Congrats to the whole team. @karthiksubbaraj .. 🙏🙏🙏🙏 big big big thank you .. we are indeed #rajinified .. Anirudh .. your best bgm work till date. Petta paraaaaaaak !!!!" Dhanush said via Twitter.
Sai Dhanshika on Petta
Sai Dhanshika tweeted, "Just Can't wait to see Thalaivar on screen & of course @trishtrashers ♥️ #FDFS #100percent"
Fans heap praise on Petta
While Kousik Karthikeyan (@kousik23) wrote on Twitter, "Frame by frame Rajinism is top notch !!! No one can Glorify Thalaivar like this !! Best Thalaivar film of the decade ! Thank you Karthik Subbaraj #Petta #PettaFDFS #PettaParaak #PettaReview #GetRajinified #PettaPongal," Krish (@BejwadaKurrodu) shared on Twitter, "Done with my show in San Francisco. Only one word Blockbuster. Semma MASSSSS. Padayiappa level Acting by thalaivar. Rajini sir is back with a bang. @karthiksubbaraj sir is real fan of Thalaivar. Petta > Padayiappa > Sivaji."
On the fence about watching Petta? Check out the trailer of Rajinikanth's film here
Thirunavukarasu on Petta
Petta cinematographer Thirunavukarasu posted on Twitter, "Thank you @rajinikanth, @karthiksubbaraj & @sunpictures for a wonderful working experience. Finally the day has arrived, can't wait for you all to watch and experience #Petta in cinemas near you. SAY NO TO PIRACY. #GetRajinified #PettaPARAAK #PettaFromToday 😊"
Rajinikanth is a phenomena, says Trisha
Trisha shared on Twitter, "Rajini sir ...You are a PHENOMENA !! Lets leave it at that. #PETTAFDFS"
Rajinikanth is looking super hot, says Kasturi Shankar
"Interval block... MASSU MARANAM ! Thalaivar @rajinikanth looking SUPER HOT SUPER YOUNG SUPER STYLISH. every shot is amazing. @karthiksubbaraj thank yooooo! @sunpictures #petta FDFS," actor Kasturi Shankar said via Twitter.
Jayam Ravi on Petta
Jayam Ravi tweeted, "Wishing Thalaivar @rajinikanth sir and the entire team of #Petta the very best for a grand success!"
Petta first half: Quick review
Indianexpress.com's Antara says, "Petta is damn entertaining. Rajnikanth is in his element. Reminds me of his Baasha days."
Thank you dear Rajinikanth for constantly changing the game, says Santhosh Narayanan
Music director Santhosh Narayanan posted on Twitter, "Best wishes to my dearest @karthiksubbaraj, @anirudhofficial and the energetic team of #Petta for a huge success. Thank you dear Thalaivar @rajinikanth sir for constantly changing the game and bringing in such amazing talent."
Watch: Rajinikanth fans fill theaters
Watch: Fans are ready to get Rajinified
Surprises galore
"Petta is an out-and-out entertainer that will satisfy the expectations of fans. I hope that the members of the press continue the love and support that me and my previous films have received. I request the members of the press to preserve the surprises the film has to offer. I sincerely request every one of you to keep the surprises in the film undisclosed while writing your reviews and articles, so that every single viewer out there gets to experience the fullness of the cinematic experience and Thalaivarism that Petta has to offer," Petta director Karthik Subbaraj said in a statement.