While cinema houses across the country saw the release of Superstar Rajinikanth's latest film Kaala, it was a dull day for the box office in Karnataka. In spite of the non-stop efforts by the filmmakers, the majority of the exhibitors across the state were not ready to risk the wrath of pro-Kannada groups.
The unofficial ban on the Rajinikath starrer was a complete success in Bengaluru. While many theatres avoided screening the film in anticipation of problems, some were forced to cancel the shows by the agitating activists.
The pro-Kannada groups have been conducting flag marches since last evening in Bengaluru. The groups have been going from one cinema hall to the next and ensuring all exhibitors fall in line. They continued their raids at the movie theatres on Thursday to stop Kaala from releasing.
The 10 am show which was arranged by the Karnataka State Rajinikanth Fans Association at Lido theatre, MG Road was cancelled after the activists pressurized the theatre manager to give into their demands. The special screening was supposed to be attended by Rajinikanth's best friend Raj Bahadur.
See a few photos of protests in Bengaluru before Kaala release: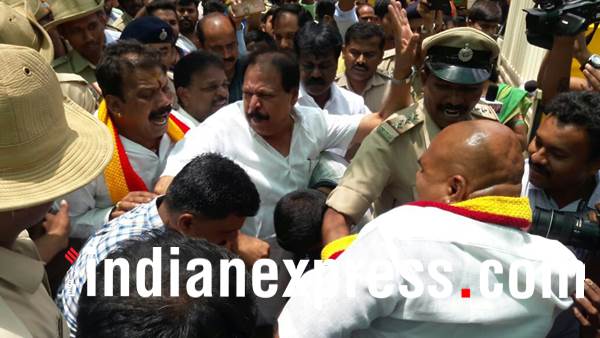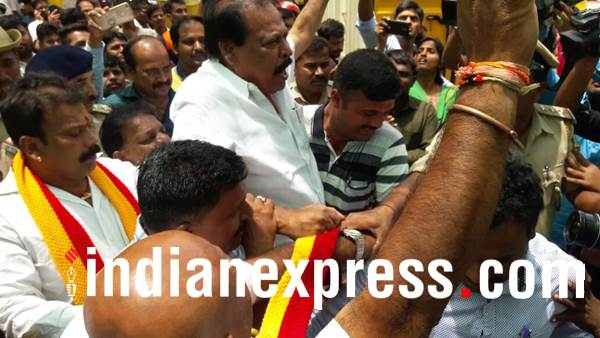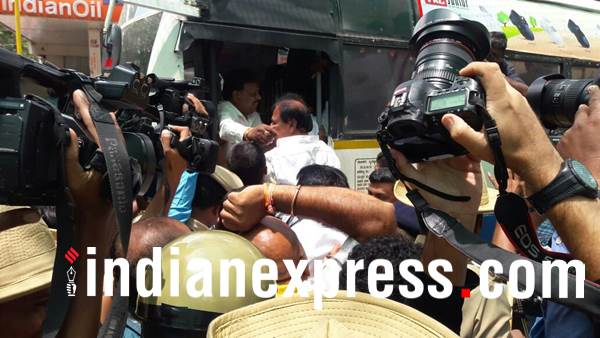 The protesters then moved to Mantri Mall in Malleshwaram and Orion Mall in Rajajinagar, where the multiplex screens were set to being the show at 10:30 am. However, the shows were cancelled following the protests. This despite the presence of police.
In order to control the situation, police took Kannada Chaluvali Paksha chief Vatal Nagara along with the members of Karnataka Rakshana Vedhikeled into custody.
The single screens were also no exception. Balaji Talkies theatre in Vivek Nagar was forced to stop the screening by members of Karunada Seva Karu, who vandalized posters and banners at the theatre.
Interestingly, Kaala released in Karnataka in a theatre in Bellary. According to TV reports, Radhika Theatre owners braved the threats of the activists even as they were unsuccessful in screening the morning show.
Also read | Kaala movie review: Witness Rajinikanth – The Actor in this layered Pa Ranjith revolution
Kaala has not found screens, barring Radhika Theatre, in Karnataka even as the Supreme Court on Wednesday refused to stay the film's release. The Karnataka High Court had also earlier directed the Kumaraswamy-led government to provide adequate security to theatres that want to screen Kaala.
Kannada Film Chamber of Commerce President Sara Govindu also supported the protest against the screening of Kaala in Karnataka. The protesters have demanded an apology from Rajinikanth for his pro-Tamil Nadu stance on the Cauvery water management board that was ordered by the Supreme Court.
📣 The Indian Express is now on Telegram. Click here to join our channel (@indianexpress) and stay updated with the latest headlines
For all the latest Entertainment News, download Indian Express App.
The Indian Express website has been rated GREEN for its credibility and trustworthiness by Newsguard, a global service that rates news sources for their journalistic standards.