Radha Mohan doesn't want to get pigeon-holed as a filmmaker who directs only 'feel-good family dramas'. His debut project Azhagiya Theeye (2004) met with moderate success, but his third directorial Mozhi (2007) with Jyotika turned out to be a hit. "People remember Mozhi even today because it was soulful. All my films are," he said.
What matters to Radha Mohan more than fame or success — is the excitement of writing, the constant experimenting and the gush of ideas that need to be executed.
Excerpts from the conversation:
Q. In a career spanning 14 years, you have directed only 11 films.
So what? I don't believe in making back-to-back films. I wait for stories to happen to me. I think it is fine.
Q. What made you direct Kaatrin Mozhi?
Jyotika and I have been in touch and she suggested that I watch Tumhari Sulu while I was shooting for 60 Vayathu Maaniram. I simply loved the way Vidya Balan pulled off Sulu. Sulu is someone you and I can connect with. She is loving, compassionate, funny and has this 'I-can-do-anything' attitude. For a fact, I knew Jyotika would recreate the magic that Vidya did there with that film. I am glad it worked. Also, I knew directing Kaatrin Mozhi was going to be challenging because of Jyotika's approach to acting. Both actors are brilliant in their own right.
Q. Why not a sequel to Mozhi?
Ever since Jo made her comeback, everyone was asking when I would collaborate with her. But I can't make a sequel to Mozhi without a story.
Q. All right. 60 Vayathu Maaniram came as a huge surprise, and so was Kaatrin Mozhi. It is interesting that both are remakes.
I don't want to talk about 60 Vayathu Maaniram now. But Kaatrin Mozhi isn't a frame-by-frame remake. I had retained the soul of Tumhari Sulu in my film, and I had made a lot of changes to suit the sensibilities of our Tamil audience. We had introduced new characters and scenes which weren't in the original. If you had watched Tumhari Sulu, you would have noticed those intimate scenes between the husband and wife characters. Here, with Jyotika, I can't afford to do all that. And the audience won't like it either.
In particular, I found the writing part a bit tricky. I needed to churn out a romantic track without showing too much physical intimacy between my lead characters. Moreover, handling a remake without compromising on its soul, isn't easy. It is almost like creating something from scratch — a new film. When you develop a story, you delve into each of your character's lives, their beliefs, their relationships and so on. As a storyteller, you focus on how you say something instead of what you say. Most importantly, a good film should have an interesting screenplay. I am certain Kaatrin Mozhi has all that. I spent more time making every scene entertaining and engaging. As a whole package, the film was targeted towards all segments.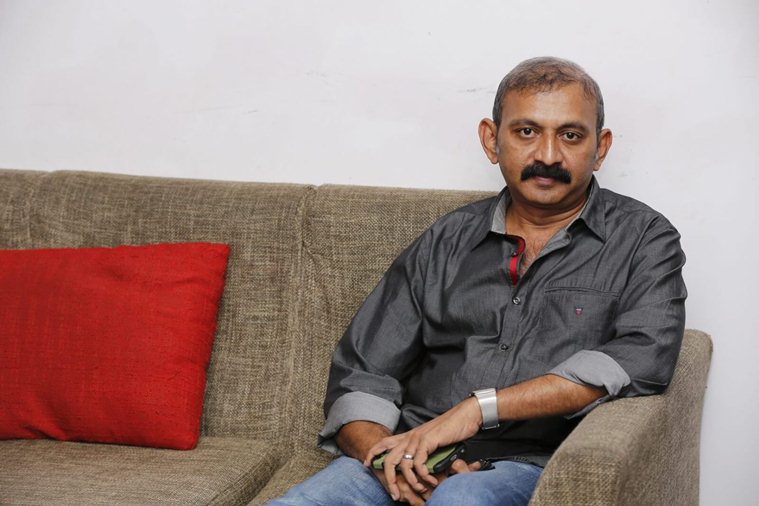 Q. Tumhari Sulu largely worked because of its comedy. And most of your films have had excellent comedy portions.
I don't force comedy into my script. I have never done that. But I am a huge fan of the humour genre. As a kid, I grew up watching Charlie Chaplin. Inherently, I am gifted with a good sense of humour. (Pauses). At least, I believe so. (Laughs) Also, I have young assistant directors by my side who keeps my reality in check!
Q. As a director, you knew there would be comparisons between Tumhari Sulu and Kaatrin Mozhi.
Comparisons are inevitable. But I am sure only a section of the audience in Tamil Nadu would have watched Tumhari Sulu. To be honest, I feared if people would compare Archana and Vijayalakshmi. (Jyotika's characters in Mozhi and Kaatrin Mozhi, respectively). Thankfully, they didn't. It was evident the audience were happy that they saw a bubbly Jyotika again.
Q. Most of your films have had strong female characters – Archana (Jyotika) in Mozhi, Abhi (Trisha) in Abhiyum Naanum and Sandhya (Tanya) in Brindavanam.
The women I know are bold and strong. And my characters will, of course, have traits of people that I know. (Smiles)
Q. Let's talk about the supporting characters in Kaatrin Mozhi. I notice that you repeatedly cast MS Bhaskar, Manobala and Kumaravel in your films.
It's about the comfort factor. I know them quite well and vice-versa. These artistes are like my family.
Q. It is difficult for me to categorise your films. In particular, I feel Payanam and 60 Vayathu Maaniram didn't get the attention they deserved.
It's unfortunate, but hey, thanks. I have dabbled in all genres so far, except horror films. I feel any good filmmaker needs to be versatile. And I have explored different themes in my films so far.
Q. I wanted to ask about Jyotika. Has she changed over these years?
Not at all. She is still the same. I feel happy to see her evolve as a mature actress and a wonderful human being.