Ajith starrer Viswasam releases today and the film faces some stiff competition as it releases alongside Rajinikanth's Petta. Viswasam also stars Nayanthara, Yogi Babu, Vivek, Robo Shankar, Thambi Ramaiah and Kovai Sarala among others.
Viswasam's trailer showcased all the elements of a successful masala film – flying men, dance numbers and a very angry, moustache-twirling Ajith. The actor has teamed up with director Siva for the fourth time after delivering hits like Veeram, Vedalam and Vivegam.
Ajith is regarded as the 'king of openings' after delivering films like Villain, Citizen, Vaali, Billa, Mankatha and Aarambam. But this time, the film will have to share screens and it is yet to be seen how it affects Viswasam's opening day collection.
Petta director Karthik Subbaraj took to Twitter to wish luck to Viswasam.
Live Blog
Follow all the latest updates about Ajith's Viswasam.
Fans celebrate Viswasam release in Madurai
Sivakarthikeyan on Viswasam: Ajith starrer a complete package
Music composer Ghibran wishes luck to Ajith's Viswasam
Ajith Kumar cutout collapses
Viswasam review: Our verdict
Ajith tries to use his charm to overshadow the fact that the film has no new story to tell. But, we have seen him do it over and over again on Siva's watch. In spite of his stardom, he can only do so much to sell a film filled with redundant emotions and narrative techniques. The talented star cast comprising Nayanthara, Thambi Durai, Robo Shankar, Kovai Sarala have all been wasted.
Read | Viswasam review
Director Siva thank audience
Fans celebrate Viswasam release in Vellore
Viswasam box office prediction
Producer Boney Kapoor catches Ajith's Viswasam
Our next producer is here.. BONEY KAPOOR at Kolthur Ganga.. 🤗 Let him have a look at Thala's stardom. #Viswasam pic.twitter.com/lE90OMHOPM

— Trollywood ™ (@TrollywoodOffl) January 9, 2019
Boney Kapoor, who is all set to produce Ajith's next film, was spotted standing amid fans to catch the first day first show of Viswasam. Ajith's next film is the Tamil remake of Bollywood film Pink.
Jayam Ravi wishes luck to Ajith's Viswasam
'Viswasam is a perfect entertainer'
Trade analyst Ramesh Bala posted on Twitter, "#Viswasam: A Perfect Entertainer with Father - Daughter relationship as it's emotional core. #Thala #Ajith simply rocks in his two get-ups.. Young and Salt-n-Pepper. As young, he has to be playful and does lot of comedy.. As middle-aged, he is matured and dignified. Thala #Ajith has satisfied both his fans and general audience. As usual, he excels in action sequences. He has also danced a lot for songs. #Adichithooku song - Theater Therikuthu.. Same with the Rain fight. His bonding with his daughter is memorable part. #Nayanthara is gorgeous and has a meaty role. She had to confront #Thala #Ajith 's character. She has done it well. Her romantic chemistry with #Thala #Ajith has worked out well. One of the reasons why general audience will love this movies is their pairing."
WATCH: #Viswasam fever grips Chennai
Two blockbusters on the way, says Kabir Duhan Singh
"Best Wishes for #Viswasam and #petta 🔥 🔥 Two blockbusters on the way 🙌🙌 @karthiksubbaraj @directorsiva," Kabir Duhan Singh said via Twitter.
WATCH: Fans celebrate the release of Viswasam
Venkat Prabhu is excited for Viswasam and Petta
Arjun Thyagarajan on Viswasam
Viswasam producer Arjun Thyagarajan tweeted, "Viswasam releasing worldwide today. I whole heartedly thank #Ajith sir @directorsiva @immancomposer @vetrivisuals @AntonyLRuben and the entire cast and crew behind this film and my own @SathyaJyothi_ team. I also wish #Petta @sunpictures @rajinikanth sir & team all the best."
Here's what the audience has to say about Viswasam
Viswasam and Petta are already blockbusters, says Varalaxmi Sarathkumar
Varalaxmi Sarathkumar shared on Twitter, "Both these movies don't require luck.. they are already blockbusters..wooohooo amazinggg.. but still best wishes to team #Petta @rajinikanth thalaivaaa @karthiksubbaraj my closest bestie @trishtrashers @sunpictures team #Viswasam #ajith thalaaaa and @directorsiva @SathyaJyothi_"
Viswasam first half: Quick review
Indianexpress.com's Manoj says, "Veeram 2.0...sorry Viswasam first half is over! Ajith is back doing the same thing - saving his family from a bad man seeking vengeance."
Ajith cutouts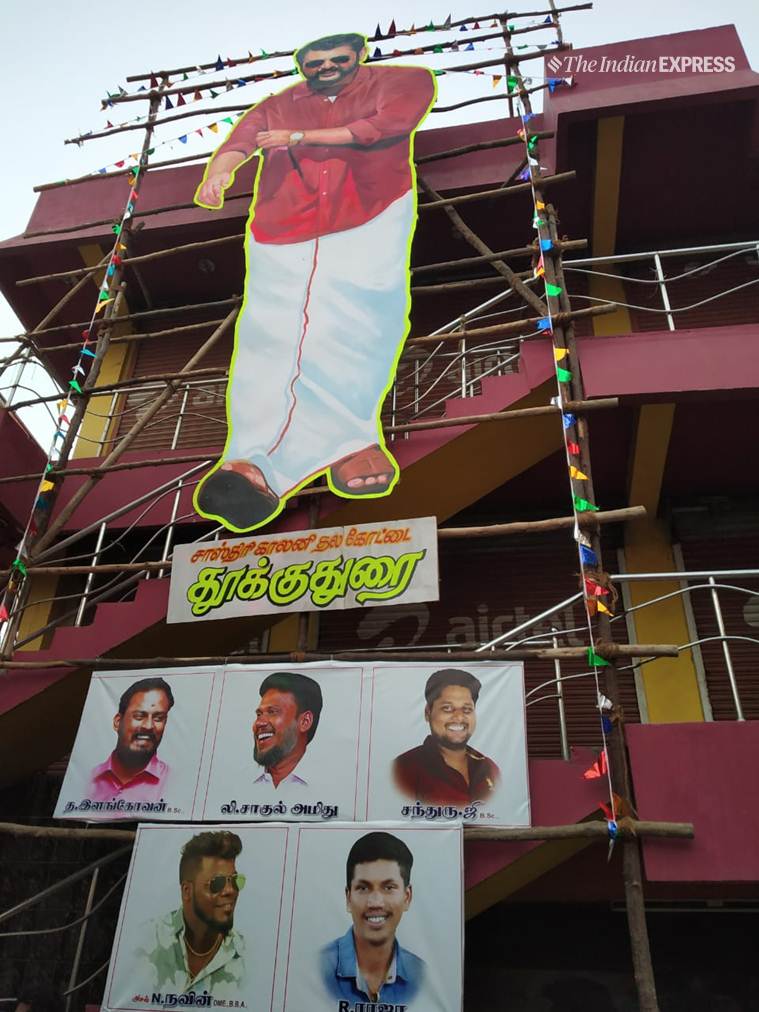 Viswasam posters and Ajith cutouts have taken over buildings near Vetri Theater in Chrompet, Chennai.
On the fence about watching Viswasam? Check out the trailer of Ajith's film here
D Imman on Viswasam
Viswasam music director D Imman wrote on Twitter, "#ViswasamFromToday Worldwide! Happy Pongal Friends! Catch the songs and bgm score in big screens! Do watch both #Viswasam and #Petta in theatres! Hearty wishes to #Petta team as well! Praise God! #Adchithookku #Vettikattu #KannaanaKanney #Vaaney #DangaDanga"
Let's celebrate Viswasam and Petta, says Krishna
Actor Krishna posted on Twitter, "Makkale, IT'S NOT #Viswasam vs #Petta. IT'S #Thalavar & #Thala Pongal 😍. This is not a competition. This is A CELEBRATION🎉🎉🎉🎉🎉🎉. Let's celebrate both the films and avoid negativity n spread positivity and #KillPiracy n watch only in THEATRES."
Viswasam will be a sure shot hit movie, says Sakthivelan B
"Yes... #Viswasam will be a sure shot hit movie 👍Watched #ViswasamFDFS 😍🔥#ThalaPongal 💪Congrats @directorsiva annan and @SathyaJyothi_@SF2_official," film distributor Sakthivelan B said via Twitter.
Critics heap praise on Viswasam
While Sridevi Sreedhar tweeted, "#viswasam: Perfectly packaged, template, clean commercial mass masala for Pongal. #ThalaAjith is awesome as #Thookudurai and loved #Nayanthara who has a superb role and she shines 😍The pair rocks ❤️, Haricharan Pudipeddi shared on Twitter, "#Viswasam is a solid comeback for #ThalaAjith and @directorsiva after the underwhelming Vivegam. Gets a lot of things right in dishing out the perfect, fan-friendly festival entertainer."
Anirudh Ravichander on Viswasam
Petta music director Anirudh Ravichander wrote on Twitter, "Wishing our dear Thala , @directorsiva and @SathyaJyothi_ for a blockbuster #Viswasam"
Viswasam is a super family entertainer, says Arun Vijay
Arun Vijay posted on Twitter, "#Viswasam BULLS-EYE!!👌👍.. A treat to all.. #Ajith sir rocked!💪 Super family entertainer.. Had a blast watching it with fans.. Confirm #Blockbuster!!👍 Congrats to the whole team..👏👏"