The Dancing Diva
Performing on a huge Nagada, several feet above the ground, Deepika Padukone's four acts, depicting various aspects of a woman's emotions  held the audience spell-bound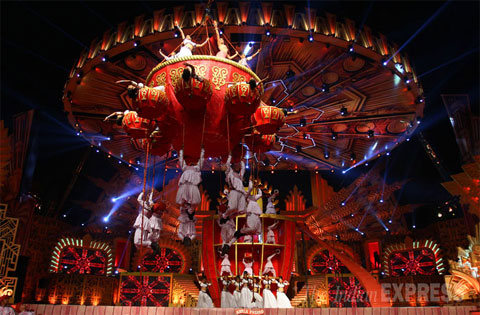 Swinging precariously on a Nagada, several feet above the ground, dressed in a peach coloured lehenga-choli, Deepika Padukone took everyone's breath away as she swayed to the tunes of Nagada sang dhol, from Goliyon ki Rasleela… the audience was treated to an electrifying performance by the actor, who was cheered throughout her four part act, that saw her in four different avatars, emoting different aspects of being a woman.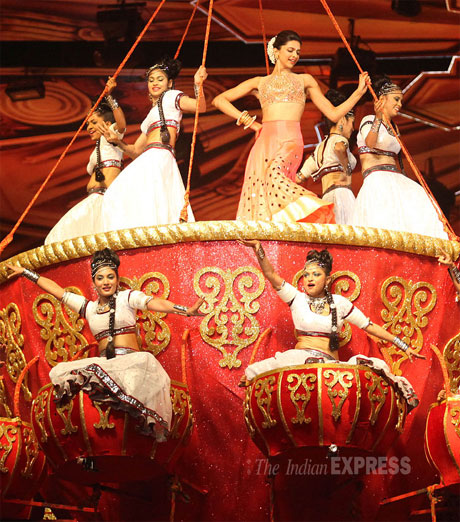 From the effervescent Titli (Chennai Express), to the soulful Kabira (Yeh Jawaani Hai Deewani), to the up-beat, Nagada sang dhol and the romantic Ang Lagade (Goliyon Ki Rasleela..), Padukone went through the paces with elan, as the audience cheered her on.
In Pics: Deepika Padukone's mesmerising act at Screen Awards 2014
One of the most memorable moments of the night was Deepika breaking into a garba as she came on stage to recieve her award, presented by Ramesh Sippy who could not help breaking into a jig himself. Ranveer Singh who was hosting the show on the other corner of the stage also broke into a jig while Ramesh Sippy joined Deepika in doing a garba step.
Fo(U)r your eyes only
The colour white, embellished with gold, ivory and  silver sequins, dominated all the four costumes that Padukone wore to portray different moods of a woman in all the four acts on the gala night. Needless to say, she looked bewitching in all of them.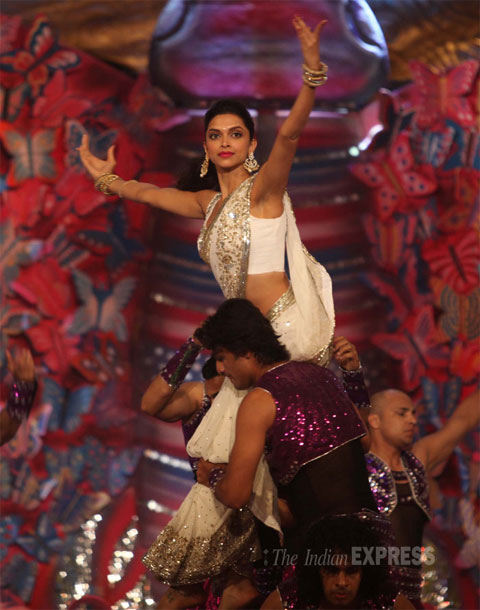 A white lehenga-choli  sequined with ivory and silver, with round mirrors designed by Arpita Mehta is what the actress wore while performing on the sensous Ang lagade from Goliyon Ki Raasleela…. Wearing a high bun, covered with gajra. she used gulaal, to bring out the vivaciousness of the lyrics, with dancers pouring water on her. She wore a similar outfit in coral colour for Nagada, designed by Mayur Girrotra.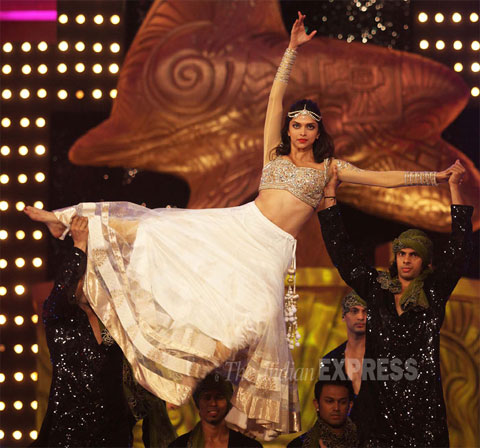 A huge butterfly  served as the backdrop, with  the actress looking stunning in a white saree, with gold sequins,  as she danced to the melodious Titli  from Chennai Express.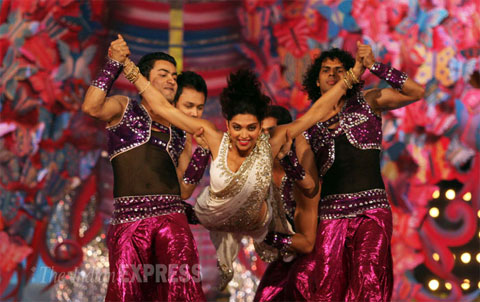 For Kabira, she was grace and elegance personified, dressed as a Sufi Dervish in a flowing white lehenga, with a gold border and  hair left loose. The outfit created by Anita Dongre added mystique appeal to her contemporary moves. Before her performance began, she removed her  white mojris, preferring to dance bare-foot on stage.
Dhol drill
The Chennai Express actress confessed that she was scared of dancing on the massive nagada before she stepped on it. But once she stepped on it, her fear took flight and she got immersed in the act, unmindful of being lifted a few feet off the ground. In fact, she was later seen enjoying dancing on it, and was evidently in a mood to have some fun. We caught her chatting and joking with the dancers, asking whether they would like to have tea or coffee, while they waited for the music to play.
Getting it right
Dressed in a black sweatshirt, track pants, and sport shoes, the actress came to rehearse for her performance, after a day long shoot of her film Happy New Year at Kamalistan studio. Helping her to ward off the stress and fatigue was the flask of coffee from which she took refreshing sips at regular intervals.
Padukone came well-equipped, dressed in track pants and a full sleeve polo-neck jersey, to keep the January chill at bay. So when she was suspended in the air on the Nagada, she cheerfully carried on with the rehearsals.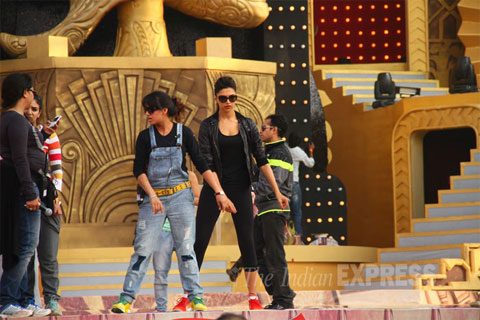 Padukone rehearsed for two days on the stage set up at the MMRDA grounds in Bandra Kurla complex and also at a suburban rehearsal hall. Excited at the prospect of performing in four acts, she admitted, "Most choreographers think that since I'm a good dancer, they can give me peppy songs, as only peppy songs work for such performances. But this performance is very different. I think this is a good concept, and it's a great idea to capture the various emotions of a woman. Kabira looks simple, but since it's more to do with grace and being a slow number, it's actually the most difficult." The actress continued her practise, as the night melted into the morning.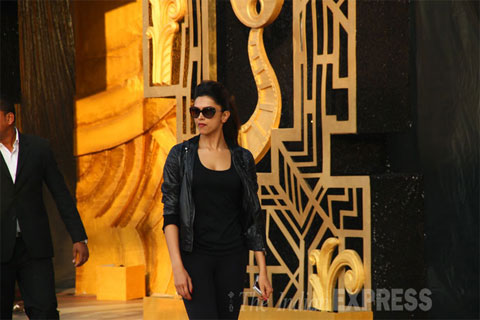 If you're wondering what keeps Deepika look fit-n-fine? Here's the secret: While she rehearsed well into the wee hours of the morning, she snacked on lots of fruits to keep her energy level up.
Step In Time 
Deepika Padukone made sure she got her steps right. She first observed choreographer Geeta Kapur's assistant closely when she showed her the steps, and later practised every move until she got it correct.
Also see: Screen Awards 2014 – Deepika Padukone's final touches
Meanwhile, she also followed Kapur's instructions with regards to expressions. Though, memorising steps, is not as easy for her, she is in love with the idea of performing live. She says, "It takes time to memorise the steps, but once I do it, I love to dance and I enjoy performing in front of a live audience."