Written by
Manoj Kumar R
| Bengaluru |
Updated: August 5, 2018 6:20:02 pm
Viewers even questioned why an actor of Kamal Haasan's stature was part of such an 'uncivilized' show.
Bigg Boss Tamil contestant Aishwarya Dutta shocked the audience with a no-holds-barred approach to performing the dictatorship task assigned to her earlier this week. Aishwarya literally emptied a garbage bin on Balaji's head on the show, leaving many viewers outraged.
What followed was a sudden spike in discussion about the ongoing season on social networking sites. Last time the show elicited such passionate reactions from viewers was when Oviya was bullied and was not allowed to sleep in the night during the previous season of Bigg Boss Tamil.
Some viewers even questioned why an actor of Kamal Haasan's stature was part of such an 'uncivilized' show, demanding him to quit it at once, while others wanted him to reprimand Aishwarya severely for her actions. Apparently, even a police complaint was filed against the episodes that aired Aishwarya's dictatorship.
The Bigg Boss shows in India are inspired by Big Brother, which was first developed by Endemol in the Netherlands. The international show has been syndicated and replicated in many other counties since. And the format of the show has met with some resistance in almost all of its host countries as people feel it threatens the culture and ethos of the land. Many still wonder about the reality television show's effect on impressionable minds.
The concerns about the show's ability to influence the social behavior of young audience are not unfounded and that's a different story. But, it is also vital for the mature audience to see through the high-voltage emotional exchanges and drama that the show throws at them every day.
Bigg Boss Tamil contestant Aiswarya Dutta.
The fact of the matter is that the Bigg Boss show is not realistic. Being aware of this simple fact will prevent viewers from unfairly demonizing the contestants who live in emotionally volatile circumstances 24/7. The case in point, accusing Aishwarya of racism, and perceiving her actions as a 'northie' (a made-up word for people from the north of India), insulting a Tamilian.
In Aishwarya's defence, Balaji suggested that she was an unfit candidate to become part of Shariq's family (Aishwarya's rumored romantic interest) and used a foul word against her. After being subjected to a harsh judgment of her character and verbal insult on a widely popular show, she reacted the way she did. And demonizing her actions that happened on the spur of the moment is unfair, to say the least. One should judge Aishwarya's actions through the prism of human emotions and judgmental flaws.
The grown-ups should understand that the format of the Bigg Boss show only gives them a distorted view of reality and the structure of the show itself is far from reality. The contestants of the show are subjected to hypothetical scenarios in forms of daily tasks and they are forced to make some decisions, which are unlikely to be indicative of their true self. The show maybe unscripted but it is highly controlled. Each week, the show producers set a new premise, assign characters, and introduce an incident to press the contestants into delivering unpredictable reactions.
The audience should understand the showrunners edit hundreds of minutes of footage and compress them into a 90-minute show for dramatic effect. In other words, only the moments that guarantee a high dramatic impact will make the final cut. We don't sit with each contestant all day long to get a sense of the ongoing contradictions in his or her mind and what emotional upheaval led to his or her extreme behaviour.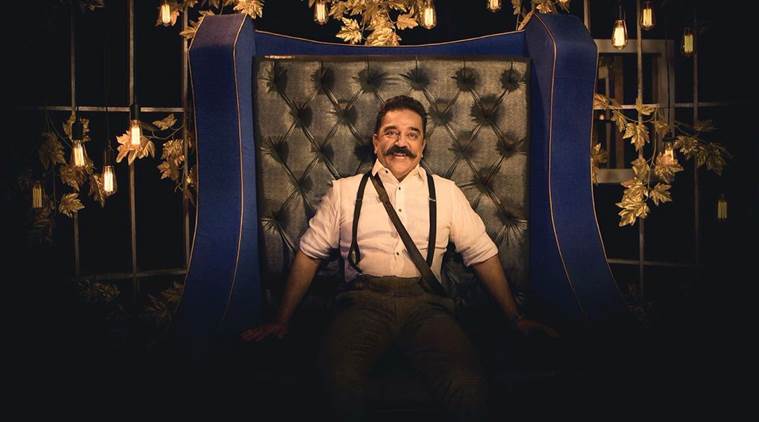 Bigg Boss Tamil Season 2 is hosted by Kamal Haasan.
It's just another television show, filled with characters we like and don't like. Do we despise the actors who play characters that we don't like in television serials or films? Naturally not. Then, why it is different for the Bigg Boss show? Why do we have to hate a contestant for playing a character that was given to her? Think.
On the closing note, maybe the best time to judge the contestants is when they are not performing tasks. Many of them seem to reveal the true nature when they are backbiting about others.
For all the latest Entertainment News, download Indian Express App