Justin Bieber landed in India late on Tuesday, ahead of his maiden performance in India. And after weeks of rigorous preparation from the organisers in Mumbai, the DY Patil Stadium played host to over 45,000 people who had come from all across the country to be a part of this memorable show. Bieber's concert was a part of his Purpose World Tour. His show was kicked off my artistes like Alan Walker, Sartek and Zaeden.
Bollywood came in large numbers too and occupied the VVIP box. From Alia Bhatt to Jacqueline Fernandez, Sridevi, Bipasha Basu and Karan Singh Grover, Malaika Arora and Arbaaz Khan, and Arjun Rampal, were some of the stars from the big list of B-town celebs who attended the show. After performing for two hours, Bieber closed the show with "Baby" and thanked his fans in India. He said, "Thank you India. You have been great. I would like to come again!"
Prior to his act, Justin Bieber had also visited an orphanage in Mumbai.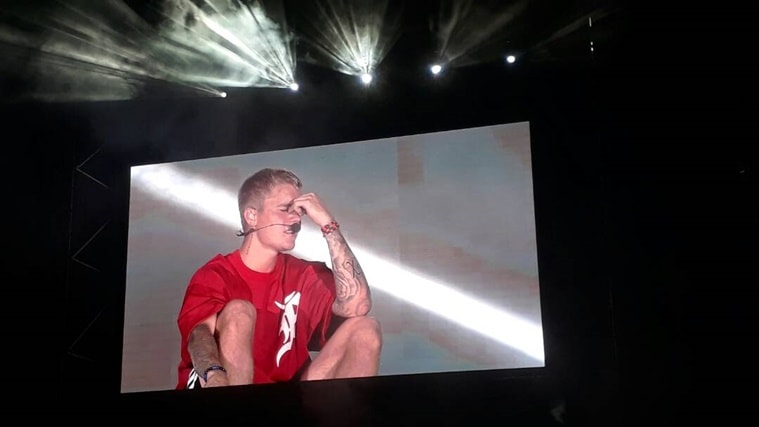 Live updates from Justin Bieber Mumbai India concert on Wednesday where Baby and Sorry singer is performing for the first time ever. Justin Bieber arrived in India early on Wednesday morning.
10:00 PM – "Thank you India, you've been great, I would like to come again…" are his closing words.
9:50 PM – Justin Bieber thanks all his fans in India.
9:35 PM – The whole stadium singing "Baby" with Justin Bieber.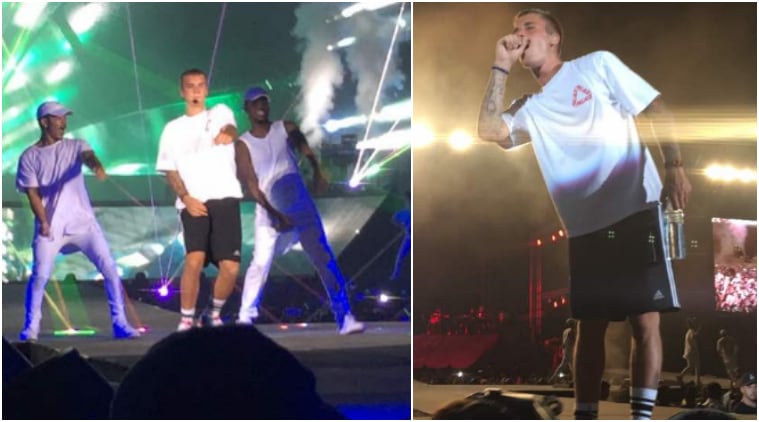 9:15 PM – Justin Bieber croons his hit numbers including Sorry, Cold Water, Boyfriend, I'll Show You and Where Are You Now.
8:40 PM – Malaika Arora and Arbaaz Khan arrive together.
8:38 PM – Justin Bieber continues to enthrall fans. He sings "Where Are you Now" among other hits.
#JustinBieber takes Mumbai by storm at the concert #PurposeTourIndia pic.twitter.com/6KAVLqQjqo

— JUSTIN FOLLOW HELP ™ (@vivekranzan) May 10, 2017
8:35 PM – Bipasha Basu and Karan Singh Grover leave the venue in five minutes. Bipasha said "We didn't get security with us and it is too crowded so we are leaving."
8:33 PM – Bollywood star couple Bipasha Basu and Karan Singh Grover walk in.
8:30 PM – Producer Bhushan Kumar also comes with wife Divya Khosla Kumar.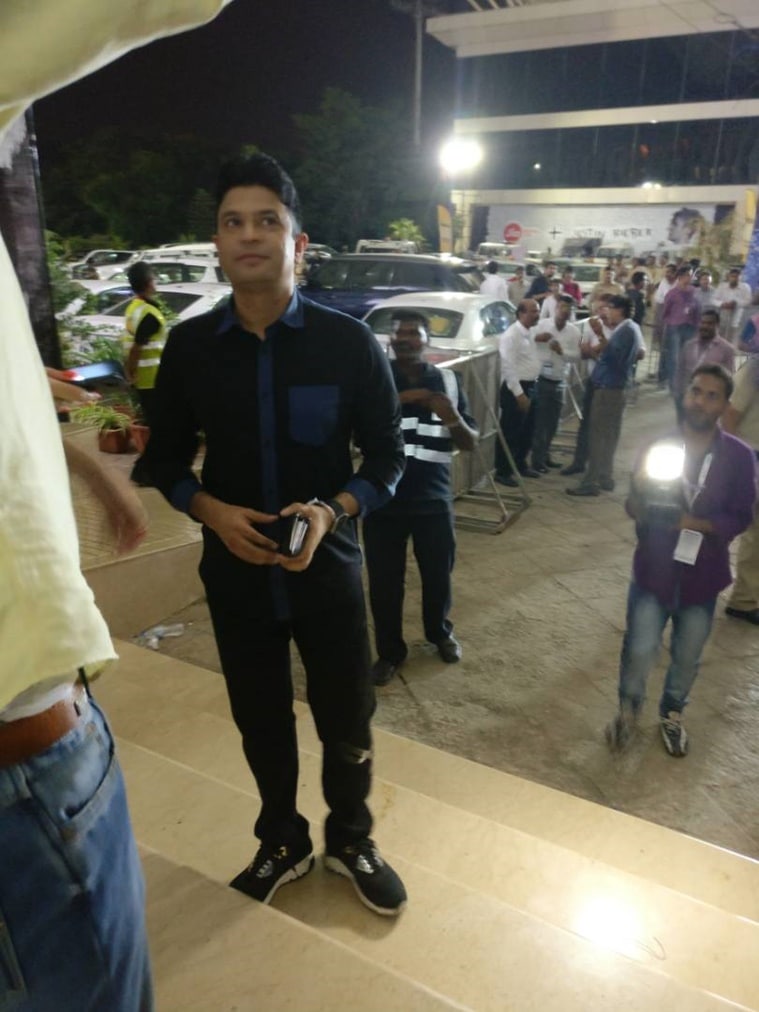 8:18 PM – Alia Bhatt, Ayan Mukerji, Sridevi and Boney Kapoor, Sonali Bendre, Shweta Bachchan, Raveena Tandon, Aditya Thackeray, Arjun Rampal, Ayush Sharma and Arpita Khan, among other who arrived around the time Justin Bieber took to the stage.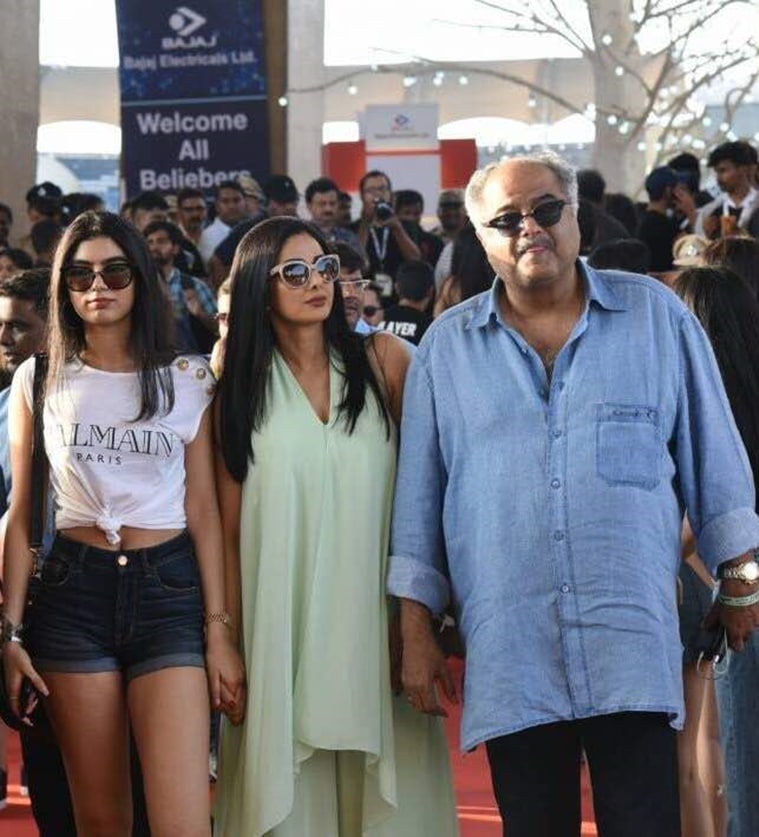 8:14 PM – Firecrackers fill the skyline as the Canadian singer makes a grand entry on the stage.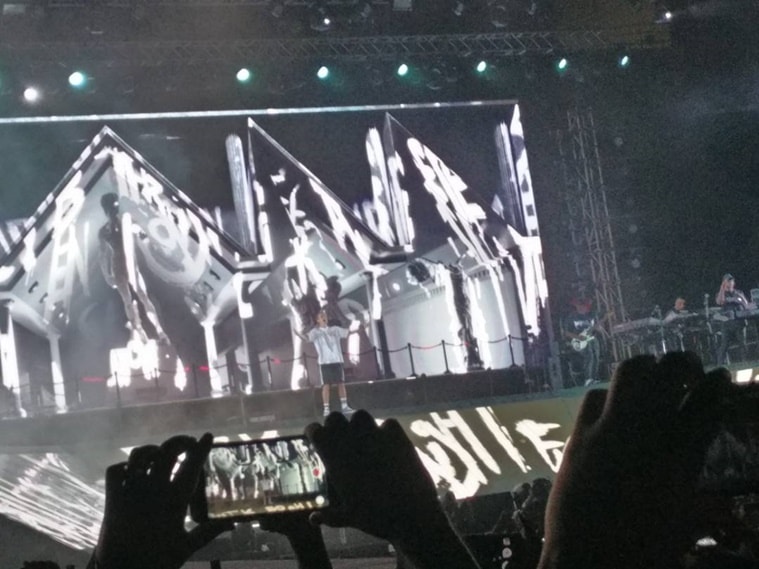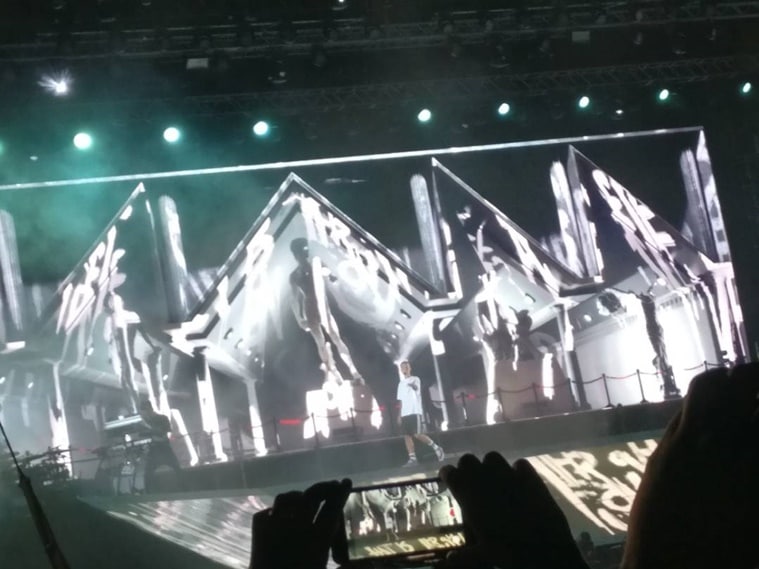 8:10 PM – Justin Bieber arrives on stage!
8:05 PM – It's time! Justin Bieber will be on stage soon!
7:55 PM – Over 50 incidents of people falling unconscious and being given first aid have been reported so far.
7:40 PM – Actor Rohit Roy is also here to attend the Justin Bieber concert.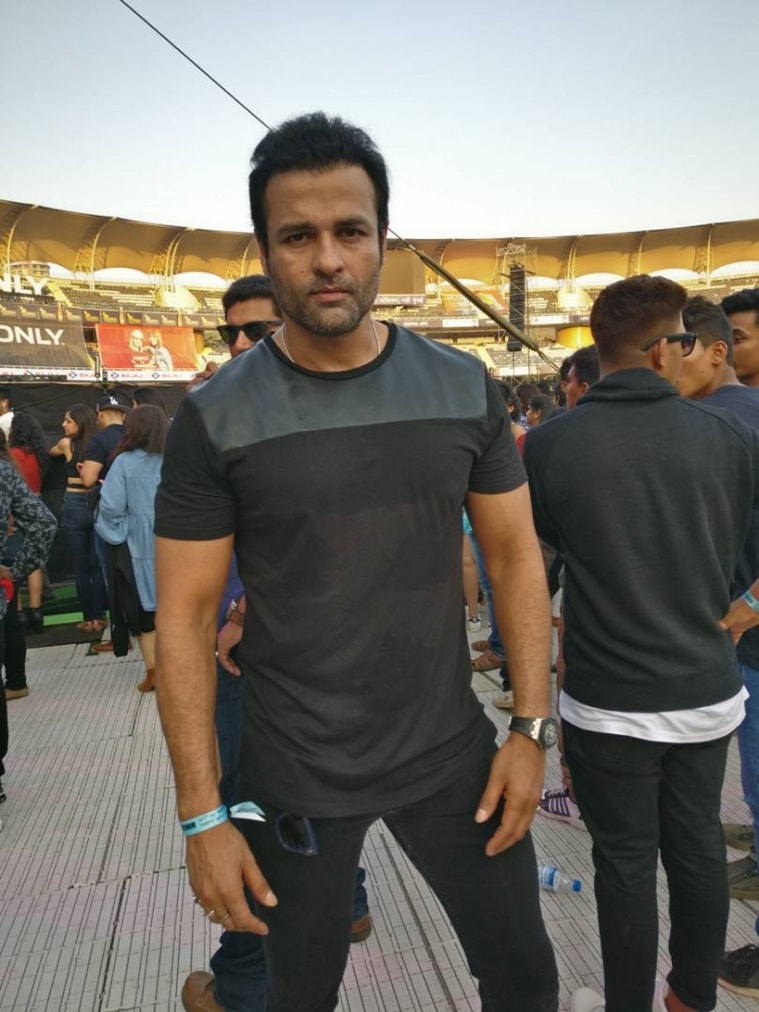 7:15 PM – A girl who is a die hard Bieber fan, suffered from dizziness and breathlessness. She has been taken to the first aid booth.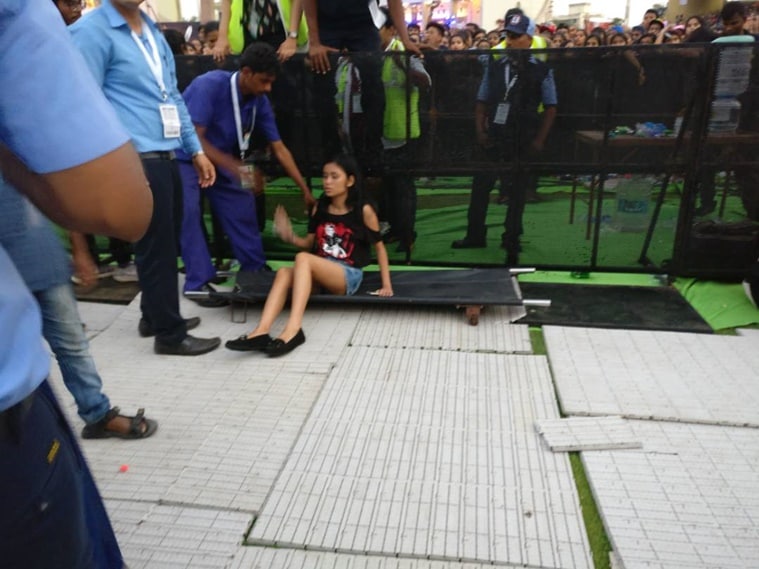 6:45 PM – Arrangements are too bad. There is total chaos when it comes to management and arrangement. Fans are divided into different categories even after buying same type of ticket. A woman can't find her kids because of all the commotion and phone network jammers.
6:40 PM – Alan Walker is still performing. Justin Bieber will only reach the venue at 9 PM.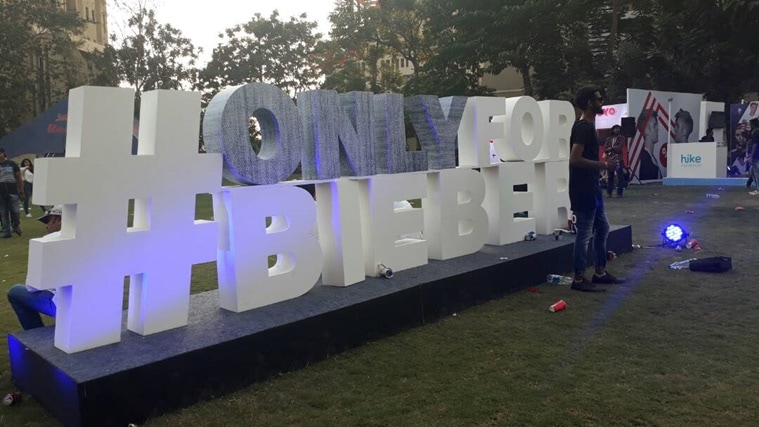 6:30 PM – Alan Walker is the last act before 'Baby' singer Justin Bieber makes a grand entry on the stage.
6:20 PM – DJ Alan Walker is performing.
6:00 PM – People are complaining that food and beverages are being sold at much higher rates without any coupons, bills or receipts.
5:50 PM – Our exclusive source told us that Justin Bieber has taken the road. He took a break and went to the Inorbit mall, and then went to the Four Points Hotel, in Vashi.
5:45 PM – With lack of dustbins around, the entrances are strewn with garbage everywhere.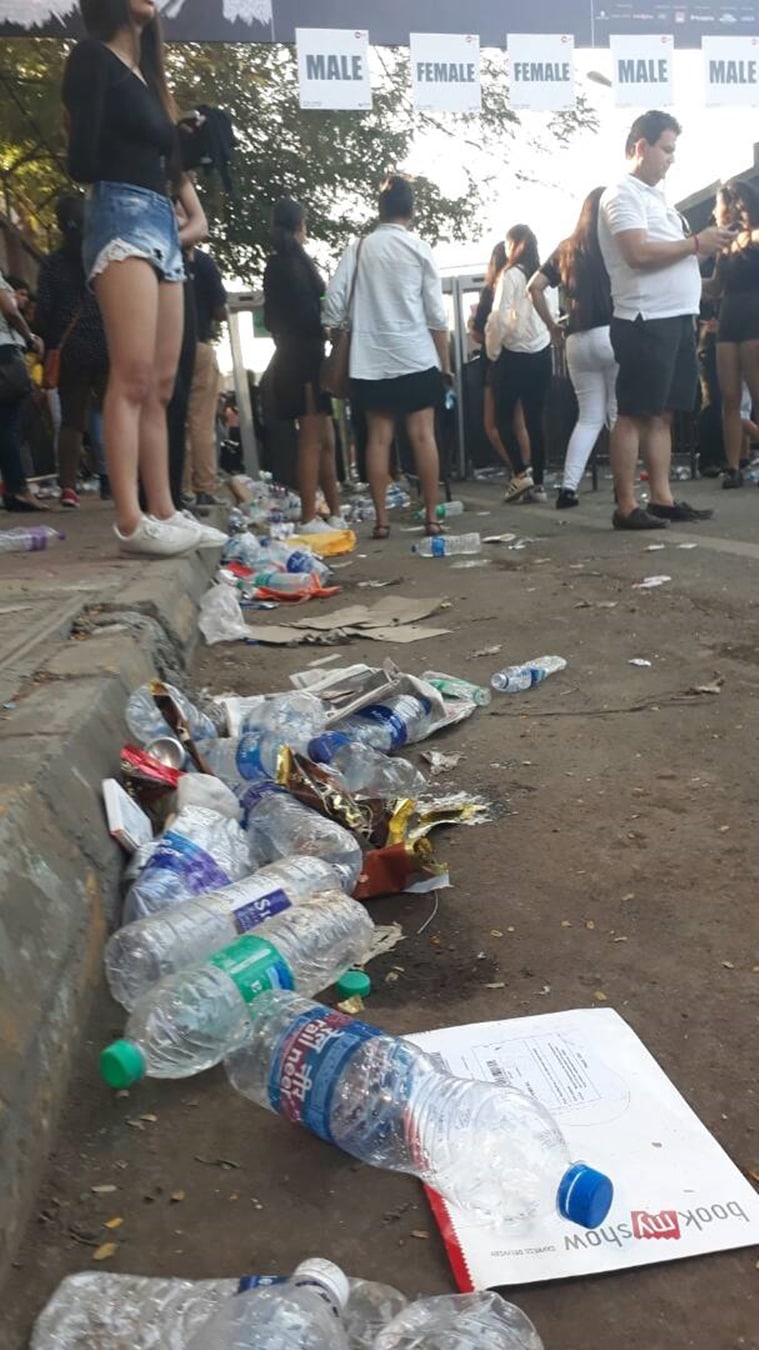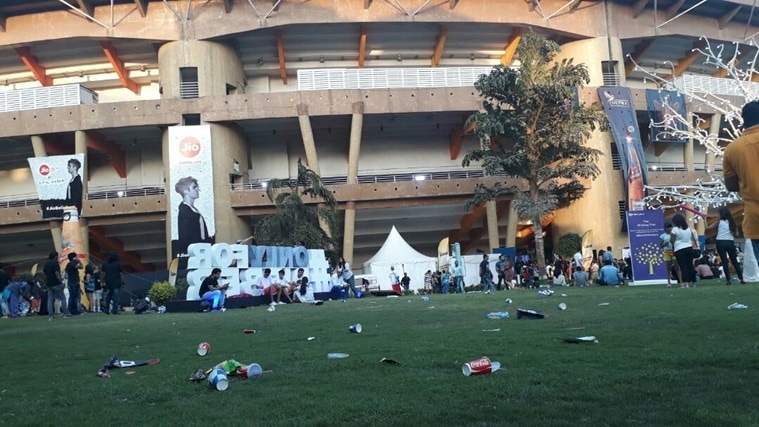 5:40 PM – Justin Bieber is playing hide-and-seek with his fans. He was supposed to arrive in this chopper, but he didn't. He might have taken the road instead.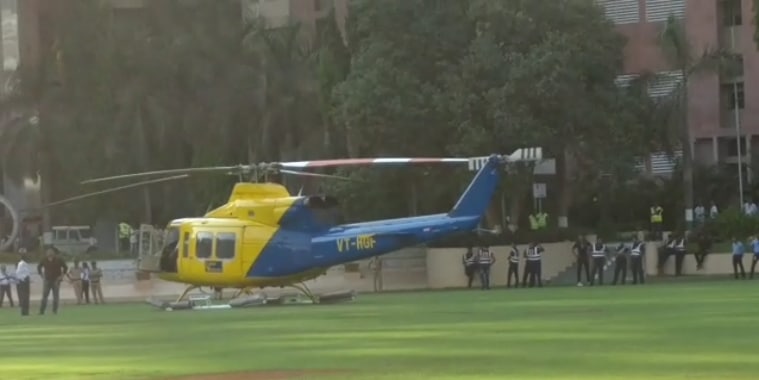 5:30 PM – Justin Bieber to reach the venue any moment.
5:25 PM – There are water counters for the general public at every corner of the venue. We can also see a first aid booth. Even a food court has been set-up which is serving the local junk food including vada pav.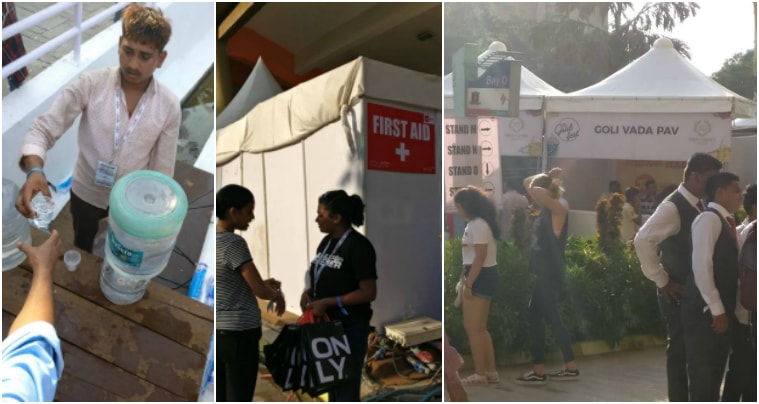 5:20 PM – Bollywood actors and Half Girlfriend co-stars Arjun kapoor and Shraddha Kapoor to arrive for the concert soon.
5:10 PM – Zaeden has just started his performance.
5:08 PM – Sartek performance gets over.
5:05 PM – Drone cameras can be spotted around the DY Patil stadium.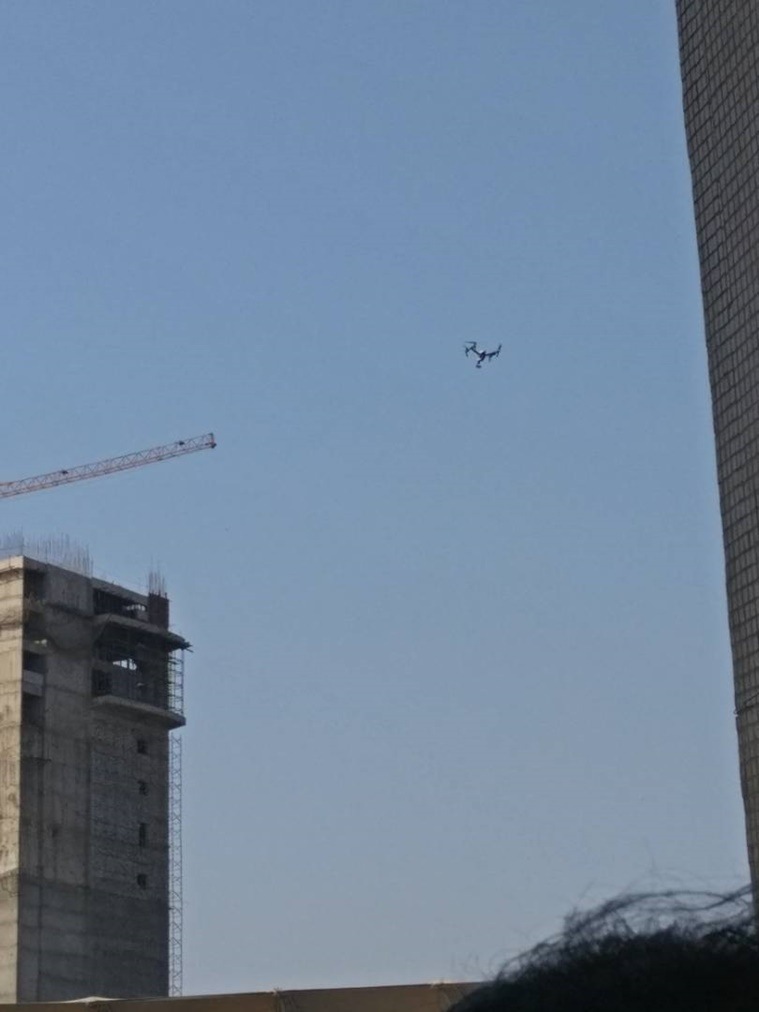 5:04 PM – Ambanis and Jindals have left from mahalakshmi racecourse in choppers.
4:50 PM – Choreographer-filmmaker Remo Fernandez arrives at the venue.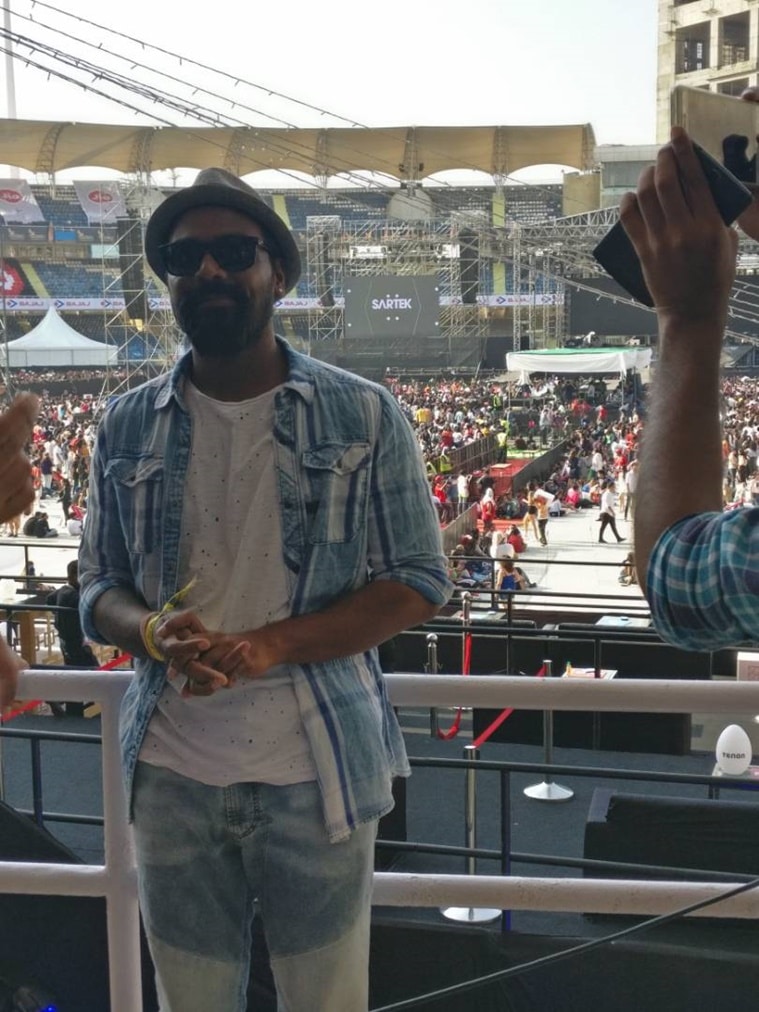 4:45 PM – The place where Arjun Jain will sit. He is the one behind Justin Bieber's much-hyped India concert and Bieber's fans cannot thank his enough for bringing him in the country.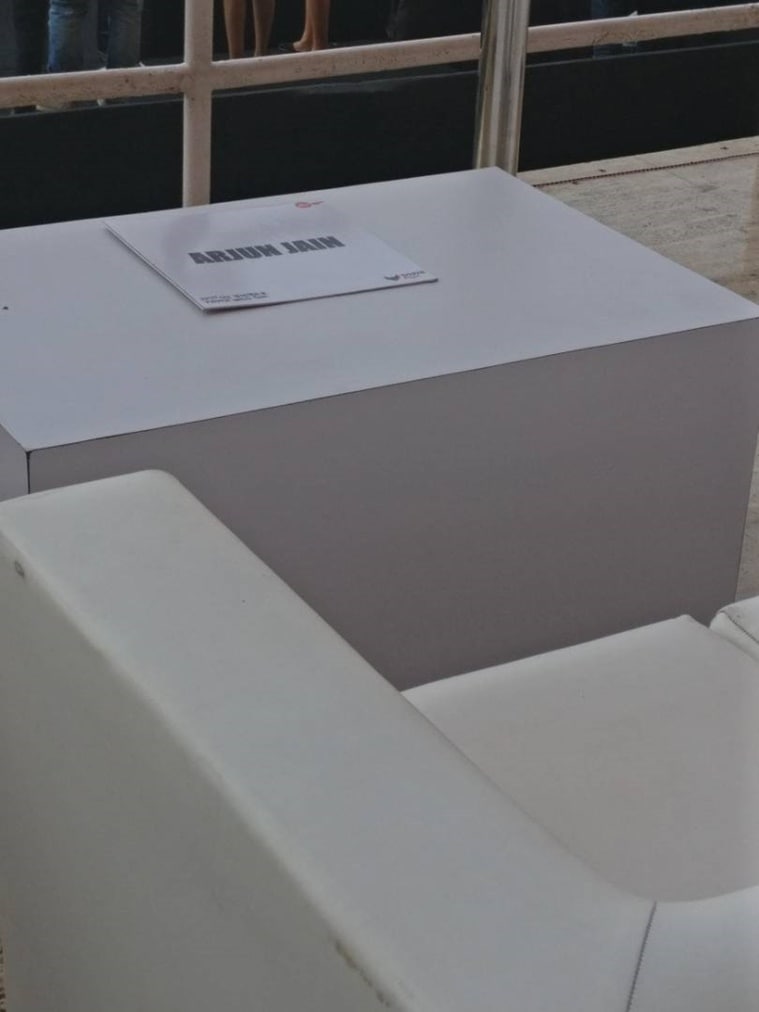 4:42 PM – There are traffic jams outside the DY Patil stadium already.
4:40 PM  – A Belieber family has come down from Pune. Fans are mostly seen wearing T-shirts sporting Justin Bieber's name and picture.
4:30 PM – Thousands of fans are in. First gig by Sartek to start soon.
4:23 PM – The DY Patil Stadium already looks packed.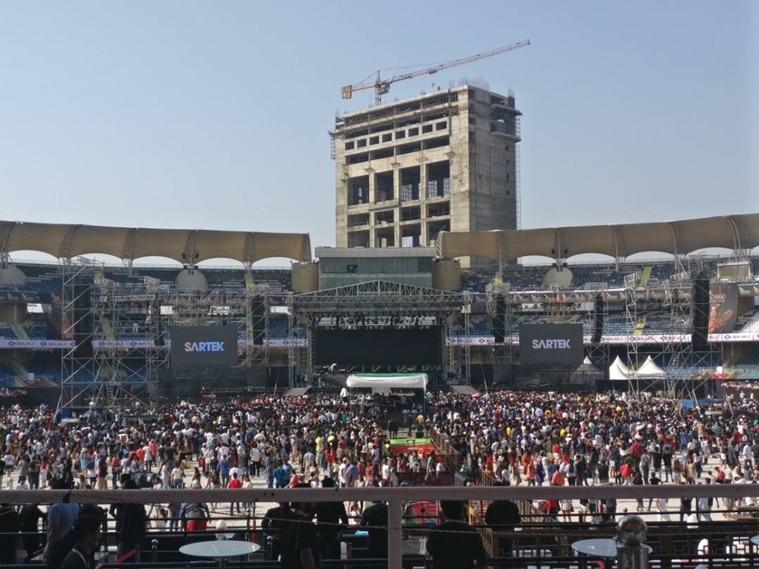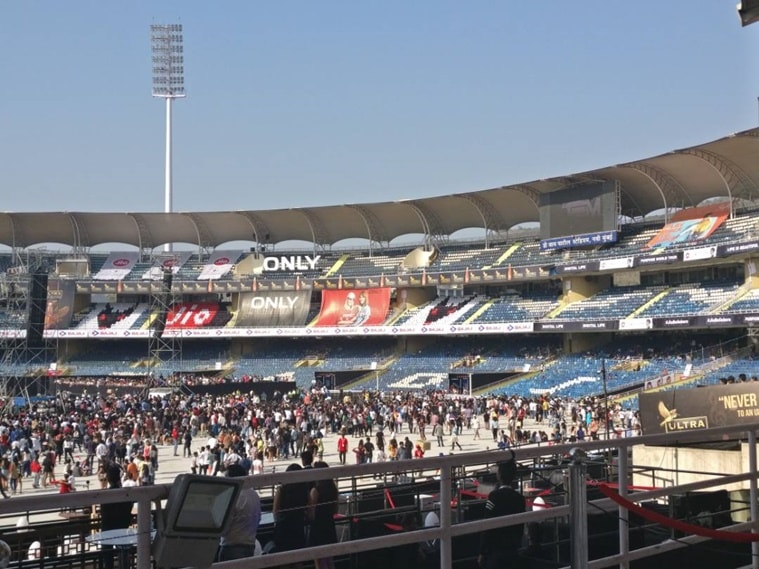 4:20 PM – Organisers confirm there are jammers inside.
4:15 PM – Bollywood actor Jacqueline Fernandez has reached the venue. She came in from the back entrance.
This is how you do it. 😎 #purposetour pic.twitter.com/GTIIkmepov

— Jacqueline Fernandez (@Asli_Jacqueline) May 10, 2017
4:10 PM – A group of friends from Bengaluru have come down to Mumbai for the concert. The mother of one fo the girls has gifted the concert tickets for her daughter's 16th birthday.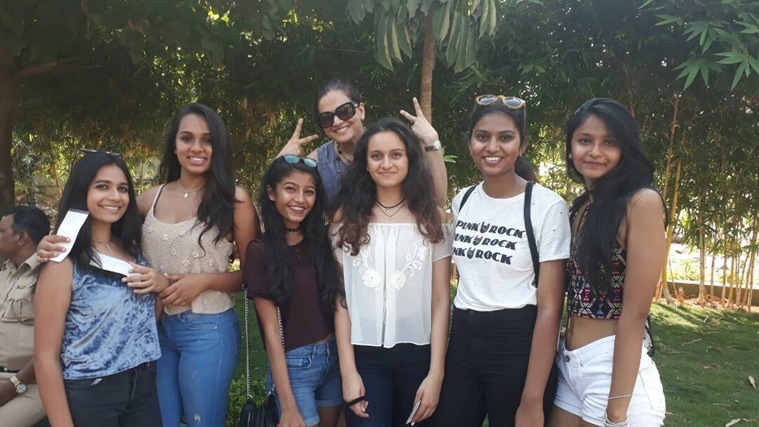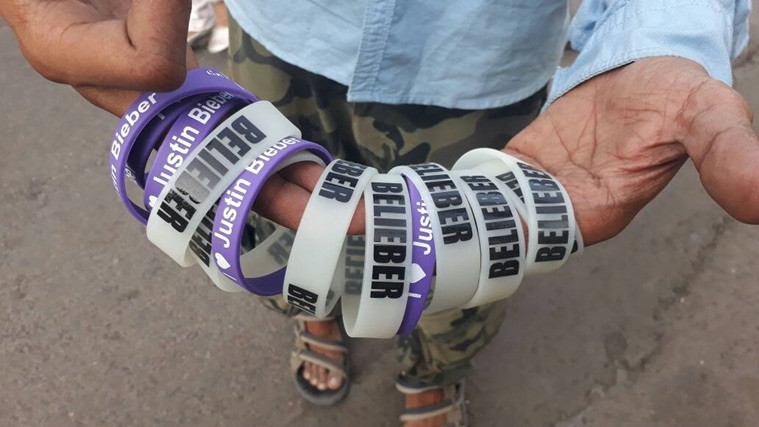 4:00 PM – Fans from all across the word have trooped in Mumbai for the big show today.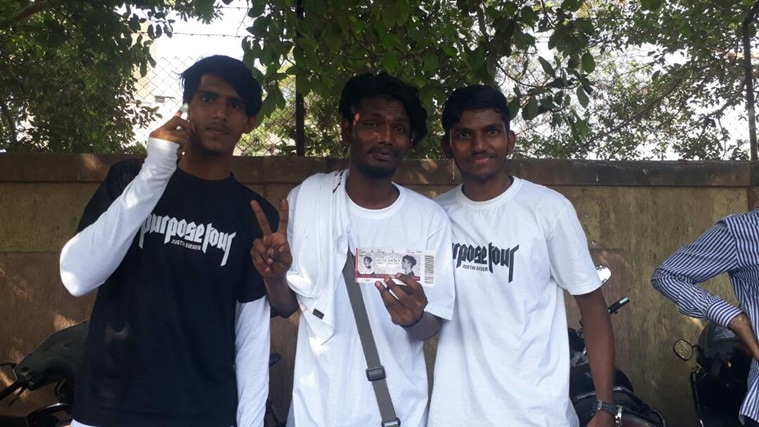 3:50 PM – Till now, only one ambulance has been spotted around the venue.
3:40 PM – There is no proper transportation for fans. People have to park their cars, go to the box office and then walk to the stadium. Rickshaws are taking Rs 100 minimum, just for 4 kms.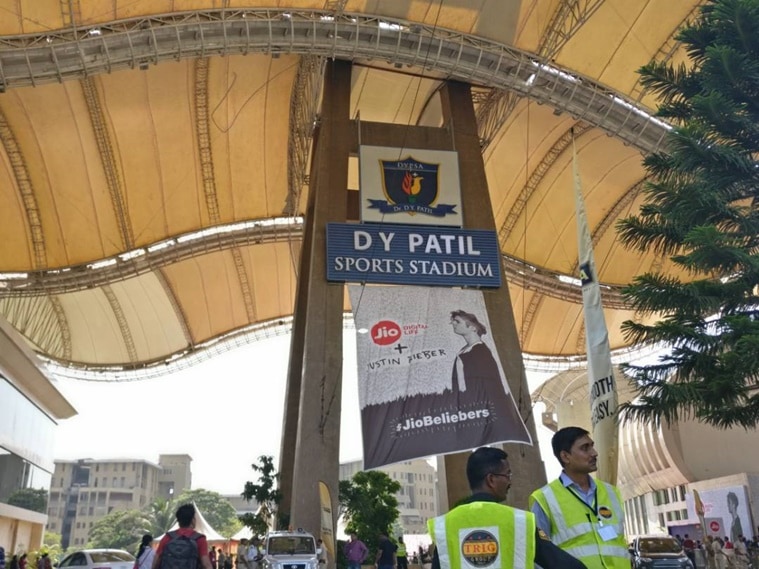 3:30PM – Akash Ambani, son of Mukesh Ambani has reached the Mahalakshmi Race Course. It is heard that he will take a chopper from there to arrive at the stadium.
3:20 PM – Hundreds have queued up outside the box office to buy tickets. Some are even selling tickets in black and at concession rates. A tickets of Rs 5000 is being sold at anywhere between Rs 3500-4000.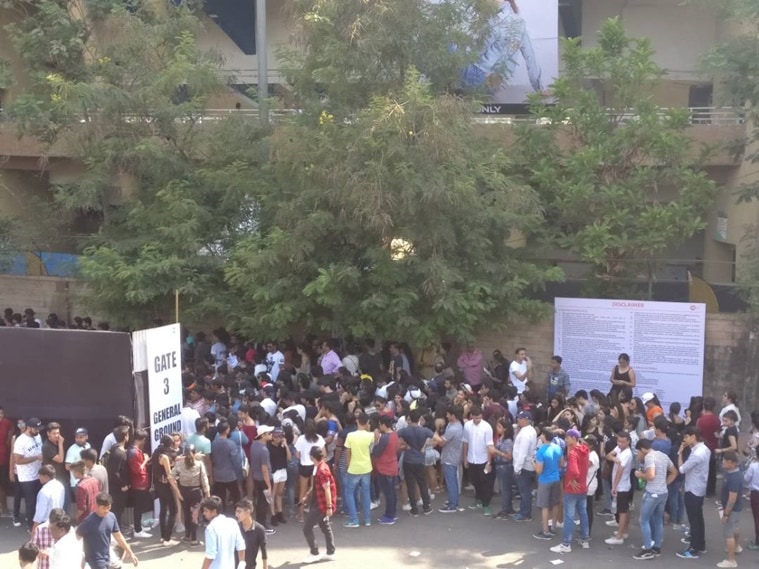 3:10 PM – Mumbai's DY Patil Stadium is all set for the big show. Fans have started pouring in large numbers. The stadium is at least 4 kms away from the box office. Fans are struggling to bear the bad summer afternoon of Mumbai today.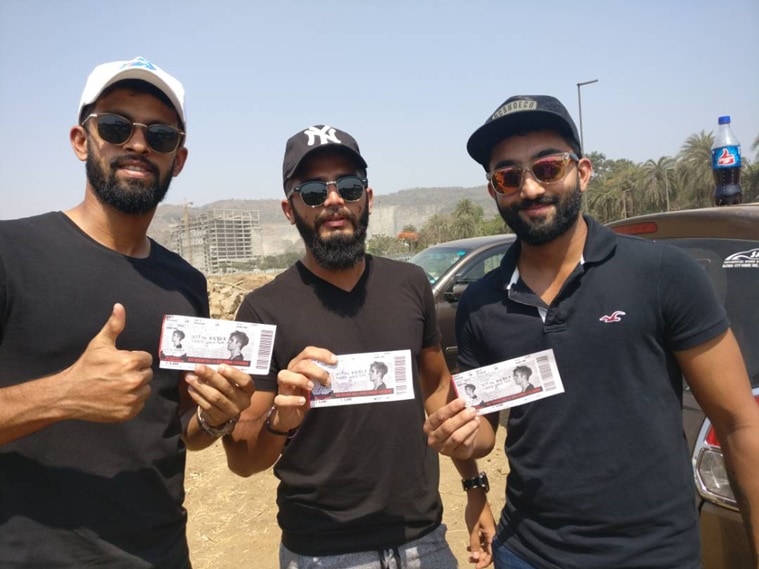 The stage is set at Mumbai's DY Patil Stadium. Mumbai has lined up in sweltering 33 degrees to watch pop sensation Justin Bieber perform for the first time in India. Probably the biggest event in Mumbai after Michael Jackson performed decades ago, Justin Bieber is set to perform his biggest hits in front of the 45000-strong audience, which has been lining up since 11 in the morning to watch him live.
The singer landed in Mumbai early on Wednesday morning and was whisked off to his hotel in Lower Parel by his security, which also includes salman Khan's bodyguard Shera. Before India, Justin performed in Dubai on May 6.
"Dubai is incredible… India you are next. Amit Bhatia, you ready? Purpose Tour Stadiums," Bieber, 23, tweeted before he reached India. He is promoting his album, Purpose, through this tour which is called Purpose World Tour.
The police have deployed 500 personnel along with 25 officers and a police control room has been set up there to ensure everything goes on smoothly. The event will be hosted by Harry Potter actress Elarica Johnson. While Bieber himself will perform at 8 pm, the show begins at 4 pm with performances by DJ Sartek, DJ Zaeden and Norwegian DJ Alan Walker. After the concert, Bieber is expected to attend a black tie boxing event and a party where Bollywood biggies are expected to be present.
Bieber embarked on the tour on March 9 last year in Seattle and will close it on September 24 this year in Tokyo.