By:
Reuters
| Los Angeles |
Updated: February 13, 2017 12:47:49 pm
Pop superstar Beyonce, proudly caressing her pregnant belly, took the Grammys stage by storm in her first public appearance since her surprise announcement 12 days ago that she is expecting twins. Wearing a sheer, glittering gold dress and halo atop flowing blonde locks, Beyonce sang a medley of the emotional ballads Love Drought and Sandcastles from Lemonade, her Grammy-nominated album about feminism, race and betrayal.
Singing seated on a chair and surrounded by floating petals, the 35-year-old singer also appeared in video projections wearing a gold-chain string bikini.
WATCH VIDEO | Grammy 2017: Adele Sweeps Five Awards, While David Bowie Wins Four
Also read | Grammy Awards 2017 live: Complete list of winners
Beyonce went into Sunday's awards show with a leading nine nominations and won one in the early going for her "Formation" music video. She is competing head-on with Adele, 28, the only other artist to be nominated for all three top awards – album, song and record of the year.
It was Adele who opened the music industry's big night on Sunday, with two early awards under her belt and a performance of her soaring hit ballad "Hello" that quashed reminders of her shaky vocal outing on the Grammys stage a year ago.
Grammy Awards 2017: See pics of Beyonce from 59th annual Grammy Awards: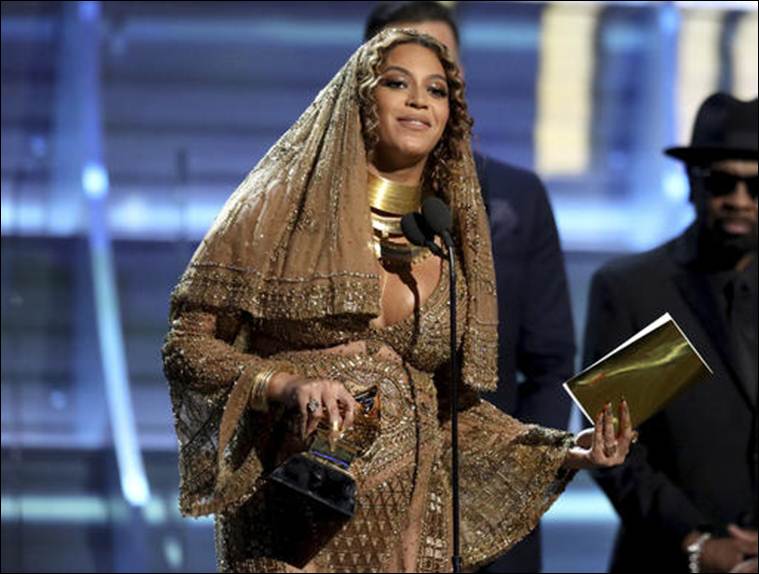 Earlier on Sunday, Adele beat Beyonce in the pop vocal performance category, and her best-selling "25" also won for pop vocal album. As with other recent award shows, artists wasted no time getting political. Presenter Jennifer Lopez said music was a universal language, adding: "At this particular time in history, our voices are needed more than ever."
Host James Corden, opening the show with an extended rap about the power of music, sang "Live it all up, because this is the best, and with President Trump, we don't know what is next." Chance the Rapper was named best new artist while Twenty One Pilots won the Grammy for best pop duo/group performance for "Stressed Out."
The duo took off their pants to accept the award on stage to make good a promise they made to themselves when starting their careers to accept a first Grammy in their underpants.
The other early leader was the late British singer David Bowie, who won all five of the nominations for his final album "Blackstar," including best rock song. They marked the first music Grammys for the British singer who had never won in his lifetime for an individual album or song.
Grammy Awards 2017: Watch Beyonce's video 
The chair part is pretty cool too. #GRAMMYs #Beyonce @Beyonce pic.twitter.com/ujS39SeG8b

— George Mansour (@GM8318) February 13, 2017
"Blackstar" was released just days before his death in January 2016 of cancer. Accepting the rock performance Grammy on Bowie's behalf, band-mate Donny McCaslin called Bowie "an artistic genius and a funny-as-hell guy."
Other stars lined up to perform on Sunday include Katy Perry, Lady Gaga, Demi Lovato, A Tribe Called Quest, and album of the year Americana music nominee Sturgill Simpson.
In addition to Bowie, the 2017 Grammys were marked by other absent friends.
Also read | Grammy Awards 2017: David Bowie's Blackstar wins all nominated categories at Grammys
Prince and British pop star George Michael, who both died unexpectedly last year, will be remembered in special tributes. Some of the night's biggest names were also missing.
Drake and Kanye West, who each had eight nominations, were no shows, as well as Justin Bieber. Like Frank Ocean, Bieber and West apparently stayed away to signal their feeling that the Grammys are out of touch with young artists, while Drake, who won two early Grammys for single "Hotline Bling", is on tour in England.
The Indian Express website has been rated GREEN for its credibility and trustworthiness by Newsguard, a global service that rates news sources for their journalistic standards.