Written by
Shubhra Gupta
| New Delhi |
Updated: December 23, 2017 2:02:23 pm
Tiger Zinda Hai movie cast: Salman Khan, Katrina Kaif, Sajjaad Delafrooz, Anupriya Goenka, Kumud Mishra, Angad Bedi, Paresh Rawal, Girish Karnad
Tiger Zinda Hai movie director: Ali Abbas Zafar
Tiger Zinda Hai movie stars: 2.5 stars
Tiger is back. The sequel to Ek Tha Tiger reunites us with Salman The Spy, who still makes a killer 'kaali' daal, schmoozes with his beloved 'biwi' Zoya (yes, gasp, the very one from Pakistan) and saves the world, with a little bit of help from both their friends.
Tiger Zinda Hai also goes several steps ahead in creating a channel between India and Pakistan: if their spies can bond in the face of a common enemy, why not the two estranged nations? Only Bollywood can dare go down this 'aman-ki-asha' path with such schmaltzy bravura, and given that Salman had successfully darted across the border in 'Bajrangi Bhaijaan', why not do an encore this time around?
I'd enjoyed the first one while it lasted. I had fun in this one too, once I got past the whole 'Come Children, Here's Make A Spy Story For You' explanatory mode of the flick, directed this time by Ali Abbas Zafar. Literally every plot point is picked up and repeated BEFORE it happens, so everything is easy peasy, comic-book-y. I shut my ears every time this happened, and returned only when the action re-started. Which, let me tell you, there is plenty of, and almost all well-choreographed, even if familiar. And the number of vehicles going up in smoke should give Rohit Shetty a complex.
You can see the filmmakers' compulsion in choosing to simplify and flatten matters. Because the Middle East is one of the most complex points of conflict in the world, and the attempt to base a Salman actioner on a real event (a bunch of Indian and Pakistani nurses being held hostage by terrorists in 2014) is in real danger of turning off his ardent fans by being too full of information, which needs processing. I could sense the occasional bouts of restlessness from the row of young fans behind me, which vanished as soon as Bhai came on, all guns blazing.
So, you hear key words like Mosul, Tirkit, Iraq, ISI, RAW, CIA roll past, there just to register presence, and prepare the ground for Salman and his cohorts to do their thing: rescue the nurses and bring them out safe.
The 2016 Malayalam film Take-Off was a terrific re-creation of that very same knife-edge situation, and the bravery-in-the-face-of-certain-death shown by the nurses, spearheaded by Parvathy. Tiger Zinda Hai uses it simply as a peg to get Salman centre-stage, only occasionally deigning to share the screen with Kaif (who has a terrific action sequence all to herself), and his cohorts (Mishra, Bedi and company). A menacing bearded type who goes by the name of Abu Usman (Delfroz) marches about, giving orders to shoot and kill, and the Americans, played by the most inept actors, as usual are the biggest losers.
Also Read | Tiger Zinda Hai box office collection day 1: Salman Khan starrer all set for an explosive opening
Only once in a while, the film gives in and provides us a killing which sobers us up, but very quickly it's back to the base, with Bhai taking over, and everyone– including Nurse Poorna (Goenka, who plays Parvathy's role), and Zoya (Kaif plays her straight, made up to appear unmade and dishevelled for the most part, in keeping with the let's –keep-everything-on-the-table spirit)—making way for him. But you can see she enjoys kicking butt: you wish she had more to do.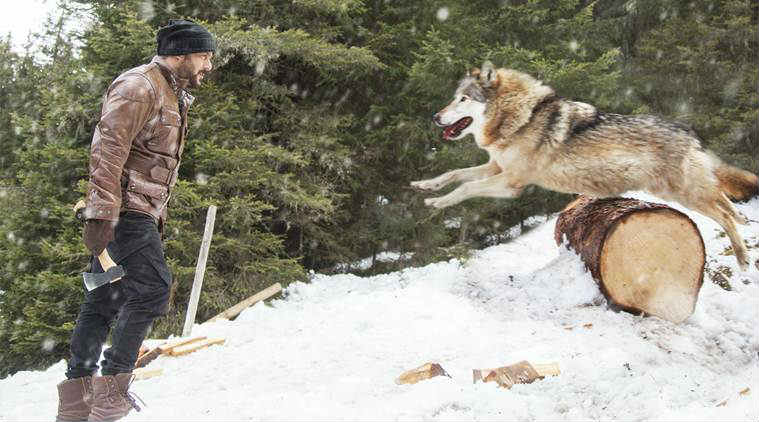 No animals were harmed during the making of this film: this could very well have been the tagline. Tiger squares up with a pack of wolves, and commandeers a horse, and they are all left standing. Oh, and he also sheds his shirt: it is one of Salman's most effective shirtless moments. The boys behind me cheered lustily. Bhai is in his place, and all's right with the world.
So, when's the third part?
The Indian Express website has been rated GREEN for its credibility and trustworthiness by Newsguard, a global service that rates news sources for their journalistic standards.