Written by
Manoj Kumar R
| Bengaluru |
Updated: October 29, 2016 10:37:54 am
Kaashmora movie cast: Karthi, Nayanthara, Sri Divya, Vivek
Kaashmora movie director: Gokul
The trailer of Kaashmora has set expectations high for the film among the audience. It gave the impression that the film is more likely to make audience cower in fear, bite their nails during action sequences and laugh their guts out with its comedy. The result, I'm afraid, is not what was expected of it.
Kaashmora is not a bad film. Director Gokul has tried hard to remain true to the film's multi-genre tag and the movie does manage to keep the audience entertained for the majority of its run time, which is 2.32 hours. In order to satisfy all types of audience, Gokul appears to have compromised on storytelling, as at times the film loses its grip on the viewers.
Kaashmora, played by Karthi, is a con artist. Along with his family of four, Kaashmora exploits the fear and superstitious beliefs of people to make money. The film's first half is a candid take on self-proclaimed sons and messengers of gods. The film takes a stand on the thriving business of godmen and godwomen who feed on people's spirituality, fear, guilt and beliefs.
Till the interval, the movie is high on comedy with Karthi's black magic tricks, which are meticulously planned and executed to deceive his potential customers, so that they think they have come under the spell of some demonic spirit. And then run to Kaashmora for help, who has built a celebrity profile as an exorcist by appearing on television talk shows and promoting himself through newspaper ads.
One of the most engaging performances of the film is by comedian Vivek, who plays Kaashmora's father. He is the one showing the mirror to the society by making sensible and thought-provoking jokes.
Other characters in the film, who initially appear to define the course of the film, soon fizzle out, including Sharath Lohitashwa — who plays the role of a corrupt minister with a godman in tow to ensure he can continue on his sinister path without drawing the wrath of the gods or evil spirits.
Sri Divya, who first gives the impression that she is a highly-motivated girl determined to expose the fake godmen, also fails to make a mark and ends up just as a filler.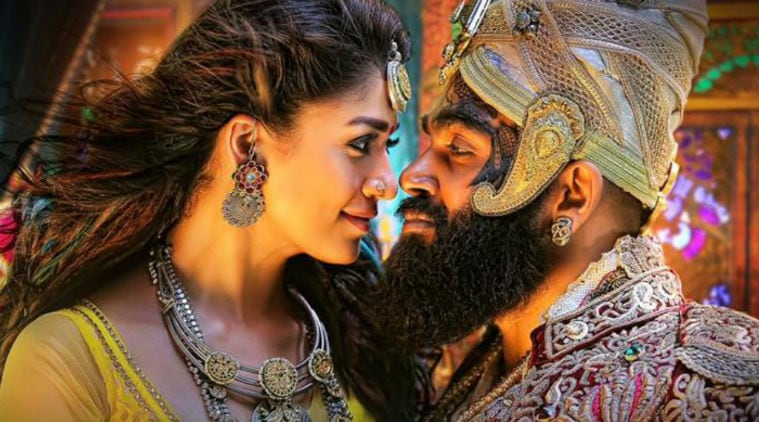 The audience gets to watch two stories in Kaashmora. One is the story of a con artist and his antics, second is the story of revenge and retribution between two ancient souls.
The period portion of the film, post interval, was promoted as the highlight of the film. While the makers have managed to get the VFX, grand palace set and costumes right, they have come up short on storytelling.
Raj Nayak, again played by Karthi, is the army commander of a fictional kingdom. His character can be defined as an unbeatable and ruthless warrior, whose only weakness is women. He is smitten by the king's daughter Ratna Mahadevi, played by Nayanthara. Following a few twists and turns, Raj Nayak kills Ratna Mahadevi's lover, brother and father. And he forcefully marries her. Unable to match his physical prowess, Mahadevi plays a seductress and poisons Raj Nayak. However, it would be a shame for a warrior of his stature to go down without a fight, right? Just before Mahadevi beheads him, he manages to drive a spear into her gut. Just to make sure that their enmity continues for generations to come, Mahadevi curses him before she dies.
And if you are looking for any more spoilers, I don't have any. As you can see by now that after a certain point the film become predictable. And the stretch of predictable narration, is often disrupted by comedy that shakes up audience a bit and fills some interests in them to stay with the film.
The story eventually leads to good vs evil battle, where Raj Nayak and Ratna Mahadevi cross swords once again after seven generations and 8400 full moon days since they killed each other.
The 2009 film Arundhati seems to have established a template for filmmakers, who aspire to explore the hostility between men and women, especially if that goes back at least a few hundred years. Kaashmora also falls back on this template.
You may be wondering about the third character of Karthi in the film, right? It is best if you watch it for yourself in the theatres, instead of reading about it in here. (Hint: He plays the ghost of Raj Nayak).
Meanwhile, let's not compare this film with Baahubali as it would be a grave injustice to both films. The visual effects that they have managed to deliver in Kaashmora are commendable.
Music composer Santhosh Narayanan has done a decent job with the background score. Thakida Thakida, Oyaa Oyaa and Dhukkku Dhukku Saar numbers work in the favour of the film.
Kaashmora movie review: Check Kaashmora trailers, earlier shared by actor Karthi:
#Kaashmora Official Theatrical Trailer!

Tamil – https://t.co/Jdewdq3XDL

Telugu – https://t.co/EEXzDXNTup

— Actor Karthi (@Karthi_Offl) October 7, 2016
The action sequences, are very plain and basic. The action in the film does not rise to the expectations. The battle sequences, meanwhile, could have been better.
The makers have been just right selling Kaashmora as a multi-genre film. While the horror and period drama let you down, the comedy comes as a saving grace. Karthi's performance in all three roles is convincing and entertaining. Nayanthara as a warrior queen looks stunning, but her character suffers from the wafer-thin script.
Kaashmora is not the film we expected for Diwali. But the film is still fun to watch.
The Indian Express website has been rated GREEN for its credibility and trustworthiness by Newsguard, a global service that rates news sources for their journalistic standards.