Written by
Shalini Langer
| New Delhi |
Updated: November 18, 2017 7:21:22 am
Justice League movie cast: Ben Affleck, Gal Gadot, Henry Cavill, Ezra Miller, Jason Momoa, Ray Fisher, Jeremy Irons, Ciaran Hinds
Justice League movie director: Zack Snyder
Justice League movie rating: 2 stars
Batman vs Superman: Dawn of Justice concerned itself laboriously and lengthily with "man playing god". And then, Superman died. What is to be done then but to resurrect him? All the concerns of the previous film forgotten now, Justice League goes about doing precisely that, down to immersing Clark Kent's body, baptism-like, in an amniotic fluid.
Superman (Cavill) isn't the only one reborn as Snyder returns with a shorter, if not any less chaotic, film. So is 'Steppenwolf', a monster who had been banished many years ago by gods and men combined, and has returned to destroy Earth. He is tall, scaled, horned, and has clearly some mother issues — in that last aspect, many characters of Justice League are united, as they were in Batman vs Superman. The casting list tells us Steppenwolf is played by the talented Hinds, but really there is no way to tell which actor hides behind that exterior, or if one was needed at all. Among other things, Steppenwolf is after three "mother boxes", "the source of creation, destruction and power".
Justice League's battle consists of Batman (Affleck) assembling Wonder Woman (Gadot), Flash (Miller), Acquaman (Momoa) and Cyborg (Fisher) — later joined by Superman — to stop Steppenwolf.
That amount of superpowers in one room can be daunting for anyone, even if Marvel has made it look easy with Avengers. Plus, Snyder is coming into Justice League bearing the dead weight of Batman vs Superman as well as the expectations that come from a reported $300 million budget (putting the film in the category of one of the most expensive ever). It's hard to tell where that money has been spent — if not on just creating and destroying the clumsy and boring Steppenwolf — but Snyder at least keeps Justice League lighter on its feet than Batman vs Superman.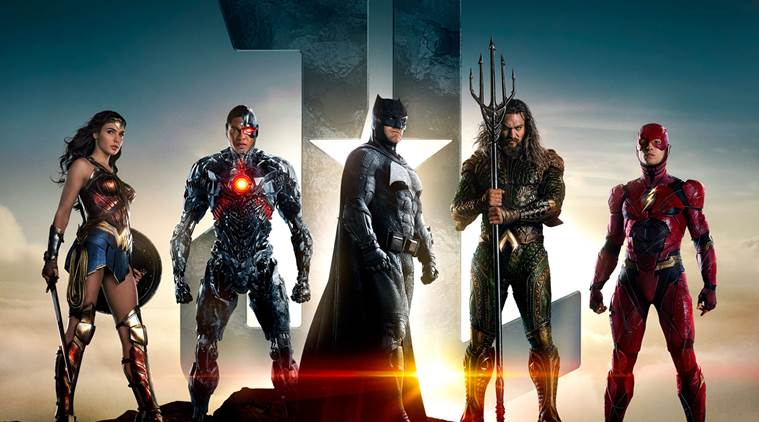 Contributing to this lightness are Gadot and Miller. Flash is the nervous, twitchy, teenage new-kid-on-the-block, and Miller mostly gets it right. The Aquaman and Cyborg, on the other hand, appear half-conceived and present only to fill up the screen. The film's smartest move is to recognise that Gadot is the beating heart of this enterprise. And given that this enterprise rests on a fairly straightforward idea, that a dark world needs hope above all else, you can't do much better than giving people the luminescent Israeli with the wide smile and twinkley eyes. Batman, played with as much surliness as before by the grim-jawed Affleck, tells Wonder Woman as much — to be the leader she needs to be. A sound ground for a third film.
It's unfortunate then that Justice League doesn't feel the need to have actual people around, to be led or to be saved. As our superheroes and an incomprehensible villain cross swords and blasts, only one family is in any real danger. A Russian family with two small children, living in a place where once a "nuclear meltdown" happened. Why go looking any further?
The Indian Express website has been rated GREEN for its credibility and trustworthiness by Newsguard, a global service that rates news sources for their journalistic standards.