Written by
Shalini Langer
| New Delhi |
Updated: January 19, 2018 4:19:14 pm
Darkest Hour movie cast: Gary Oldman, Lily James, Kristin Scott Thomas
Darkest Hour movie director: Joe Wright
Darkest Hour movie rating: 3 stars
It's hard to feel as enamoured of Winston Churchill in this part of the world than the Western Hemisphere. And we know now of the immense dangers of confusing a leader for his oratory. However, almost nothing can take away from the aura of the man routinely voted as Briton's No. 1. And as Wright captures him from deep inside his cabinet to deep inside his bedroom, from high above the ground to down below in the Underground, from the unending cigars to the bottomless whiskeys, this is clearly another venture burnishing that image.
Oldman, an unlikely choice to portray Churchill, inhabits the role snugly, as he does the prosthetics, transforming him into the paunchy, growling, jowly Churchill. This is an Oscar-worthy performance, already noted at the Golden Globes, and Oldman captures both the man and his moment. Importantly, he also shines in the other, smaller moments, especially with wife Clementine. Scott Thomas has a small role, but she makes quite an impact playing the woman who did her own bit in establishing the Churchill legacy, both before and after him.
It's the film itself that leaves you colder, in its risky gamble of restricting World War II entirely to dark corridors, basements, offices and palaces. Hitler looms as a giant shadow, but as it shows Churchill galvanising his fractious war cabinet into war, the film makes no attempt to address this as an ideological fight. It's a sobering thought that old, ailing, often incapacitated men, fighting for power, led that war and won it, but it would have been nice to know what drew either side to where they stood. Pickup as Neville Chamberlain and Dillane as Viscount Halifax, both scheming and plotting against Churchill, waiting to see him fail, are good, but we never understand them.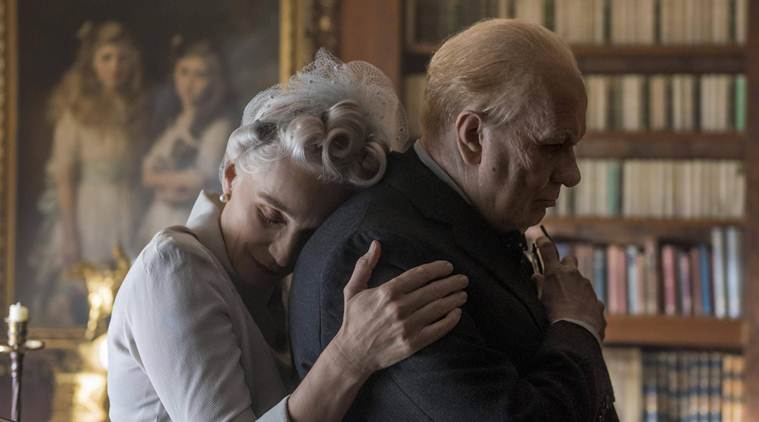 Unfortunately, Darkest Hour can't avoid comparisons with The Crown, where John Lithgow's Churchill reluctantly confronts mortality, and faces questions regarding own leadership. Several actors from the Netflix series pop up here in crucial/similar roles. While The Crown captures Churchill in another era, after a shocking, post-War defeat, Darkest Hour could have done well with some of those nuances. Doubts regarding whether Churchill is the right man for the job in the crisis are dealt with summarily. Rather, Wright expends quite a bit of his energy in staging scenes, with long, tracking shots, where individuals, dead and dying, are mere decorative pieces in his grand design.
Also, while the film, of course, doesn't have the luxury of an extended TV series, Wright had the opportunity to include more personal touches than the character of Churchill's typist (Lily James is an extended, unnecessary distraction), who is there to put up with his eccentricities (including famously dictating letters from inside a bathtub), outbursts, and yet buoy him when he is feeling down. The only time the film remembers other, ordinary people is when Churchill, rather cornily but effectively, boards the Underground.
Churchill's meetings with King George VI (Mendelsohn) are more effective, showing a natural progression towards mutual empathy and respect. The scene where the King comes to meet him is the only one where the Prime Minister shows a vulnerable side.
Darkest Hour has Churchill talking "blood, tears, toil and sweat"; and vowing to fight "in the sky and on the beaches, land and streets". His other famous War speech, of centuries remembering that this was Britain's "finest hour" is still some days away when the film ends. While we get little glimpse of that Britain, this is clearly Churchill's finest hour, and at a time when the world is seeking leaders, this film may not have a better hour.
The Indian Express website has been rated GREEN for its credibility and trustworthiness by Newsguard, a global service that rates news sources for their journalistic standards.