Written by
Shalini Langer
| New Delhi |
Updated: March 18, 2017 8:48:11 am
Beauty and the Beast movie director: Bill Condon
Beauty and the Beast movie cast: Emma Watson, Dan Stevens, Luke Evans, Kevin Kline, Josh Gad, Ewan McGregor, Stanley Tucci, Emma Thompson, Ian McKellan
Beauty and the Beast movie rating: 2.5
Tale as old as time, true as it can be. You know the song, you know the rest. The live-action remake of Disney's 1991 animated classic is a fulsome ode to its predecessor, lush in its design, joyous in its execution, solemn in its acting, and soulful in its premise. But is it necessary is the question. The answer: maybe not. Bill Condon, whose oeuvre ranges from Gods and Monsters and Chicago to the last two Twilights (you know, the one-into-two Breaking Dawns), could have used the opportunity to make something of our obsessions with beasts, and our obsessions with beauties — what better time than now? But Beauty and the Beast remains safe and secure within its Disney-defined dimensions; its infantile proclamations about a gay character and mixed race couples even further underlining what goes for risk-taking in that world.
However, since the brief is to channel the nostalgia of a celebrated true love — that eventually does have a beautiful girl called Belle on one side and a Prince with a huge castle on the other — Condon can be considered a success.
The film differs from the 1991 version in not just giving Belle (Emma Watson) a love of books (sigh!) but also seeing her try use the knowledge to fashion a washing machine of sorts and to teach village children. Which only confirms the suspicions of Belle's "provincial village" that she is a "peculiar girl". Gaston is a cad in that village of the worst sort possible, and in his pursuit of Belle, Luke Evans lends the character hilarious and remarkably believable pompousness.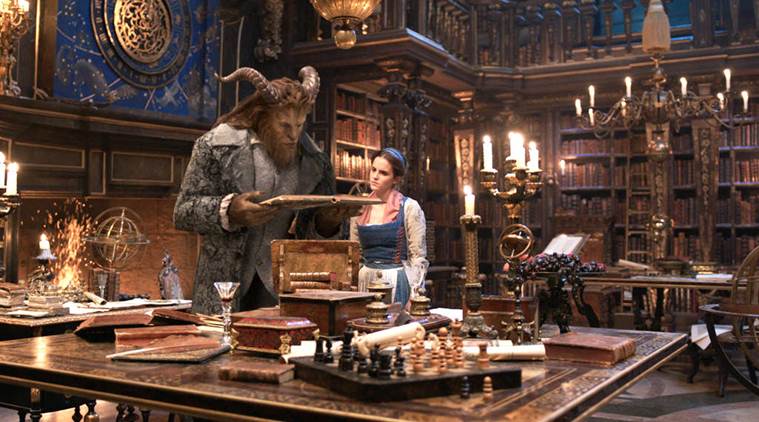 This here is where Condon, working on a screenplay by Stephen Chbosky and Evan Spiliotopoulos, is at his best. From the smallest of characters to the largest of them all, the Beast (Dan Stevens), the film etches each credibly, with personality, and establishes a genuine relationship between them.
Later, when the scenery moves to the snow-bound castle, we get to meet the candelabra (Ewan McGregor), the clock (Ian McKellen), the teapot (Emma Thompson), the cup, the wardrobe (Audra McDonald), and a new addition, the harpsichord (Stanley Tucci). They are all people of the Prince's court who have been turned into objects by the same curse that turned him into a Beast. The longing of the wardrobe and harpsichord to meet one more time — they are wife and husband in reality, and a singer and a classical maestro — is almost as touching as the other couple we are rooting for.
Also read: Beauty and the Beast launch begins as Disney pulls film from Malaysia
Watson, for as long as we have known her, is just the kind of Belle the film is looking for — the beauty with sensible brains. She is good here. Stevens as the Beast/Prince is touching in his melancholy, reluctant in his charms, and rare in his tempers.
Yes, you can do worse than watching them come together.
You can also do better.
For all the latest Entertainment News, download Indian Express App