Written by
Manoj Kumar R
| Bengaluru |
Updated: January 13, 2018 7:47:49 am
Agnyaathavaasi movie cast: Pawan Kalyan, Keerthy Suresh, Anu Emmanuel, Kushboo, Aadhi Pinisetty, Boman Irani
Agnyaathavaasi movie director: Trivikram Srinivas
Agnyaathavaasi movie rating: 2 stars
Director Trivikram Srinivas has adopted the basic premise of French film Largo Winch and a chapter from the Hindu epic Mahabharata to create a star vehicle called Agnyaathavaasi for Tollywood star Pawan Kalyan. The film opens in Varanasi, the spiritual capital of India, where the author of Mahabharata, Maharshi Veda Vyasa is believed to have spent his life writing Vedas and Puranas.
Abhisikth Bhargav (Pawan Kalyan) is in Varanasi to scatter the ashes of his dead father and half-brother in the Ganges. In the Mahabharata context, he is Arjuna. And he has four brothers in arms who are equivalent to Yudhishthira, Bhima, Nakula and Sahadeva. He sets up his camp right opposite the towering AB office, which was owned by Govinda Bhargav aka Vinda (Boman Irani), who died an untimely death living behind his throne defenceless. Or so do his enemies think.
Abhisikth steals the identity of Bala Subramaniam (Vennela Kishore) and infiltrates his own office. You may have guessed it already. He goes undercover to find the killers of his billionaire father Vinda. Abhisikth also has multiple girlfriends, Sukumari (Keerthy Suresh) and Suryakantham (Anu Emmanuel). Arjuna spent a year of his exile as a dance teacher. Abhisikth's body language and mannerism as Bala Subramaniam are also dramatic.
Writing films for superstars like Pawan Kalyan has certain limitations. First, the writer has to write scenes just to set up the audience for a hero introduction. And continue to keep feeding the fans with hero shots, slow-mos, frequent punch-lines, gravity and logic-defying action sequences. And then give one song to each heroine before the writers get to the actual story.
The focus of Agnyaathavaasi should have been the boardroom coup, which involves murders and a big conspiracy. And the struggle of an apparent heir to prove his legitimacy to the take over the business empire that rightfully belongs to him. Trivikram circumvents corporate politics and other challenges that the plot throws at him. He even makes clowns out of what should have been powerful characters in the story, hoping that the popularity of Pawan will overshadow the reasoning ability of the audience.
In Agnyaathavaasi, anybody could bump off anyone and walk away from the crime scene. No matter how powerful the victim is. Abhisikth can even kill a car full of attackers by shooting them in the head at a crowded marketplace, without anyone noticing. This action sequence sounds interesting on the paper but visually it is composed in a hasty manner.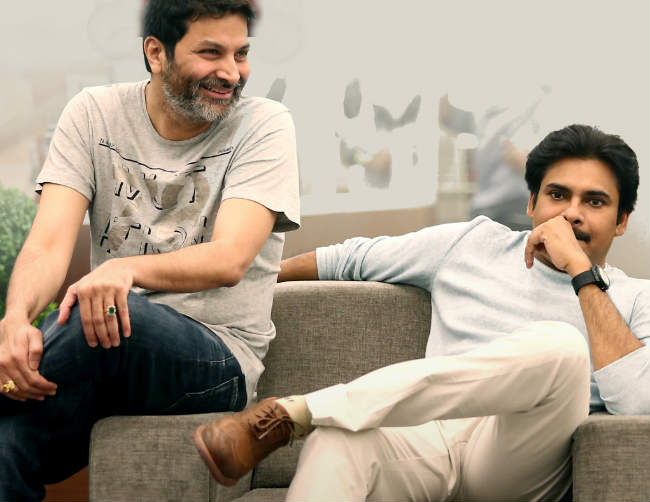 A high-ranking police officer, played by Sampath Raj is introduced in the second half. And initially, he seems to play an important role in the narration. Even we hope he could pose a real challenge to the hero. He is also the only sane character who really seems to care about people getting killed and wants to find out the reason. And again, he is reduced to bragging about how the temperature of the room changed when Pawan's character got angry and that he was unable to breathe. Even the powerful police character is made to feel powerless before the hero.
The hero worship in the film is at a different level. Some character that dares to speak behind Abhisikth's back ends up experiencing a sudden and violent coughing or a temporary paralysis.
The film has top-notch cinematography (V Manikandan) and soothing songs and background score (Anirudh Ravichander). But, the wafer-thin script defeats the film's high production value. The bad stretch of Trivikram's writing in the film is Abhisikth's trip to Bulgaria to retrieve the will of his father from a safe. It involves a montage song, where the leading ladies compete to win the attention of Abhisikth. It also involves a lamentable scene where Keerthy Suresh and Anu Emmanuel pull each other's hair over Pawan Kalyan.
Agnyaathavaasi is not the film we expected to see this holiday. It is strictly for fans of Power Star as Trivikram has spent the entire runtime gushing over Pawan Kalyan.
The Indian Express website has been rated GREEN for its credibility and trustworthiness by Newsguard, a global service that rates news sources for their journalistic standards.