Written by
Manoj Kumar R
| Bengaluru |
Updated: October 4, 2018 8:21:18 pm
96 movie cast: Vijay Sethupathi, Trisha
96 movie director: C Prem Kumar
96 movie rating: 3 stars
The numerical title of debutant director C. Prem Kumar's romantic drama refers to the year 1996. That year a batch of class 10 students passed out from a private school in Thanjavur. One of the students in the batch was S Janki Devi aka Janu (Gouri G Kishan), a lonely heart that was waiting with bated breath for her lover to show up and take her in his arms. That is the seed for this exquisite love story, which we later learn in a series of flashbacks. But the movie opens somewhere else.
It opens with Ram (Vijay Sethupathi), another lonely heart in the movie. He is a perpetual loner and a travel photographer, which allows him to walk through some of the loneliest places on the earth. Once passing through his hometown Thanjavur, Ram decides to pay a visit to his school.
Ram's visit brings back an avalanche of beautiful memories of his childhood and his first and only love Janu. He connects with all the school friends with the aid of technology and everyone decides to hold the reunion for the 1996 batch. He is 37 now and it has been 20 years since he last saw his friends. Everyone at the reunion reminisces about their time spent together in school. But not Ram. Because for all these years, he has only been living in the memories of his past life. He is still, mentally, the same 17-year-old boy, who fainted when his lady love touched him.
Janu (played by Trisha) is now in her late 30s and a mother of a girl child. She is married and settled in Singapore. At the eleventh hour, she decides to fly down to Chennai for the reunion. And when she arrives, we find out that even the mere mention of Ram's name still makes her heart skip a beat or two.
From this point, the movie slightly moves into the territory of Before Sunrise. Janu and Ram have only one evening to be with each other and pour out everything they held in their hearts for so many years. Because at the break of the dawn, Janu has to board the flight. Oh, come on, why can't she extend her stay a couple of days in Chennai, you may ask. You will only ask that question in empathy. Because you are rooting for Janu and Ram to be together. You will not question the rationale behind it. That's how well the story and its characters connect with the audience.
For the first time, I could really see how effective the slow-motion shots can be used in visual storytelling. The significant camera technique is highly relegated to hero-worshipping in Tamil cinema. But, here it finds a real purpose. The slow-motion shots make us feel the pain of characters and their moral and emotional dilemma.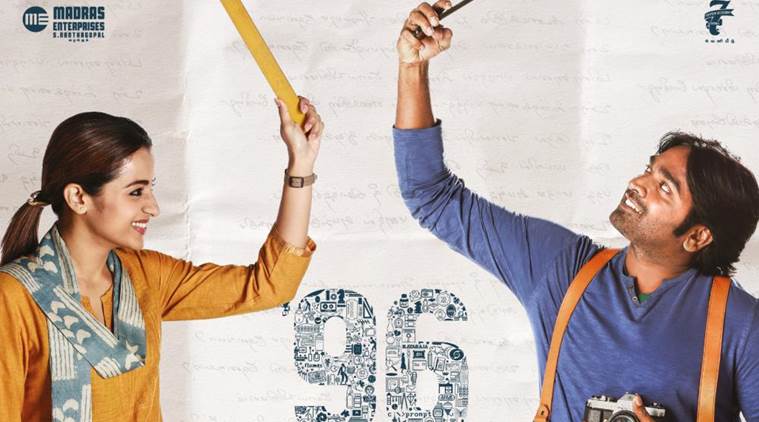 Vijay Sethupathi's Ram is an embodiment of the exquisite romantic pain. Merely seeing Janu and thinking about her is enough for him to live on forever. He worships her to an extent, where he is even afraid to touch her. But, Janu doesn't idolize Ram. She just loves him. In a beautiful reimagination of a life-changing incident, Janu dreams about how she would have professed her love for Ram. With Kaathalae Kaathalae soulfully playing in the backdrop, she simply hugs him. But, I am very sure Ram couldn't even dream about embracing her physically. He may even consider that his touch may pollute her. That is the level of his devotion for her.
In short, 96 is a movie about lopsided relationships. Janu can't love Ram as much as he loves her. And Ram can't love anybody else as much as he loves Janu. And Janu can never love anybody as much as she loves Ram even when she is married to another man.
We take interest in the movie because the director tells us in the very beginning that it is the story of Vijay Sethupathi and Trisha. But, we care about the lead characters and what happens to them wholly because of the feeling we develop for the innocent romance of young Ram and Janu, convincingly played by Aadithya Baaskar and Gouri G Kishan, respectively. Their performance is quite moving, especially in the scene where Trisha reimagines what-might-have-been in a scene set at a coffee shop.
Also Read | 96 movie release highlights
Prem's efforts milk the adoration of the main characters to the point where it feels a bit repetitive at times. Vijay sails through the film effortlessly in his role and Trisha also aces her performance as a married woman who can't stop indulging in emotional infidelity.
Composer Govind Menon's score is a very big plus for the film as it helps us feel the happiness, the dilemma and the eternal longing that the characters have to deal with.
📣 The Indian Express is now on Telegram. Click here to join our channel (@indianexpress) and stay updated with the latest headlines
For all the latest Entertainment News, download Indian Express App.