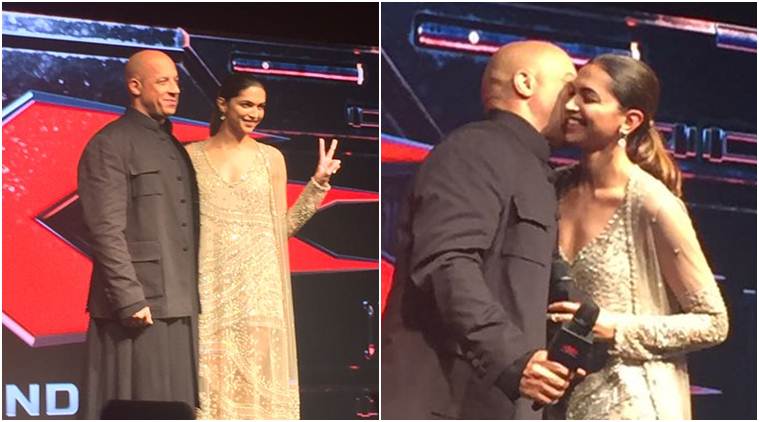 Vin Diesel did not shy away from expressing his deep admiration and praise for his xXx 3 co-star Deepika Padukone.
It was Vin Diesel and his rocking chemistry with Deepika Padukone that took centerstage at the press conference of xXx at Mumbai on Thursday.
Vin did not shy away from expressing his deep admiration and praise for Deepika, so much so that he even planted a kiss on Deepika's right cheek to prove a point. A happy looking Deepika could only blush in return.
WATCH VIDEO | xXx Premiere: Deepika, Performs 'Lungi Dance' With Hollywood Star Vin Diesel, Ranveer, Shahid Shower Wishes
Speaking in glowing terms about Deepika, Vin said, "I was waiting for an opportunity to come to India. And it was this queen here, this angel who brought me. It's such a blessing that she is in my life. Such a blessing to have someone who is such a beautiful soul. I wanted to work with Deepika since many years. I met her years ago and saw that our chemistry was special. When we started filming xXx, she had one request. She told me she would like to do a huge Hollywood premiere. Our movie is about global harmony. My pairing with Deepika is evidence of that multi-cultural global harmony. "
Watch video as Vin Diesel kissed Deepika Padukone:
Vin also expressed his happiness at being in India. "The reception I received in India is nothing like I have seen before.  I always wanted to come to India. "
Earlier, during the day Vin Diesel posted: "So honoured to be here in India for the first time. The xXx Global tour has been great and now I and Deepika Padukone are going to share this film with her country today. As a child, I always dreamed of visiting India… Thank you Paramount for making this dream come true. Xander." He also went live on Facebook.
Watch Vin Diesel's Facebook Live video, as he landed in India:
Watch video how Vin Diesel and xXx 3 director D.J. Caruso got a grand welcome in India:
What's a welcome if it's not done in full Indian style? #VinDiesel, @deepikapadukone & @deejaycar are here people! #xXxIndiaPremiere pic.twitter.com/upTBIq9tEX

— Paramount India (@ParamountPicsIN) January 12, 2017
Sharing the welcome video, D.J. Caruso wrote, "The greatest welcome ever! #XXXIndiaPremiere. Wow and a blessing to go with it!"
The greatest welcome ever! #XXXIndiaPremiere. Wow and a blessing to go with it! https://t.co/IHM47SCush

— D.j. Caruso (@Deejaycar) January 12, 2017
On her part, Deepika said, "It's such an incredible journey. Working together was in my destiny. We were to work in another project but that didn't work out. I think we both knew it was to happen very soon. It's a proud moment to be representing the country at a global level."
For all the latest Entertainment News, download Indian Express App