Written by
Shalini Langer
| New Delhi |
Updated: February 4, 2017 9:05:23 pm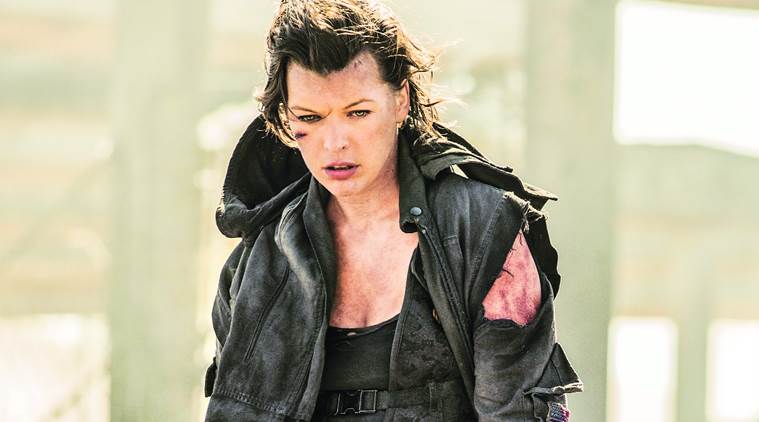 RESIDENT EVIL: THE FINAL CHAPTER
Director: Paul W S Anderson
Cast: Milla Jovovich, Iain Glen, Ali Larter
AROUND 4,000 people is all that remains of the non-infected world when Alice takes off this time to save it in Resident Evil. Well, you can't accuse the filmmakers of not being ambitious enough. It's taken them six films born of a video game, 14-plus years, and $1 billion in profits to bring the world to this. With many, many zombies still to be killed.
Jovovich's Alice surfaces this time in a ruined Washington DC, with White House, Pentagon and the Washington Monument all testaments to what happens when a man's belief in perpetuating one superior race and his powers and money combine. Chuckle.
However, Alice is not one to spare a knowing smile or some extraneous tears, and is soon in her stride sweeping aside deadly zombies again. Yes, the same old ones infected, bitten and left to roam the earth by the evil Umbrella Corporation led by the Jack Nicholson-lookalike Dr Isaacs (Glen).
It's Dr Isaacs, who sports a cross and hangs many around him, who talks about how, when the T-virus has run its course, the survivors would comprise a righteous and pure race. No, that makes no sense, but clearly Dr Isaacs thinks little of it too and drops all talk of this "orchestrated apocalypse" later.
Then the Red Queen appears and tells Alice to head to The Hive in Raccoon City, where the zombie business began, and release an anti-virus which can end the world's misery.
Alice plus the newly helpful Red Queen plus the underground Hive plus Raccoon, plus people who appear, disappear and re-appear, in this case from death itself? For writer-director Anderson, clearly this is Wonderland.
However, it's doubtful how many of the film series' persistent fans will continue to believe that. There is little in The Final Chapter in terms of characters barring Alice, there is little in terms of novelty particularly in the zombies, there is little in terms of a story as Alice battles Umbrella one zombie at a time, there is little in terms of ideas as old sequences are resurrected, and there is little in terms of a conversation when not more than two sentences are strung other. Jovovich remains fighting fit though (including hanging from vehicles, heights, and upside down) and as she drives off into the sunset saying "my work is not done", it's obvious none of the above matters. The Final Chapter, you bet, is far from the last one. Just an alternative fact.
The Indian Express website has been rated GREEN for its credibility and trustworthiness by Newsguard, a global service that rates news sources for their journalistic standards.