With the bubble bursting for chitfunds financing movie ventures in Tollywood,five Bengali films in the post production stage and scheduled for release in May-June this year have been left high and dry.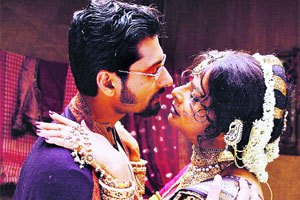 The films that are facing uncertainty are Bhalo Theko directed by Goutam Haldar,Ekti Ashare Galpo directed by Arindam Chakroborty,Ami Shaira Bano directed by Rahul Mukherjee,Jale Jangale directed by Nitish Roy and Kancher Deoal directed by Anindyo Bandyopadhyay.
Actor Arijit Dutta,who is an important member of Tollywood fraternity Arijit Dutta,said that 25 per cent of the films produced in West Bengal were by chitfunds.
"More than profit-making the finance companies aim at brand building from movie ventures," he said.
"So long directors and cast were preoccupied with the making of a film,it served everybody's interests as movies were being completed in a time-bound manner and being released. Now with the Saradha scam things may not be the same at least for some time," he said.
Moner Manush director Goutam Ghosh said,"Film directors interact with the film division of a company,chit fund or whatever,during pre-production,shooting and the post-production phase and it is not always possible for a creative person to ascertain the source of funds."
Some of these companies,he said,had also been producing films for the past few years though the quality in many cases remained to be desired.
Director Kaushik Ganguly,whose Shabdo won three National awards this year,said,"You can't put all chitfund companies in one bracket.
"Let the dust settle down and the guilty ones are fixed. It will help everybody rather than witch-hunting," he said.
Ritobrato Bhattacharya,who directed 'Basantotsab' about the colourful spring festival in the land of red earth,said he had been recommended producers Roofers Media by Bengal producers' body IMPA.
"They are a producer-empanelled body and a director is not entitled to be in the know about the fund source of every producer. Can he?" the journalist-turned-director asked.
A Roofers Media spokesman,however,said that the group was principally involved in funding budget-Bengali films.
Arindam Chakraborty,who has shot his second film Chhayamanush starring Parambrata Chatterjee and Paoli Dam and whose 'Ekti Ashare Galpo' produced by Angel Cinevision & Media Pvt Ltd is stuck,sounded very miffed.
"Let filmmakers like us get scope to make the movies we want,let them get financiers and a distribution network. For past few years things were on a roll for the Bengali film industry. Let it not suffer a setback," Chakraborty said.
A senior official of Angel Cinevision & Media Pvt Ltd,said,"Very depressing situation indeed. Our group has decided to put on hold the release of Ekti Ashare Galpo after sustained promotional activities for months.
"Everybody is upset,Arindam Chakraborty is upset. We are not a chit fund company,we are a newly launched unit involved in film production," the official said.
A spokesman of Tower group,producers of the new Char Murti directed by Chinmoy Roy a year ago,said,"Our film
making mission is in no way related to minting money though we
want productions to reap profits."
The I-Core group,which funded a Smriti Irani-Victor Banerjee starrer a year ago has postponed work for another film by 'Bhalo Theko' director Goutam Halder though attributing it to logistical reasons.
"We are yet to firm up plans about post-production and release of the next work," a spokesperson from the group said.
Director of just completed Kagojer Nouko,Parthosarathi Joardar,said his yet to be released film,featuring thespian
Soumitra Chatterjee,Victor Banerjee would reveal many unknown
facets about ponzi schemes.
"None have thought along these lines. Kagojer Nouko will be a reflection of the present day affairs in Bengal. But as a member of the industry I don't want funds to dry up," he said.