So far in 'Bigg Boss 7',wrestler Sangram Singh has come across as a clean-hearted and caring guy. But the recent incidents have not been in his favor and has been caught in a storm of allegations. Sangram has been caught red-handed many a times for changing his statements in order to continue to be in the good books of everybody.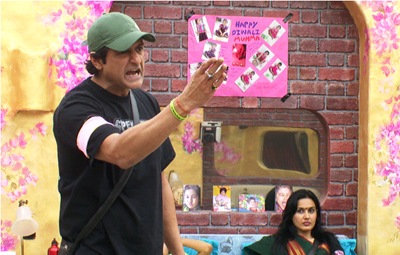 After Bigg Boss introduced the Rajneeti task,Sangram and Kamya were asked to be leaders and form their own political parties. They were also asked to deliver an opening speech basis which the housemates were asked to decide whether they wanted to support Sangram or Kamya. However,during the task contestants had the liberty to change their party if they were not satisfied with their leader.
Armaan who was initially supporting Sangram's party decides to switch to the other party after he realises that Sangram has been diplomatic while never taking a stand for anything. When Sangram tries to convince him to join back,Armaan tells him that he is a big liar and a two-faced person who has never taken a stand for any of his friends.
During the course of their conversation,Armaan also brings up the topic of nominations where he claimed that Sangram has tried to plot with him to vote against a few contestants. But Sangram denies this allegation and instead put all the blame on Armaan leading to a heated argument.
Kamya and Gauahar tries to control the situation but the two hot-heads did not pay heed to them and continue fighting with each other. With the game of Bigg Boss getting intense with every passing day,the contestants are now no longer willing to mince words and stay diplomatic.