Written by
Shaikh Ayaz
| Mumbai |
Updated: November 19, 2017 7:00:12 am
Bollywood's original poster girl, Zeenat Aman was the much-fantasised sex symbol in the pre-Sunny Leone era. In 1970-80s Hindi cinema, she wore sass on her sleeve and was much sought after by filmmakers wanting to cast a badass and fashion-forward female character. At a time when most leading heroines were conservative and coy at best and subjugated at worst, Aman was a rebel who charted her own alternative path by unabashedly opting to play a series of liberated characters, ranging from sexy siren, club dancer, vamp and so-called bad girl to ambitious career woman, bohemian and feisty princess. Some critics have attributed her Westernised mores to her mother who reportedly remarried a German man and a young Aman's partial upbringing in US and Europe.
It was her sultry sex appeal and Western ways that drew the Anglophile Dev Anand to her. Anand's 1971 blockbuster Hare Rama Hare Krishna marked the arrival of Aman in a highly unconventional role, at least for its time. Who else could have played the hippie with such smouldering insouciance as Aman? The cult image of her with a marijuana pipe in hand, bouncing from one reveller to another in the smoke-filled Dum maaro dum from Hare Rama Hare Krishna has become iconic over the years. It's weirdly Freudian that though Dev Anand plays Aman's brother in the film (he is in search of his wayward sister lost to the hippie culture, on which the plot centres) in real life he was hypnotised by the 21-year-old bombshell just like the rest of India.
In his autobiography Romancing With Life, Anand, sounding very much like an infatuated teenage lover, wrote, "Whenever and wherever she was talked about glowingly, I loved it; and whenever and wherever I was discussed in the same vein, she was jubilant. In the subconscious, we had become emotionally attached to each other." He wanted to declare his love to his new find but an old, old friend came in the way. As the evergreen star put it, "Suddenly, one day I felt I was desperately in love with Zeenat – and wanted to say so to her!" He chose a romantic restaurant as a meeting point but before he could utter the three magical words he had spotted a drunken Raj Kapoor throwing his arms around her at a party. Anand had heard the rumours that Kapoor was smitten by Aman's seductive charms and was keen on casting her in a big project he was launching. That film was Satyam Shivam Sundaram and Aman would soon be an RK lady, a title that in film parlance held prestige. "My heart broke into pieces," snivelled a lovelorn Dev Anand.
Another iconic Zeenat Aman screen image comes from Satyam Shivam Sundaram (1978). A cinematic voyeur, Kapoor put his leading lady in a white sari under the waterfall – for the first time, exposing and exploiting the actress' erotic appeal. Kapoor himself saw this image as a symbol of purity, explaining why he had Aman draped in all-whites. Ironically, Kapoor may have been ensnared by Aman's beauty but in Satyam Shivam Sundaram, he gave her image two drastic overhaul. One was that he cast her against type. Roopa (Aman) is a village belle, completely opposite the actress' sophisticated and urban persona and secondly, she is shown with a partially burned face. By doing so, Raj Kapoor snatched away the alluring beauty of his leading lady. Or, did that disfiguration actually enhance her beauty?
By 1980, the village girl had graduated to being a club dancer. Qurbani of 1980 was a trendsetter in more ways than one. Aman lit up the screen with the club number, Aap jaisa koi. And that brings us to an important Zeenat Aman legacy – her musical treasures. From Dum maaro dum, Haay haay yeh majboori and Churaa liya hai to Do lafzon ki hai and Laila o laila, her songs are an anthem hummed even today.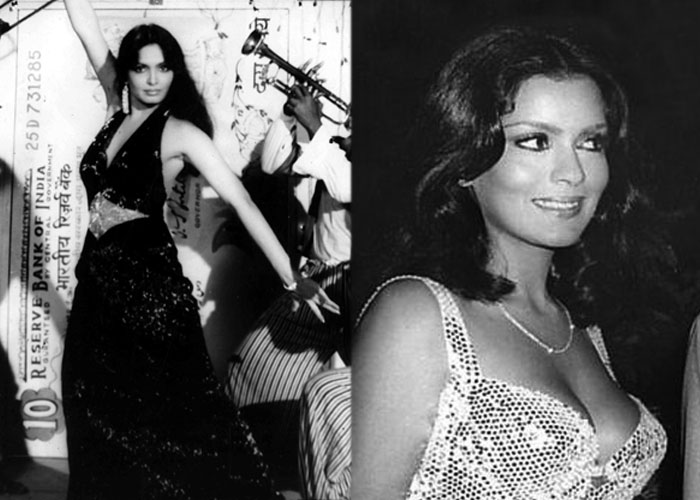 In many ways, the evergreen songs have kept her relevant – just as her sex appeal that reminds people of a time before Sunny Leone, Katrina Kaif, Jacqueline Fernandez and the likes.
(Shaikh Ayaz is a writer and journalist based in Mumbai)
For all the latest Entertainment News, download Indian Express App