Over the last few years, feminists have appropriated Kangana Ranaut as one of their own for her outspoken outbursts and the courage of calling a spade a spade in an industry that doesn't even recognise that something called a 'spade' exists, especially if it involves a woman. Kangana's reputation as a glass ceiling breaker now precedes her fame as an actor. As we recall the turbulent life and times of Meena Kumari, we do wonder how the tragedy queen was received and seen in her own time. Was she billed as a feminist? Was she the 'hero' in a Man's World? Was she fearless and fearsome? Or just another mythologised vulnerable woman defeated in love? Was she a victim of male violence? That can't be true because, for one, we do know that she used men. For another, she certainly did not have the scripted and calculated appearance of heroism that the otherwise talented Kangana seems to be projecting.
There was something genuinely affecting about Meena Kumari. She didn't tailor herself for anyone. Though she died at a shockingly young and tantalisingly seductive age of 38 it appears that she lived a life of 90. She passed away, merely weeks after Pakeezah (1972) – arguably her most-loved film – released. She didn't even live to see this torturous film's grand success. Even today, the name Meena Kumari evokes so many things – melodrama, tragedy, pain, loneliness, alcoholic movie star and paradoxically, even the image of a quintessential Indian woman. And then there's that much-abused adjective "the Meena Kumari complex", used to define anyone with a sad sob story.
Yes, she did have a sob story. But don't you think it was media-created? The woman herself seemed to revel in her misery. Was she born to suffer? And did she only suffer – was there nothing else to her life, the glamour, highs of fame, comforts, large, fawning staff and the poignant pleasures of love? As a child, Baby Meena had seen plenty of ups and downs, the roller coaster that life had laid out for her as a red carpet since the day she was born. We do know, thanks to Vinod Mehta's adoring Meena Kumari: The Classic Biography in which the late journalist-columnist repeatedly refers to her as "my heroine" that she had a volatile love life and she made no bones about it. Not that she fed information to the press about the various men in her life – she wasn't a publicity-seeker, by all standards – but she very much lived her colourful life out in the public glare. She's one of the few celebs who grew and were raised right under the watchful eyes of the hawk-eyed media.
According to a popular Bollywood legend, Meena's father had left her at the door of an orphanage as a child. After some time, he returned to fetch the baby and to his shock, found ants crawling creepily all over her body. Analysing that haunting childhood incident, Mehta observed, "I believe that moment remained in her subconscious mind. Here was a traumatised soul. She could not have been a happy person. Life had decided that she will suffer. She was fortunate that this unhappiness was appreciated in her roles. She understood this emotion so well."
Also See: On Meena Kumari's 85th birth anniversary, here's remembering the tragedy queen
It is not too hard to see how Meena's real life often overlapped with her screen roles. The pain and pathos of the real life reflected in her onscreen characters. The actress' performances in classics like Pakeezah, Sahib Bibi Aur Ghulam, Dil Apna Aur Preet Parai and Mere Apne are today appreciated and studied for their textbook perfection of tragedy and pathos. It is likely that she mined her own life to lend depth and gravitas to her roles. We do know that her poetry, which she left behind in the custody of close friend Gulzar, was a rueful rumination of her own life and failed romances.
To Gulzar, she also, apparently, drew a parallel between her life and that of Marilyn Monroe's, who too was a naïve and uneducated woman married to an intellectual, Arthur Miller. Both women were self-starters and self-learners. Meena's husband was writer-director Kamal Amrohi of Pakeezah fame. That marriage was anything but happy. She threw herself in love with a series of men, most famously with a young and upcoming Dharmendra. "Meena got a certain kick in picking up people struggling in the industry," wrote Mehta in his book. "These strugglers were invariably male and young."
"She always liked having a few puppies around her," was how someone close to my heroine put it." Mehta called her a "modern and emancipated woman", not a rarity those days. Let's not forget that those were also the days of Madhubala and Waheeda Rehman, both equally bold and courageous. Mehta suggested in his book that not only did men use her but she also used them for her own benefits and the implication being that such a woman shall never find true love.
Also Read | Meena Kumari, Tragedy Queen, remembered by Google Doodle on 85th birth anniversary

We do know how the Meena Kumari story ended. She took to the bottle and let there be no doubt in your mind that alcoholism caused her untimely death. The girl who started out as Baby Meena, a child artiste and a breadwinner of the family, died as Mehta would have us believe, "unloved and unwanted." In Javed Akhtar words, "People like Meena Kumari are paradoxes. We try to understand them, we appreciate them, we criticise them, we pity them, we laugh at them, we admire them. But they remain paradoxes."
Perhaps, there are so many Meena Kumaris that we will never know the real woman.
(Shaikh Ayaz is a writer and journalist based in Mumbai.)
Live Blog
Meena Kumari's 85th birth anniversary: Here's what celebrities and fans are saying about "Tragedy Queen" Meena Kumari.
Sujoy Ghosh on Meena Kumari
trying to think of my favorite meena kumari film — torn between phool aur patthar and mere apne..

— sujoy ghosh (@sujoy_g) August 1, 2018
Meena Kumari was timeless, says Vishal Mishra
"She was timeless,she was an actress par excellence,an impeccable Shayar, she was pure art! Happy Birthday #MeenaKumari ji,you will live in hearts of millions forever," Coffee with D director Vishal Mishra said via Twitter.


Meena Kumari was a true epitome of grace and beauty, says Nila Madhab Panda
I Am Kalam director Nila Madhab Panda shared on Twitter, "Happy birthday to the icon of Indian Cinema , the way she used to portray tragic characters on screen with such ease is something very few can match , true epitome of grace and beauty , my humble tributes to #MeenaKumari ji 🙏"
Madhuri Dixit remembers Meena Kumari
Madhuri Dixit tweeted, "Her matchless beauty and effortless talent continues to inspire me to this day! Remembering #MeenaKumari ji."
Google Doodle honours Meena Kumari on her 85th birth anniversary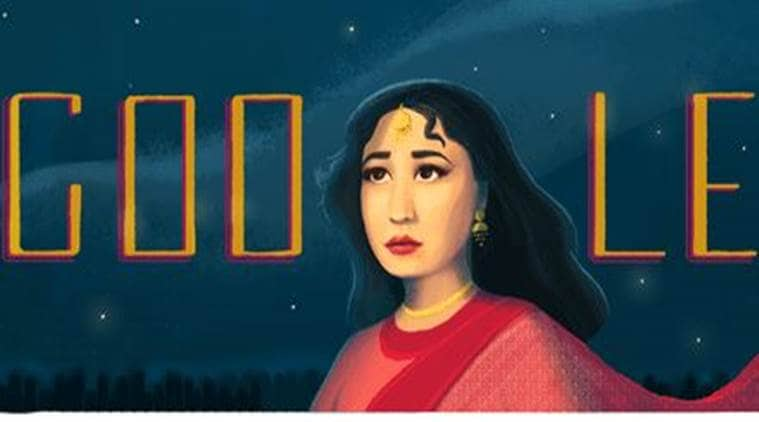 The beautiful face and expressive eyes of Meena Kumari have been captured in a Google doodle devoted to the late legendary actress Meena Kumari for her 85th birth anniversary on Wednesday. "As shown in the doodle, Meena Kumari captivated audiences with her beautiful, expressive eyes," reads the official Google Doodle page.
Born in 1933, Meena Kumari grew up on camera, lighting up the silver screen from the age of four when she was known as Baby Meena. She became a formidable actor in Indian cinema, appearing in more than 90 films during her 38-year-old career.
She portrayed strong yet vulnerable women who made their own way through life, although they were often devastated by romance. This gave her the epithet 'Tragedy Queen'. She came to be known for sailing through complex emotions on-screen with ease. Some of her memorable films include Sahib Bibi Aur Ghulam, Pakeezah, Mere Apne, Aarti, Baiju Bawra, Parineeta, Dil Apna Aur Preet Parai, Foot Path, Dil Ek Mandir and Kaajal.
Meena Kumari was not only an iconic star of Hindi cinema, she was also a poet of great flair and delicacy. She died in 1972 due to liver cirrhosis.
Source: IANS
Madhavan Narayanan on Meena Kumari
Journalist Madhavan Narayanan posted on Twitter: "#MeenaKumari, muse for today's @GoogleDoodles, symbolised on Bollywood screens the antithesis of post-feminist ideas of womanhood. Her roles reflected personas that put home over world, patience over action, duty over rights, suffering over liberation & motherhood above all"
RJ Sayema on Meena Kumari
Rare photos of Meena Kumari
Rajat Sharma on Meena Kumari
Journalist Rajat Sharma wrote on Twitter: "Remembering Bollywood's greatest Tragedy Queen the Late #MeenaKumari on her birth anniversary. May her soul rest in eternal peace."