Written by
Shaikh Ayaz
| New Delhi |
Published: April 9, 2017 1:15:40 pm
Was 1957 (exactly 60 years ago) the greatest year in Bollywood? When critics and cinema lovers talk about the Golden Age of Bollywood, they unfailingly point to the 1950s. You ought to merely look at the number of library classics of that year to realise 1957's extraordinary contribution in making the 1950s a watershed decade in Hindi cinema. Many of the Bollywood classics we fondly and casually throw into our day to day conversations and pop culture references come from that year. The heavyweight list includes Mother India, Pyaasa, Naya Daur, Tumsa Nahin Dekha, Paying Guest and Do Aankhen Barah Haath. You can't help but marvel at the sheer richness and variety of cinematic styles on display though one theme that recurs is 'rich versus poor' and the inevitable projection of the rich as a villain (usually, an evil landlord) and poor as noble. Top stars of the time (Dilip Kumar, Nargis, Guru Dutt, Meena Kumari, Raj Kapoor, Dev Anand) teamed up with giants of their fields (B.R Chopra, Sahir Ludhianvi, Mehboob Khan and V. Shantaram). The writer Akshay Manwani described 1957 as "annus mirabilis," and with good reason. What makes the year so special? Mehboob Khan's Nargis-starrer Mother India is a good point to begin. If Do Bigha Zamin (1953) was a paean to the dignity of the Indian peasant, Mother India is the ultimate tribute to the resilience of the serf.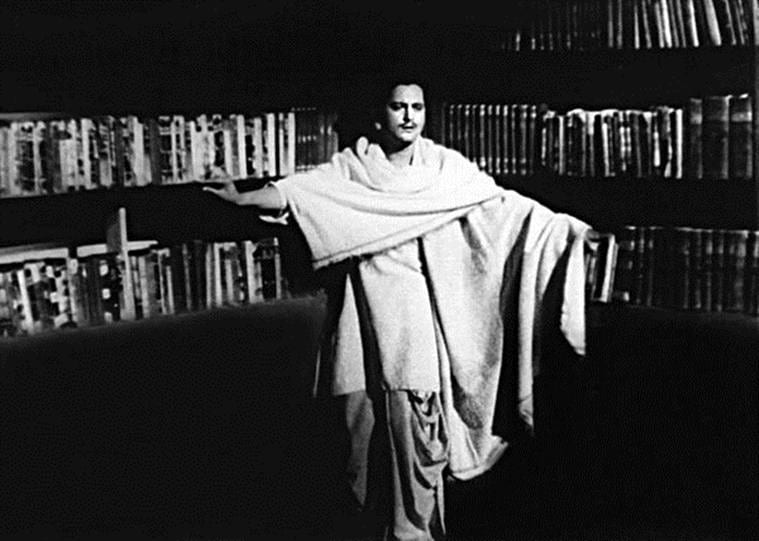 Written by Wajahat Mirza and S. Ali Raza, much of Mother India's emotional resonance comes from the fact that the post-Independent India was still very much an agrarian country. The film was soaked in its era's dominant Nehruvian/Gandhian ideals. Starring Sunil Dutt and Raaj Kumar besides the mother figure of Nargis, watching Mother India you can't help but be reminded of Gandhi's vision of the 'soul of India living in its villages.' Widely dubbed as India's Gone With The Wind (in terms of the epic scale), it tells the story of the young bride Radha (Nargis) who's raising two children even as she struggles to repay the mounting loan of the greedy and lustful moneylender Sukhilal, a role played with such slimy deliciousness by Kanhaiyalal, a popular character actor of the time, that it has inspired countless parodies. Many young viewers might find in Mother India a typical three-hour Bollywood weepie with morally-charged and melodramatic scenes of a village life fast disappearing, songs of the earth, flood and storm, and a general moroseness, poverty and suffering that pervades the narrative. But that's how it was meant to be. It was a plum film for Nargis, who was only in her late 20s. She was made to age and play mother to future husband Sunil Dutt. It turned out to be a role she was born to play. The climax in which she shoots her son, a bandit now, to save the dignity of a woman is a scene nearly every cinema-goer remembers Mother India by. When Birju (Sunil Dutt) baits her that she cannot kill him because she's his mother, an indefatigable Radha reminds him, "Main ek aurat hoon."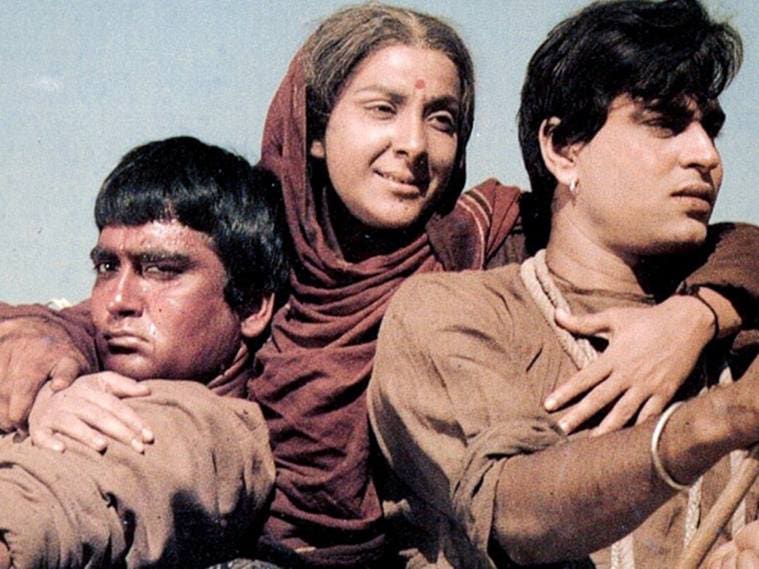 With that line, it's clear she's not only on the side of what is morally right and legal but also unconditionally on the side of the woman. With the role of Radha, Nargis, who was usually seen in romantic and socialistic films with Raj Kapoor, became strongly associated with the image of a powerful Indian woman. The film's iconic poster depicts Nargis pulling the plough through the field, a hardscrabble job usually performed by the Indian man. When M.F Husain chose to depict Bollywood on canvas, it was on this poster that he became fixated. In Husain's view, the poster defined Bollywood. On one shoulder, Radha has the responsibility of her poverty-stricken family and starving young kids and on the other, the weight of a young nation. No wonder, the image of Nargis from Mother India has been both a celebration and indictment of the Indian way of life. Itself a remake of Mehboob Khan's Aurat, Mother India went on to influence a generation of writers and filmmaker, including Salim-Javed who went all-Tarantino on it and partly derived their screenplay of Deewaar from their favourite film. (Nowhere is the influence more apparent than in the climax of Deewaar. Like Sunil Dutt, Amitabh Bachchan dies in the arms of his mother after being shot at by her. The mother/woman that kills also tries to tend to the wounds. But it's too late and there's no regret. She's a moral figure who is on the side of the "right", just as the writers conceived her.)
If Mother India was a struggle of a mother, Pyaasa, of the same year, examined the dismayed and disillusioned worldview of a poet for whom the world, in the bleak words of Sahir Ludhianvi – the film's central creative force – is nothing but an artifice and pretence. One of Sahir's trenchant lyrics goes, "The world of palaces, thrones and crowns/ The world that celebrates wealth/ What worth is this world, even if I did get it?" That verse is from the film's famously tragic anthem, Yeh Duniya Agar Mil Bhi Jaaye Toh Kya Hai? Pyaasa is as much a homage to Sahir Ludhianvi's poetic gifts as to Guru Dutt's tormented onscreen poet, loser and world-hater and Waheeda Rahman's Gulabo, the prostitute with a heart of gold. There is now a growing consensus among critics that it was Sahir's powerful (watered-down versions from his literary corpus) poetry that gave the film its voice.
If not for Sahir, who knows Pyaasa would have lacked the political and social angst so intrinsic to its fabric? 60 years after it was made, Pyaasa remains an inspiration that fires the imagination of filmmakers and actors as varied as Shyam Benegal, Anurag Kashyap, Tigmanshu Dhulia, Aamir Khan, Shraddha Kapoor and many others. Talking to rediff.com, Shyam Benagal noted, "Guru Dutt had made other films too, but Pyaasa came out of his own deep personal feeling. It was the first truly personal film made by anyone in Indian cinema." Implicit in that statement is the fact that Guru Dutt was an auteur who saw cinema like a painter may look at painting and he filled the screen with personal colours.

Another film set immediately in post-Independent India was Naya Daur, one of the top grossers of 1957 – thanks to Dilip Kumar's peak popularity (the following year, he would deliver the smash-hit Madhumati), O.P Nayyar's catchy tunes and B. R Chopra's dramatic touch. Bear in mind that India was a new country, brimming with hope and confusion and still trying to grapple with its idea of nationhood. Nationalistic fervour was very much in the air. Industrialisation was light years ahead. At a time like this, Kundan of Naya Daur (son of the rich landlord played by the inimitable Jeevan), a city slicker with a head full of capitalistic ideas, returns to the basti and immediately conspires to replace man with machine.
B.R Chopra, whose brother Yash Chopra and nephew Aditya Chopra would later usher in an era of unabashed materialism in Hindi cinema, expertly married social consciousness with mainstream sensibilities. Naya Daur, so early in his career, is both soul-stirring and entertaining. It is steeped in Nehruvian socialism and not to forget, once again songs become a vehicle for the Left-leaning Sahir Ludhianvi to stamp his firebrand ideas of humanism and communism. Those ideas found ample play in songs like Saathi Haath Badhana. Similar social themes of justice, humanity, oppression and rich versus poor are summoned up in Ab Dilli Dur Nahin. Pandit Nehru, who shadowed all early Raj Kapoor films, has for a change more than just a contextual presence in this RK production. The son of a wronged father goes to Delhi to meet Nehru, the Prime Minister of new India, to petition against his father's death sentence.
The same year, V. Shantaram, the acclaimed maker of Dr. Kotnis Ki Amar Kahani and Jhanak Jhanak Payal Baaje, came up with Do Aankhen Barah Haath, based on Gandhi's progressive ideas of justice, reform and punishment. The film, in which a warden sets out to rehabilitate a group of hardened criminals, won prestigious prizes both in India and abroad. It bagged the National Award in 1957 for Best Feature Film, besides the Silver Bear Extraordinary Prize of the Jury at the 1958 Berlin International Film Festival. How can we forget Sharada? An unusual story where Sharada (Meena Kumari), a girl from a poor background, is in love with the wealthy Chiranjeev (Raj Kapoor) but circumstances lead to a shocking ending – she marries an older man who turns out to be Chiranjeev's own father!
And yet, that's not all that there is to 1957. It was also the year when the debonair Dev Anand enjoyed one of his most enduring musical hits in Paying Guest. The songs from the film – Chhod Do Aanchal Zamana Kya Kahega and Maana Janaab Ne Pukara Nahin to name just two – belong to a Golden Age of classics.
Also Read: Secret Superstar vs 2.0: Aamir Khan and Rajinikanth set for a big clash this Diwali 2017
On the lines of Dev Anand, there was another young radical struggling to break out of the Kapoor mould. Known as the rebel star, his comeback in 1957 redefined (or shall we say, Elvis-ified?) the Hindi film hero. That man in question was a non-starter Shammi Kapoor who had given a record number of flops until 1957 and was on the verge of relapse. Fortunately, Nasir Hussain's (he also wrote Paying Guest the same year) frothy blockbuster Tumsa Nahin Dekha made him a star at long last.
In so many ways, 1957 remains a landmark year in Hindi cinema. Which other year boasts of such a strong line-up of classics that still inspire us and a veritable musical treasure that continues to feed our soul and contributes to our consciousness?
The only other year we can think of was 1939. And that was in Hollywood.
(Shaikh Ayaz is a writer and journalist based in Mumbai.)
For all the latest Entertainment News, download Indian Express App