Vinod Khanna, the original heartthrob of Hindi films, died Thursday morning. He was reportedly battling bladder cancer for years; the actor was 70. "He passed away at 11.20am. It's a sad moment for us… We request you all (media) for privacy," the actor's brother Pramod Khanna said. The fueral of the actor took place on Thursday evening amid presence of friends, family and colleagues.
The actor who was suffering from bladder cancer for years now was admitted to a Mumbai hospital last month. He was suffering from extreme dehydration. He remained admitted at HN Reliance Hospital for close to a month. Hospital authorities claimed his condition had become stable in between after doctors put him on drip although he had become frail during hospitalisation. He was brought to the Girgaum based hospital in March end. A picture that leaked from the hospital, showing a weak-looking actor, left his fans shocked.
The scene at Vinod Khanna's residence.
The hospital released this statement after the actor's death, "Veteran actor and Member of Parliament Mr. Vinod Khanna, who was admitted to the Sir HN Reliance Foundation Hospital breathed his last at 11.20 am due to advanced bladder carcinoma."
In his long Bollywood career, he worked in more than 100 films, and was an active politician, and Member of Parliament from Gurdaspur, Punjab. Vinod is survived by his wife Kavita Khanna, sons Rahul, Akshaye and Sakshi, and daughter Shraddha Khanna. Before marrying Kavita, Vinod Khanna was married to Getanjali but they later got divorced.
Read: RIP Vinod Khanna, remembering best films of the actor
Vinod was one of the most sought out films stars in the 1970s and 1980s. Initially he was offered only negative and small roles, but in no time, he started bagging lead roles in many films. He had made his film debut in 1968 with Mann Ka Meet, and later on he went on to becoming a star and his performance in films like Mere Apne, Mera Gaon Mera Desh, Imtihaan, Inkaar, Amar Akbar Anthony, Lahu ke Do Rang, Qurbani, Dayavaan and Jurm were truly appreciated.
Vinod Khanna received the Filmfare award in the best supporting actor category for Haath Ki Safaai, and in 1999 he received the Filmfare Lifetime Achievement Award, and again in 2007 he won a lifetime achievement award at the Zee Cine Awards.
Read: Why Vinod Khanna kept cancer a secret for many years
After such an impressive career, in 1982 he took a break from work to join his guru Osho Rajneesh at his ashram. He gave up films altogether in that period. After a five-year break from work, he started signing films again and gave two superhits, Insaaf and Satyamev Jayate. he was a Bharatiya Janata Party (BJP) member of the Lok Sabha from Gurdaspur in Punjab. He won the seat four times.
Even with a busy career in politics, Vinod did not give up on Bollywood and worked in some of the latest films like Dabangg, Players, Dabangg 2 and Dilwale, and received a lot of love for his work. In late 2016 and early 2017, news about his deteriorating health started coming in, this kept him away from a public eye. In his last days he was surrounded by all his children and wife Kavita.
See Vinod Khanna's unseen images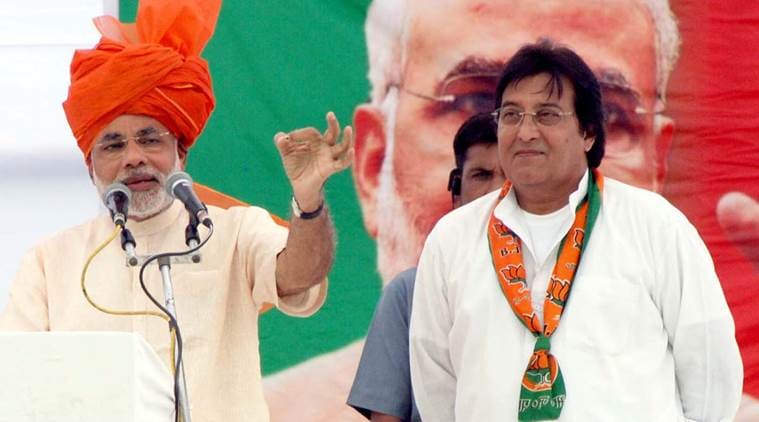 Watch: Vinod Khanna interviews
As the news of the actor's death came in, his friends and colleagues shared their grief at his death. From Shatrughan Sinha to Rishi Kapoor to Dharmendra, he was remembered as a man who was committed to his work and a true friend.
For all the latest Entertainment News, download Indian Express App