Written by
Kriti Sonali
| New Delhi |
Updated: February 15, 2017 1:59:03 pm
Valentine's Day can get tricky. It is the festival of love, made of chocolates and roses, wrapped preferably in pink tinsel. On the other hand, if you are single — not by choice that is — it is a day made in hell with every torture imaginable bunged into it. But whichever side of the divide you are, Bollywood has a dialogue for you. If you are in love or out of it, if you have a significant another or are perennially friendzoned, Bollywood has a dialogue out there with which you can justify your existence.
So whether you want your bestie to become more than your bestie or want to explain your single status for yet another year, we have a quote for you. Given it is said by Bollywood's most desirable, it actually sounds cool.
WATCH VIDEO| Bollywood Biggies Attend Karan Johar's Valentine's Day Party
Still Single? Next time someone asks you your relationship status, you be like… 
When you are desperate for a pick-up line…
This is a compliment and a proposal all rolled into one…
Sometimes corny works. Hope she is an SRK fan…
Because hope is a b*tch…
And if that doesn't work, there is still this dialogue…
Stole your best friend's girlfriend. Apparently, love justifies all… 
If he or she has a problem with the way you are, you have a dialogue…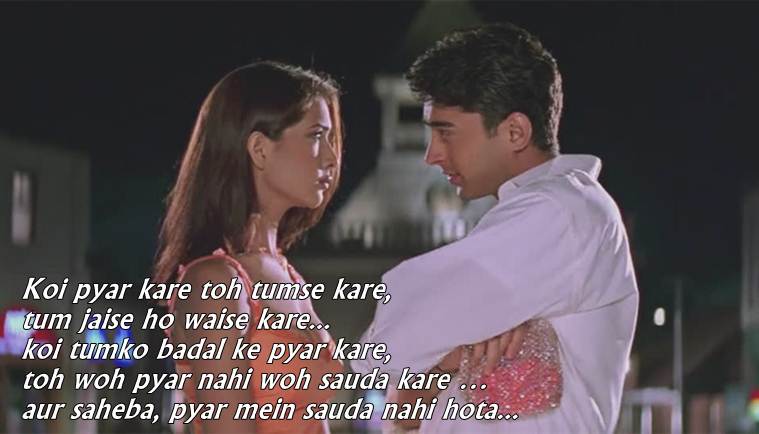 Trying too hard to impress someone? Well, this might work…
This answers 'how much you love me' once and for all…
Hope you found a reflection of life in these!!!
For all the latest Entertainment News, download Indian Express App