Aamir Khan and Amitabh Bachchan starrer Thugs of Hindostan has finally hit the screens. The movie created quite a storm ahead of its release. However, only time will tell if the film lives up to the hype.
The film's primary plot revolves around a band of thugs led by Amitabh's character Khudabaksh whose motive is to gain freedom for India from the British Raj.
Also Read | Thugs of Hindostan movie review
Thugs of Hindostan has been directed by Vijay Krishna Acharya, who has previously helmed the third installment of the Dhoom franchise, Dhoom 3. Apart from Aamir and Amitabh, the film stars Katrina Kaif, Fatima Sana Shaikh and Lloyd Owen in significant roles. The film has been produced by Aditya Chopra with music by Ajay-Atul.
Live Blog
Read all the updates about Aamir Khan and Amitabh Bachchan's Thugs of Hindostan. Read updates in Hindi.
Audience Review of Thugs of Hindostan
Siddharth Malhotra on Thugs of Hindostan
Filmmaker Siddharth Malhotra wrote on Twitter, "@SrBachchan is and will always be the angry young man he takes u thru an Ernest and magnanimous performance bringing back memories of a tribute to his Manmohan Desai films where each scene is designed to play to the gallery #ThugsofHindostan"
Thugs of Hindostan memes go viral
Thugs of Hindostan leaked
Thugs of Hindostan is a very universal and child-friendly film, says Aamir Khan
In a group interaction, Aamir Khan said, "TOH is not a historical film. There were reports that it was based on a book but it's not. It's an entirely fictitious story set in that period. It's an action adventure, not a serious historical film. It isn't also patriotic. It is a very universal and child-friendly film. Though there are action scenes, there is no blood and those (action) scenes are quite fun. It's more like the films we used to watch in the 70s."
Also Read | Aamir Khan: Feel really happy and proud seeing Fatima and Sanya do well
Ali Quli Mirza on Thugs of Hindostan
Ali Quli Mirza tweeted, "Just watched #ThugsOfHindostan. This Movie Will Tells you why he's ( @aamir_khan) is the best. 👍 and it's a great watch. You must watch it for Our Mr Perfectionist And Big B"
Thugs of Hindostan: Quick take
Indianexpress.com's Komal says, "Thugs of Hindustan is predictable, but that doesn't take away its entertainment quotient. There are few good comic moments. The set design is good if we don't compare it with Pirates of the Caribbean. It is richer than what we have seen in Indian films. Same would go for CG and VFX. Aamir is fun to watch as Firangi and Amitabh Bachchan does a commendable job. Fatima Sana Sheikh is good too. I am sure kids will love this film, because it has good amount of ships and action sequences without violence attached to it. It is an entertainer."
Watch: Fans enjoy Thugs of Hindostan
Our verdict
What you get is a massive cherry-picking enterprise from big entertainers of the past, many of them YRF's own. Not only do you end up picking up on past films, scenes and references, you are left struggling with staleness and boredom.
Also Read | Thugs of Hindostan movie review: A boring affair
Thugs of Hindostan: Audience verdict
Thugs of Hindostan: Quick take
Indianexpress.com's Komal says, "I really like the first half. Aamir's Firangi and Amitabh's Khudabaksh are driving the story ahead. Except the song and dance, Thugs of Hindostan has started off as a well written picture book."
Trade analysts pan Thugs of Hindostan
#OneWordReview…#ThugsOfHindostan: DISAPPOINTING.
Rating: ⭐️⭐️
All that glitters is NOT gold... Holds true for #TOH... Some engrossing moments in the first hour, that's about it... Formula-ridden plot, screenplay of convenience, shoddy direction are the main culprits... 👎👎👎

— taran adarsh (@taran_adarsh) November 8, 2018
#ThugsOfHindostan may reap the benefit of the holiday period + tremendous hype + impressive names in its cast... But will find it difficult to sustain after the initial euphoria settles down... #TOH is a golden opportunity lost, a KING-SIZED DISAPPOINTMENT!

— taran adarsh (@taran_adarsh) November 8, 2018
#ThugsofHindostan - Complete waste of Money, Talent & Resources, Aamir Khan weakest film this decade. Shoddy Screenplay, Mundane action sequences ,extremely lousy direction & a bygone story defines thugs of Hindostan. Not even massy enough. Rating- 🌟

— Sumit kadel (@SumitkadeI) November 8, 2018
#ThugsOfHindostan is the
BIGGEST DISASTER OF THE YEAR

Such a bad film, Doesn't deserve to collect even 50rs forget abt 200cr or 300cr....

Film will Wrap up Under 180cr

BIGGEST DISASTER of @aamir_khan Career....

1.5*/5

— Rohit Jaiswal (@rohitjswl01) November 8, 2018
Thugs of Hindostan is expected to create box office history
Watch the trailer of Thugs of Hindostan
Thugs of Hindostan early reviews
Komal from indianexpress.com shares, "The film starts well, very Game of Thrones vibes. But then comes the first song and ruins the great start."
Aamir Khan is all praises for Katrina Kaif
Thugs of Hindostan ships
Thugs of Hindostan production designer Sumit Basu's biggest challenge was to create two life-sized ships. They were designed in Mumbai for over a year, with another year spent constructing them in Malta, which is also where the scenes on the ship were shot.
"We weren't only building ships but making a set, with enough space for the light and camera department, for the actors to run around. Very few films allow you to create a world of your own, to create an iconic image that the audience will remember," Basu said.
Moderate crowd for Thugs of Hindostan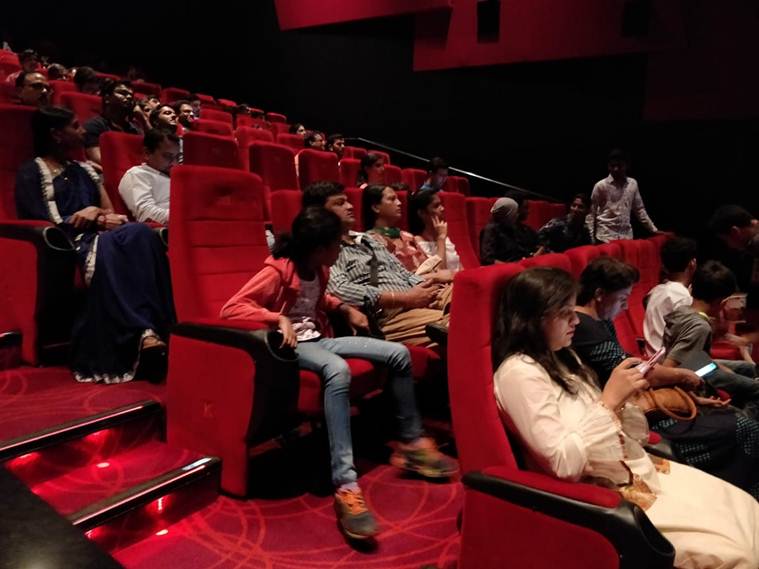 Thugs of Hindostan costumes
In a conversation with The Indian Express, Thugs of Hindostan costume designers Rushi Sharma and Manoshi Nath said, "We wanted the audience of 2018 to appreciate the aesthetics of those times. To do so, we had to keep it very authentic. The Victoria and Albert Museum in London gave us the details on even the little buttons, the lapel, collars, the sleeve and the embroideries on the British military uniforms."
Bumper start for Thugs of Hindostan
Thugs: A British myth or Indian reality?
Thugs of Hindostan will be narrating the story of the notorious group Thugs, though in very Bollywood settings. Interestingly, this particular sect that YRF will be bringing to life on the silver screen, appear to have rather mysterious origins. Historical records show that almost all the material available on Thugs are those written by the British. Ironically, there is no record written in the Indian vernaculars that can be considered a source for deriving the history of the Thugs.
Also Read | Thugs of Hindostan: A British myth or Indian reality?
Who's who of Thugs of Hindostan
Thugs of Hindostan might earn Rs 50 crore on opening day
Aamir Khan on working with Amitabh Bachchan in Thugs of Hindostan
In a group interaction, Aamir Khan said, "It was really amazing. We had planned on working together twice before but it didn't work out. I was very excited and nervous about working with him. Amit ji is a very warm and generous person. He makes you comfortable and is very easy to work with. He is so well behaved that you don't feel intimidated. However, he has got a very dry sense of humour. You don't know whether he is joking or not. It takes time to understand that."
Amitabh Bachchan on Aamir Khan's performance in Thugs of Hindostan
In a group interaction, Aamir Khan said, "He recently watched the film and called me. We spoke for close to 30 minutes. He shared that according to him, it was my best performance. Amit ji really liked my accent and he said that I had the perfect pitch. He also told me that he would see the film, again and again, only to see my performance. I must admit, I was truly thrilled hearing it."
Also Read | When Aamir Khan made fun of his Thugs of Hindostan co-star Amitabh Bachchan
Aamir Khan thanks the cast and crew of Thugs of Hindostan
On the eve of the release of Thugs of Hindostan, Aamir Khan took to Faceook and wrote:
Hey guys, wishing everyone a very happy Diwali!
On the eve of the release of my film I want to express my gratitude to:
Adi Chopra, who is one of the finest producers I have worked with.
Victor, a director who has always brought the best out of me as an actor.
Mr Bachchan, who has always been an inspiration for me.
Fatima who is one of the finest costars I have ever worked with, Fatty you are a star!
Katrina, whom I absolutely love.
Lloyd, Gavin, Zeeshan, Ronit and Ilaji who have been an absolute delight to work with.
The entire Azad Gang.
Manush the DOP.
Sumit, the production Designer.
Rushi & Manoshi the costume designers.
Ritesh the editor.
Debu the sound designer.
Ajay & Atul the music composers.
Amitabh Bhattacharya the Lyricist.
Prabhu Deva and Chinni & Rekha Prakash the choreographers.
Pankaj, Sherry and the entire VFX team.
Rohan the 1st Ad, and Jiya, Sakshi, Rushil, and Pratik.
Avan & Nanao (hair) and Jogi (make up), whose difficult job it is to make me look good everyday.
Avi who shot the publicity stills.
Manan, Monica, Prithwish, Yvonne, Rohan (marketing & Distribution).
Sanjay, the head of production, only he could have made this film.
Chotelal ji who looks after us so well when we come to YRF.
Bimal, Shamath, Shilpa, Prabhat, Susanna and Amos from my team.
Parvez Bhai, Franz, Lee, who designed the action of the film.
Mohit who cut the trailer.
Vivek who designed the poster.
John Stewart Eduri who has done the background score.
Guys, I want to thank all of you for a wonderful journey. A journey which has been so special and memorable for me.
Each one of you has done such a mind blowing job, and I am so happy to be a part of this team. Thank you.
Tomorrow our film releases. We have no idea how successful it will be, but irrespective of the fate of the film, I want to thank you all for a very fulfilling two years. I think we can all be satisfied that we have given it our best.
And thank you Kiran, you have always been a pillar of strength for me. Always looking out for me. Always there. Absorbing all my eccentricities, tolerating all my madness. Thank you. Wer I found yu? I luv yu, yu kno dat?
And to our audience i want to say that we have made the film with a lot of love and effort, and we hope that you enjoy it.
Happy Diwali to all.
Love.
a.