Nawazuddin Siddiqui starrer Thackeray hit the big screens on January 25 and the audience lined up to see how the versatile actor has portrayed late Shiv Sena supremo Bal Thackeray on celluloid.
The Abhijit Panse directorial created waves ever since the project was first announced. Now only time will tell if the biopic will live up to the hype. In an earlier interview with indianexpress.com, Nawazuddin had said that he doesn't want to open all his cards prior to the release.
"I felt a lot of pressure, for almost a month. I wasn't myself, I was very nervous. I was not sure if I would be able to do justice to such a huge personality. However, as time went on and I started preparing for this role, things became easier," Nawazuddin had earlier told indianexpress.com in an interview.
Thackeray also features Amrita Rao and Sudhir Mishra among others in pivotal roles. The dialogues have been written by Arvind Jagtap and Manoj Yadav with a screenplay by the director himself.
Live Blog
Read all the updates about Nawazuddin Siddiqui starrer Thackeray.
Our verdict
Shubhra Gupta, Indian Express' film critic, in her review, wrote, "Thackeray is a worshipful home video in the guise of a full-length feature film, in which everything is seen solely through the eyes of the man who started life as a testy, outspoken cartoonist, and who, overcome by the 'unfairness' of 'Marathi manoos' having to deal with migrants in their home-state Maharashtra, went on to form the Shiv Sena, a political party whose 'reactions against actions' helped changed the face of nation."
Also read | Thackeray movie review: A worshipful home video
Celebrities at Thackeray screening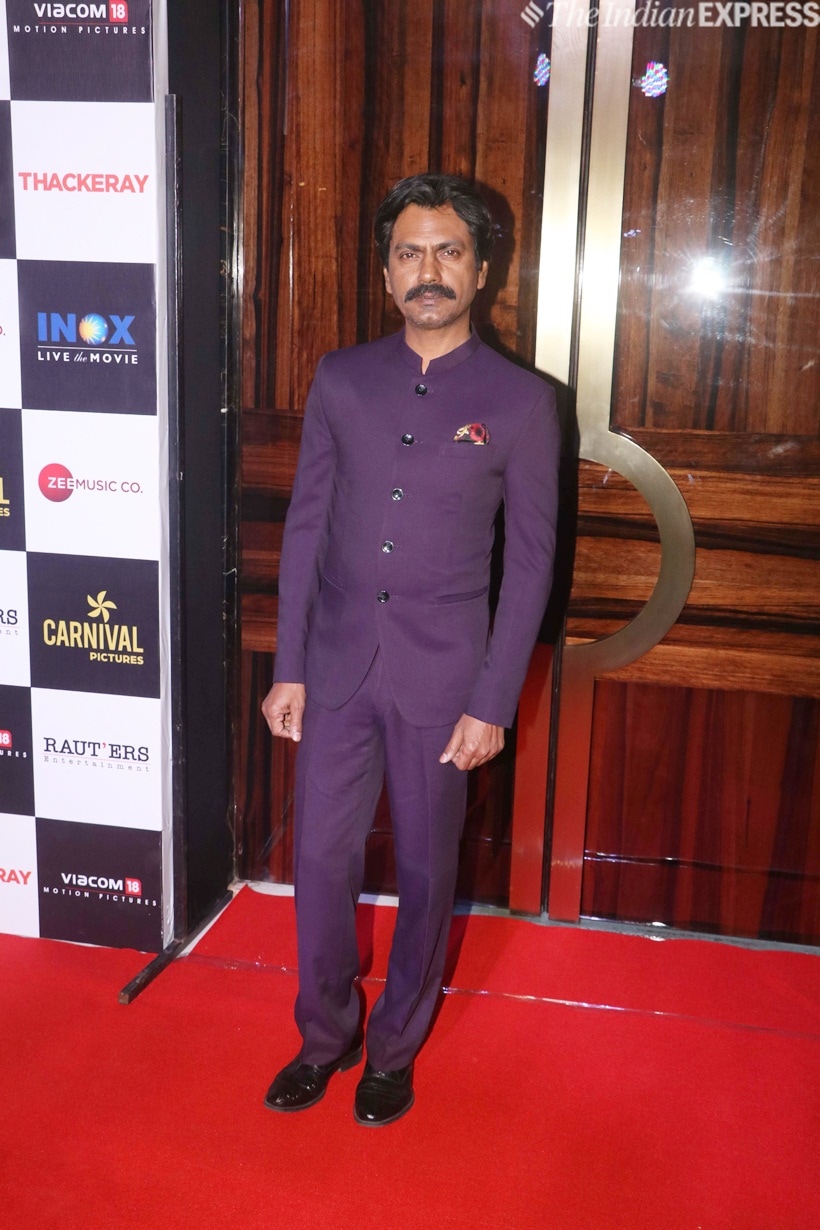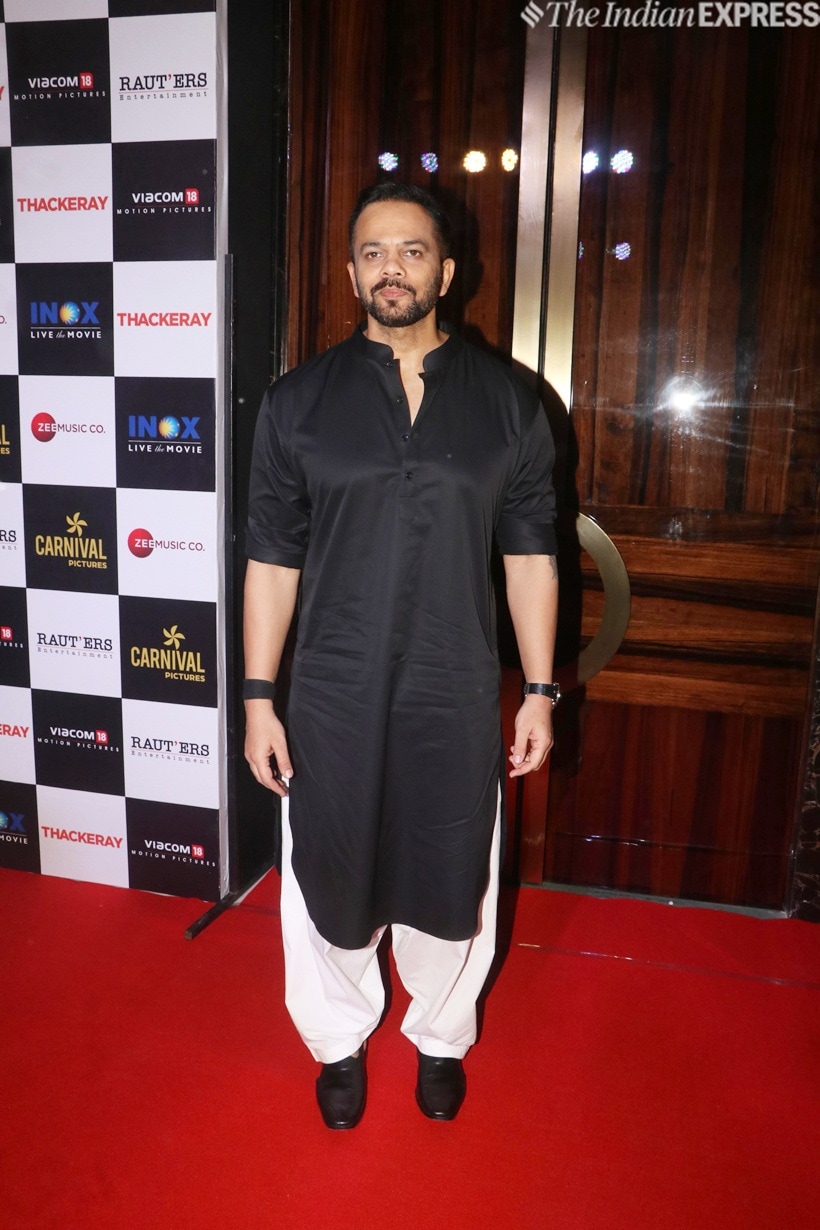 The makers of Thackeray organised a special screening in Mumbai, which was attended by Nawazuddin Siddiqui, Rohit Shetty and Suresh Wadekar among others.
Also read | Rohit Shetty, Shoojit Sircar and others attend Thackeray screening
Shiv Sena workers create ruckus over Thackeray posters
#Maharashtra: Shiv Sena workers created ruckus inside the premises of a movie hall in Navi Mumbai yesterday as it did not display 'Thackeray' movie poster. The movie on Shiv Sena's Bal Thackeray has released today. pic.twitter.com/YwXv3GECUZ

— ANI (@ANI) January 25, 2019
'A fitting tribute to the Supremo'
Film trade analyst Taran Adarsh tweeted, "#OneWordReview…#Thackeray: GRIPPING. A fitting tribute to the Supremo... Is engrossing for most parts... Taut screenwriting + Abhijit Panse's skilful direction + Nawazuddin Siddiqui's sterling act makes it a compelling watch... Watch it! #ThackerayReview."
Actor Viineet Kumar congratulates team Thackeray
Mukkabaaz actor Viineet Kumar tweeted, "I want to know the journey of Bala Saheb Thackeray. So i will watch the film #Thackeray .Another important reason for me is @Nawazuddin_S .Finest actor of our time. But I have to wait for sometime because I am shooting in Deoghar, Jharkhand. Congratulations team #ThackerayTheFilm."
Amrita Rao's Thackeray journey gets special
Nawazuddin Siddiqui on Thackeray casting controversy
Nawazuddin Siddiqui's casting as Thackeray raised a lot of eyebrows but the actor said he has "full freedom" to pick or reject any role. "Since 1991, I have only thought about becoming an actor day and night. Whenever I get a role like this, I feel happy that some of the hard work that I have done in the past 25 years will be executed. I will do whatever role I want to do. I enjoy doing challenging roles. I like to be pushed outside my comfort zone. Experiment as much as possible, there is only one life to live," he said.
Reasons to watch Thackeray
Are you planning to watch Thackeray? We list some reasons to watch the film:
1. Balasaheb Thackeray
Shiv Sena leader Sanjay Raut has penned the story of the biopic. Hence, Thackeray claims of depicting the lesser-known life of Bal Thackeray, from being a cartoonist working with The Free Press Journal to finding his own political party - the Shiv Sena. While Thackeray holds the position of a patriarch in the Maharashtra politics, the movie aims at telling more about him to viewers across the country.
2. Nawazuddin Siddiqui
Nawazuddin is one of the most sought after actors in Bollywood right now. So if he chooses to play Thackeray onscreen, it has to be something to look out for. From body language to getting his Marathi diction right, Nawaz has put in a lot of hard work for the film. And he did impress in the trailer. After Manto and Sacred Games last year, now he is opening 2019 with a role, which he calls "the most challenging one" of his career." This makes Thackeray, a much-anticipated film, already.
3. Controversies
The Abhijit Panse directorial ran into controversy when many outfits accused it of being a propaganda film on Bal Thackeray. Actor Siddharth also slammed the movie for abusing South Indians. Then there were scenes and dialogues referring to the Babri Masjid demolition, which irked many for hurting religious sentiments. Now, whether or not the film whitewashes the image of Bal Thackeray, or sheds light on even his controversial life, is something to watch out for.
Watch: Audience talks about Thackeray
'Nawazuddin Siddiqui is Thackeray to the T'
Film director Kushan Nandy was all praise of Nawazuddin Siddiqui after watching Thackeray. He tweeted, "Can @Nawazuddin_S not do anything? Body language, attitude, performance.. he IS #Thackeray to the T. Specifically loved the scene with Javed Miandad. Riveting watch. #ThackerayTheFilm."
WATCH: Millennials watch Thackeray
WATCH: Thackeray fevers grips Mumbai
WATCH: Thackeray public verdict
Akshay Kumar on Thackeray
Akshay Kumar shared on Twitter, "Wishing all the very best to my friend, @AUThackeray on the release of the film #Thackeray based on his grandfather...have heard so many stories about the power he exuded and his greatness, looking forward to see it all unfold on the big screen."
Thackeray off to a great start in Mumbai
The 5 am and 7 am shows of Thackeray at Mumbai's Carnival IMAX Wadala were housefull.
'Thackeray explains the mind of Balasahab'
Filmmaker Priya Gupta watched Thackeray and tweeted, ".#Thackeray explains the mind of BalaSahab so powerfully. His feelings for his people, his country & his guts & determination are admirable. @Nawazuddin_S you're nothing short of a Tiger yourself!!! @AmritaRao was lovely seeing you back on the Big Screen. @AUThackeray".
First day first show craze among Thackeray fans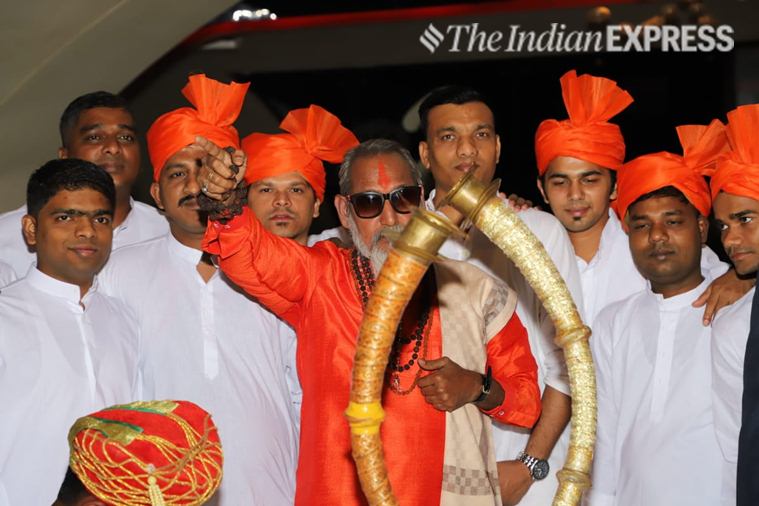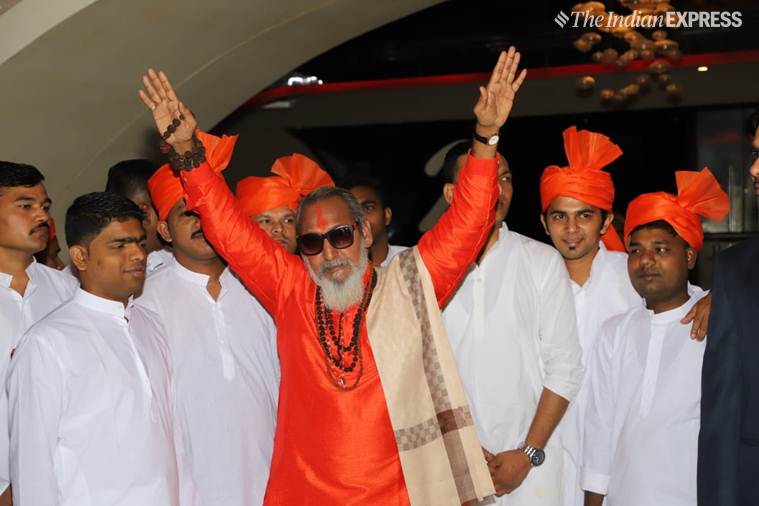 A look-alike of Balasaheb Thackeray was spotted at the early morning show of Thackeray at Carnival Cinemas Imax, Wadala, Mumbai.
Filmmaker Anil Sharma on Thackeray
"Best wishes Jus saw #Thackeray so many things I came to about Bala saheb, a great heroic personality of ind .. @Nawazuddin_S performed great .. it's a rare feather in cap .. congratulations to everyone associated with film .. Specially @AmritaRao #sanjayraut #AbhijitPanse," tweeted filmmaker Anil Sharma.
Watch: Nawazuddin Siddiqui discusses the challenges of playing Bal Thackeray
Thackeray to be a strong phenomenon in Maharashtra
Film trade analyst Girish Johar told indianexpress.com, "Thackeray will be a strong phenomenon in Maharashtra. Nawazuddin Siddiqui is a brilliant actor and the film is being pegged on his shoulders. He looks like a doppelganger of late Shiv Sena leader in the movie and going by the buzz around it, the film will earn around Rs 3-4 crore on day one."
Also read | Thackeray box office prediction: Nawazuddin Siddiqui's film to earn Rs 3-4 crore on Day 1
Rohit Shetty on Thackeray
IANS reported that " Rohit Shetty showered praises on actor Nawazuddin after watching his portrayal of late #ShivSena patriarch #BalThackeray in the forthcoming release "#Thackeray", saying he is an outstanding actor."
Shatrughan Sinha heaps praises on Thackeray
After watching Thackeray, actor Shatrughan Sinha tweeted, "As a tribute to his memory, a film, 'Thackeray' a biopic on the life of Balasaheb releases on 25th Jan'19. I'm told Nawazuddin Siddiqui @Nawawazuddin_S is outstanding & it seems he has done complete justice to the role. He is credible & believable as he plays the late Shiv Sena Supremo, Balasaheb Thackeray. Balasaheb was determined towards his contributions & commitments to protecting the well being of people. He was aptly known as 'Fearless Tiger' & 'Iron Man'. You our 'Godfather' are truly missed & remembered with great fondness."
Celebration of Thackeray's first day first show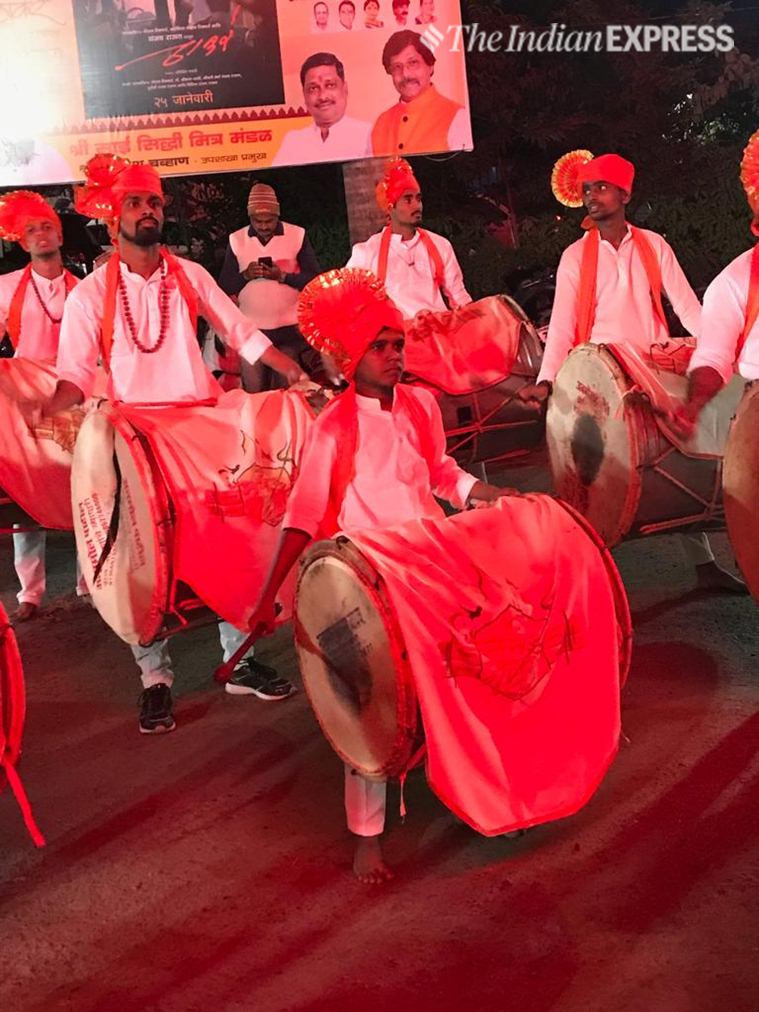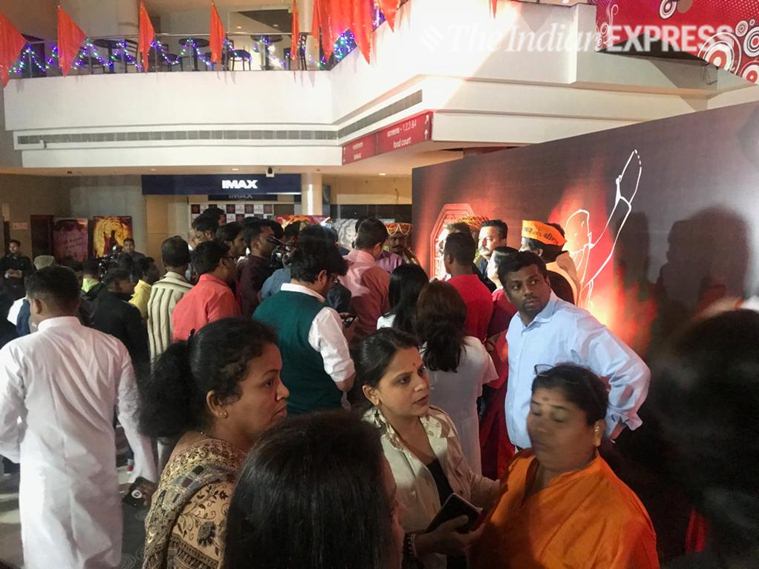 The Shiv sainiks and the other fans reached Carnival Cinemas Imax, Wadala for an early morning show of Thackeray. They were welcomed with dhol-tasha that were arranged by the members of Shiv Sena. Big cut-outs of Nawazuddin Siddiqui as Bal Thackeray could be seen outside the theater.
Thackeray is bold and powerful: Shoojit Sircar
Shoojit Sircar wrote on Twitter, "Film Thackeray portrays how an Artist becomes a powerful political leader. The film is bold and powerful. @Nawazuddin_S one of our finest actors roars like a tiger.. Congratulations to @rautsanjay61 and @RKpanday1977 ."
Thackeray: A propaganda film?
In an interview with indianexpress.com, Amrita Rao said, "It is strange. Tomorrow, if there is a biopic on the cricketer and the world cup, is around, will you call it a propaganda film? It is just a coincidence. We know, we have reversed the clock to work towards January 23, Bala Saheb's birthday because Maharastra loves him."
An attempt to whitewash Thackeray's image?
In an interview with indianexpress.com, Nawazuddin Siddiqui said, "In the trailer itself, we announced him as a controversial personality. He was unapologetic about who he was. So, there was no need to whitewash his personality. The film does have all facets of his personality. A biopic is not true to its essence if it doesn't present the facts."
Playing Bal Thackeray was challenging: Nawazuddin Siddiqui
In an interview with indianexpress.com, Nawazuddin Siddiqui said, "Language and body language was for sure a challenge but more challenging was to showcase the inner world of Bala Saheb."