Sunny Leone talks about husband Daniel Weber.
The official Humans of Bombay page recently met Sunny Leone, and they have presented their followers with a lesser-known side of Bollywood actor. In the post, Sunny Leone talks about her love story with husband Daniel Weber. How the two met and how their love grew, Sunny says it all, and their love shines through in the way she narrates their story. She knew Daniel was the one when he stuck by her even in tough times.
Sunny Leone has often spoken about her husband Daniel Weber. The duo's love story also features in her recently released biopic series titled Karenjit Kaur – The Untold Story of Sunny Leone.
In the post, Sunny Leone reveals how they met and how it was Daniel's persistence that got her interested in him.
She says, "We met through Daniel's band mate at a club in Vegas. He says it was love at 1st sight, not for me though, because all we did was make small talk–there weren't any floating hearts or violins. But somehow he got my number & email ID. What I liked is that he didn't call me, but emailed me instead–that's how we began talking. Coincidentally, I was going to NY, where he lived when he emailed me saying, 'You're never going to give me your number, are you?' Which is when I gave in & he asked me out."
Sunny then proceeds to speak about her first date with Daniel and says, "I was late for our 1st date. But like a gentleman, he waited patiently. When I reached & we started talking–there was the violin moment. The whole restaurant disappeared & it was just us. We spoke for 3 hours–it was like I'd known him forever."
Sunny Leone poses with her husband Daniel Weber.
She talks about their budding love in its early days: "We had a long courtship–in the beginning, it was just us getting to know each other. I remember when I was in Oman–he sent me a mixed CD & flowers from across the world! I had a stack of calling cards because of how much we spoke! I was in love. He's so considerate & supportive. In fact, because he wasn't comfortable with me working with other men in my adult films, he began working with me & we started our own company."
It was in the face of tragedy that Daniel supported her whole-heartedly. She says, "Within a few months of dating, my mom passed away. I'd expect a guy to run from such an emotional responsibility–but he stayed. Not only for me, but for my family. I'd wake up crying at night & he'd hold me. He didn't try to fix the situation–he was present & that's what mattered. I knew then that he was the one, but it was his turn to make me wait."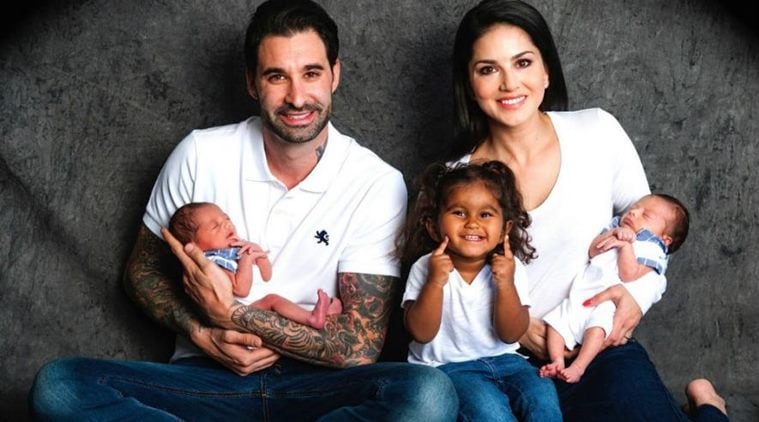 Sunny Leone with husband Daniel Weber and their three kids.
The proposal story is just as perfect. Sunny says, "I remember it like it was yesterday. I was looking for a box to put my ring in. When randomly, he gave me this beautiful mahogany box which he'd made. It said, 'With love, Daniel.' I was so excited with the box, when he said, 'I also have another ring for you!' YES!! I was jumping–how could I not? I'm so lucky to have him. The proposal was simple–exactly how I wanted it."
Sunny talks about the dream she's living with Daniel and their kids, "It's been 7 years now & we're just the same. He supports every dream of mine like it's his own–he makes me believe that anything is possible. And when we're all together–the kids, me & Danny making us breakfast…life itself is a dream, one I can't believe I'm living."
For all the latest Entertainment News, download Indian Express App