This week witnesses the release of Bollywood films Sui Dhaaga and Pataakha. Both these films are set in heartland India and it is to be seen how the audience reacts to these films.
Starring Anushka Sharma and Varun Dhawan, YRF's Sui Dhaaga is a story that focuses on entrepreneurs who develop their small-scale textile business. Directed by Sharat Katariya, this film focuses on the story of a husband and wife who take control of their lives by establishing their own business.
Also Read | Pataakha movie review: Vishal Bharadwaj pulls off a rousing parable
Pataakha, the other release of the week, is a Vishal Bhardwaj film. Starring Sanya Malhotra and Radhika Madan, this is a story of two warring sisters. Set in Rajasthan, this film also stars Sunil Grover. With Vishal Bhardwaj at the helm, one can expect that this will be an enjoyable film.
Live Blog
Follow all the updates about Sui Dhaaga and Pataakha.
Sanya Malhotra on playing Chutki in Pataakha
Sanya Malhotra, in an interview with indianexpress.com, said, "Pataakha was both physically and mentally challenging for me. I could relate to Babita on an emotional level or Miloni in Photograph or Renne in Badhai Ho. But this one was something I could not emotionally connect to. I could eventually do that. When I heard the narration of my character, I was so excited but I had a doubt if I could pull it off or not because internally I could relate to her but externally I am not at all like her."
Also read | Pataakha actor Sanya Malhotra: Films are coming to me organically
Anushka Sharma on Sui Dhaaga
Talking about her role in Sui Dhaaga, Anushka Sharma told indianexpress.com, "The beauty of the film is that Mamta comes from a place or a background where she was not educated and was not given the kind of opportunities you and I have in this world. Despite that, she is a bright girl. She is a homemaker and crafty but because there are no opportunities for her, the craft is lost until the family faces dire situations. At such a moment, she becomes the mind behind the plan to start something of their own. The man, Mauji, is the creative mind behind her plan. The beauty is when she wants to do all this and finally steps out of the house, the husband is super supportive. He is not like the kind of person who would want his wife to stay home. He asks her for inputs in life too."
Celebrities at Pataakha screening
Aamir Khan, Sakshi Tanwar, Fatima Sana Shaikh, Zaira Wasim and others attended the screening of Sanya Malhotra and Radhika Madan starrer Pataakha.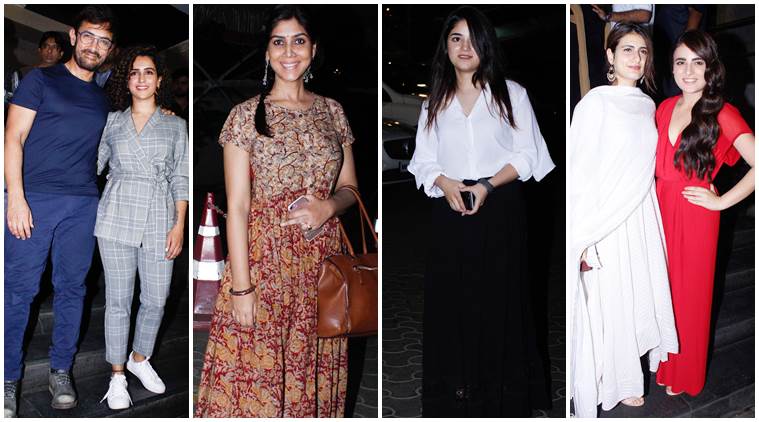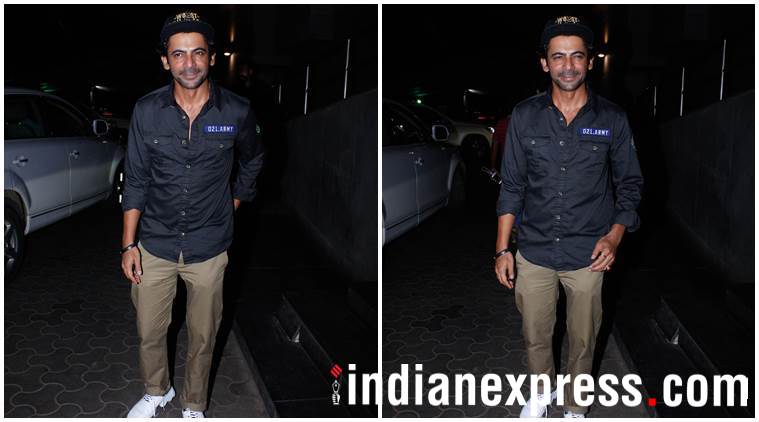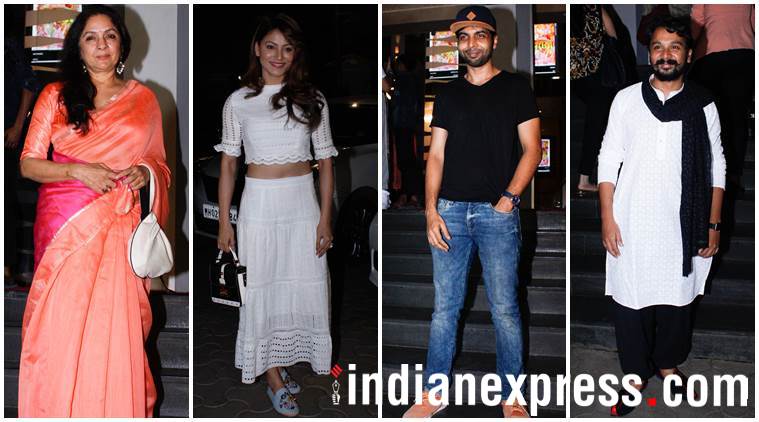 Varun Dhawan on Sui Dhaaga
Talking about his film Sui Dhaaga, Varun Dhawan told indianexpress.com, " It is an entertaining film. A lot of my friends have already watched the film and have said that 70% of the film made them laugh while they felt emotional in the rest 30%. So, it has humour you will experience at the theater."
Also read | Sui Dhaaga actor Varun Dhawan: I was born to be an entertainer
Pataakha box office prediction
Our verdict on Sui Dhaaga
Sui Dhaaga box office prediction
As per trade analyst Girish Johar, Sui Dhaaga might earn Rs 10 crore on opening day. He said, "Varun, Anushka and YRF are a superb combination. Also, they have made the right noise about their film. The buzz and appeal of it are very good and going by the current times when desi stories are doing well at the box office, I feel Sui Dhaaga should clock around Rs 10 crore at the BO on its day 1."
Also Read | Sui Dhaaga box office prediction: Anushka-Varun starrer to earn Rs 10 crore on Day 1
Bhumi Pednekar on Sui Dhaaga
Bhumi Pednekar tweeted, "Here is wishing Mauji and mamta @Varun_dvn @AnushkaSharma all the best for this beautifully woven film ❤️ @Sharatkatariya #ManeeshSharma love love and more love to you both.#SuiDhaagaMadeInIndia"
Bhumi has earlier worked with Sui Dhaaga director Sharat Katariya in her debut film Dum Laga Ke Haisha.
Director Ali Abbas Zafar calls Sharat Katariya the 'real hero' of Sui Dhaaga
"What a beautiful film #SuiDhaaga is , brilliant performances @AnushkaSharma @Varun_dvn & entire cast , to keep it simple is the toughest , @Sharatkatariya is the real hero. Sach mein " made in India "," tweeted Ali Abbas Zafar.
Jaccky Bhagnani loves Sui Dhaaga
Jackky Bhagnani took to Twitter and wrote, "Watched #suedhaga and loved it ! @Varun_dvn is so good as MAUJI and @AnushkaSharma I am a Fan . It was such a tough one to pull this off . Kudos . All the best team !!!!"
Mukesh Chhabra praises the cast of Sui Dhaaga
Mukesh Chhabra took to Twitter and wrote, "What an amazing choice of script by @Varun_dvn and @AnushkaSharma. A striking topic and a brilliantly made film. Superb performances by both the leading actors and the supporting cast. In theaters today. A must watch @yrf"
Pataakha is an amazing film, says Soundarya Sharma
Soundarya Sharma tweeted, "Saw #Pataakha last night! What a पटाखा movie! What an amazing & a different film, Loved it @VishalBhardwaj sir! Brilliant performances by chutki, badki, Dipper @sanyamalhotra07 @radhikamadan01 @WhoSunilGrover It's a winner already 🙌🏻🌈@ajay0701"
Every performance in Sui Dhaaga is on point, says Neha Dhupia
Neha Dhupia wrote on Twitter, "I loved Mamta @AnushkaSharmaFC I loved loved Mauji @Varun_dvn and the entire family of #SuiDhaaga ... @Sharatkatariya what a beautiful film you have made. Every performance every beat is on point. And that background score is beautiful! @Shanoozeing Wat brilliant casting! ❤️"
Anubhav Sinha on Pataakha
I love Maqbool, Kaminey and Haider too but #PATAKHA could well be the best film by @VishalBhardwaj thus far. What performances. Sania Malhotra and Radhika Madan are the next-gen of actresses. Pitch perfect. @WhoSunilGrover WOW!!!

— Anubhav Sinha (@anubhavsinha) September 25, 2018
Sui Dhaaga is such an honest film, says Varun Sharma
"Just Watched #SuiDhaaga Such an Honest Film!! With such super Fine Performances!! Absolutely Amazing Haaste Haaste Rulayegi aapko!! @Varun_dvn Bhaiii Tune Fatte Chak diye.. One of your Finest Performance Till Date.. Soo Soo Good!! Biiiiiggg Punjabi Jappi To You Bhaii!! ❤️❤️," Varun Sharma said via Twitter.
Ashwiny Iyer Tiwari on Pataakha
Ashwiny Iyer Tiwari posted on Twitter, "Truly Indian.Truly rooted.Truly #Pataakha @sanyamalhotra07 #Radhikamadan @WhoSunilGrover bring alive the human psyche of hatred & love in relationships along with every character who embibe roles wth such finesse.Thank-you @VishalBhardwaj 4 #Pataakha Rote haste Dil kush ho gaya"
Sui Dhaaga is a must watch, says Zaheer Khan
Zaheer Khan shared on Twitter, "#suidhaaga is a must watch . A big congratulations to @anushkasharma @varundvn and the entire team . Mamta and Mauji #sabbadhiyahai 👍"
Kapil Sharma on Pataakha
Kapil Sharma tweeted, "Congratulations n best wishes Paji @WhoSunilGrover n my Favourite @VishalBhardwaj sir n @rekha_bhardwaj Mam n the whole team of #Pataakha lots of love n best wishes 🙏"
Mamta's character stole my heart totally, says Virat Kohli
Virat Kohli wrote on Twitter, "Saw @SuiDhaagaFilm for the second time last night and I loved it more than the first time. What an emotional rollercoaster with brilliant performances by the entire cast. Mauji was superb @Varun_dvn. But Mamta's character stole my heart totally. Her ability to be so quiet yet so powerful and impactful makes you fall in love with her. SO PROUD my love ❤😍 @AnushkaSharma . Don't miss it guys! #SuiDhaagaMadeInIndia"