Sonam Kapoor's film Neerja has all it takes to be a super hit. The film has become the talk of the town and there is no stopping for the film at the box office front, thanks to the script and Sonam's outstanding performance. Neerja was a flight attendant on the hijacked Pan Am flight who sacrificed her life while protecting 359 passengers.
Apart from the film garnering applauds from all over, here are six gripping scenes from Neerja.
Shooting Scene:
The scene where Neerja Bhanot gets shot by the terrorists is the most disheartening scene. It is a depiction of her resilience in the eyes of danger protecting three innocent children from getting shot at by the terrorists. (Read: Before the film Neerja which starred Sonam Kapoor, a Moga village took pride in Neerja Bhanot)
Rama Bhanot's Speech:
Shabana Azmi is portrayed as Neerja Bhanot's mother. The pride she feels at the bravery of her daughter is seen in this scene where she is seen delivering a speech. (Also read: Neerja movie review: Sonam Kapoor makes us believe she is, was, Neerja)
Opening scene:
Sonam Kapoor's conversation with the taxi driver in the beginning of the movie sheds lights on the zealous and free-spirited Neerja Bhanot. "Babu Moshai Zindagi badi honi chahiye lambi nahi''.
Second chance at love for Neerja:
The scene where Sonam Kapoor reads the letter she receives from Shekhar Ravjiani portrays a moment of happiness in the painful situation. (Read: 'Neerja', an experience of our lives: Pan Am 73 hijack survivor)
Neerja's quick thinking:
When Neerja asks the passengers to hide their American passports shows her ability to think on her feet and deal with a life threatening situation with such calmness! (Read: Neerja box office collections: Sonam Kapoor film earns Rs. 25.71 cr)
Neerja sings a song:
The most heart wrenching point in the film is when the terrorist mocks Neerja asking her to sing her favourite song ''Mere Sapnon ki rani kab aayegi tu''. This poignant scene marks Neerja's bravery in the face of danger.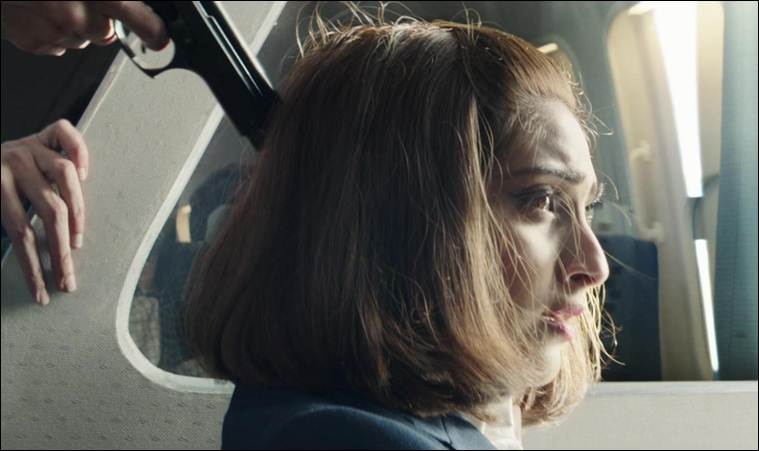 "For news updates, Follow us on Facebook, Twitter", Google+ & Instagram
For all the latest Entertainment News, download Indian Express App