Sonali Bendre is undergoing treatment for cancer in New York.
Sonali Bendre is overwhelmed with the love and blessings that have been showered on her from the moment she revealed her cancer diagnosis. The 43-year-old actor took to her Twitter handle on Friday morning to thank all those who sent her good wishes. She also said that she is 'fighting at being fit again.'
Sonali, on Wednesday, left her fans, friends and colleagues shocked and deeply saddened as she tweeted about her medical condition. She tweeted, "Sometimes when you least expect it, life throws you a curveball. I have recently been diagnosed with high-grade cancer that has metastasized, which we frankly did not see coming. A niggling pain led to some tests, which led to this unexpected diagnosis."
Replying to filmmaker Madhur Bhandarkar's tweet which read, "Dear @iamsonalibendre you are wonderful human being, I am sure you will fight all the odds and overcome this situation. Wishing you a speedy recovery. Praying for strength for u @GOLDIEBEHL and ur family.🙏," Sonali tweeted, "Madhur thank you, aiming at being fighting fit again🤞🏻💪🏻🌞" She extended her gratitude to almost the entire film industry who wished for her speedy recovery.
Sonali Bendre diagnosed with metastatic cancer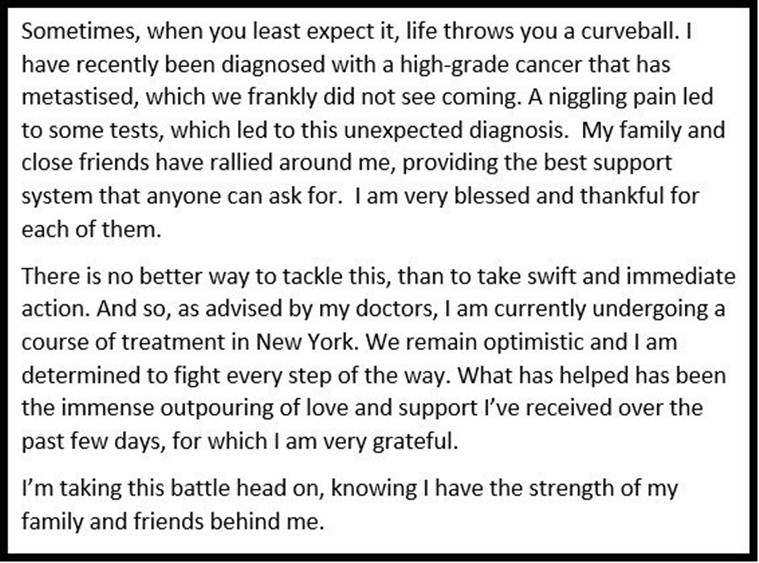 Sonali Bendre diagnosed with cancer: The actor shared the news about her disease on social media.
In her reply to Omung Kumar and Vivek Oberoi's tweet, her co-judges on India's Best Dramebaaz, the actor even mentioned how she misses being on the sets of the kids TV reality show. "Thank you Vivek, missing you and the IBD team….keep the show rocking…lots of love🙏🤞🌞💕," wrote Sonali. "Haha Omung am going to miss ur shoes!!!!!!! Seriously thank you hv a good show…lots of love🙏🤞🌞," read her reply to Omung's tweet.
Also read | Sonali Bendre diagnosed with high grade cancer, sister-in-law says it all happened suddenly | Sonali Bendre diagnosed with high grade cancer  | India's Best Dramebaaz judge Omung Kumar: We didn't know Sonali Bendre had cancer
Divya Dutta, who has been a dear friend of Sonali from their early days in the Hindi film industry, penned a note for her. After reading the note, Sonali got emotional and wrote, "Divya, tumne toh rula diya! Love you! Thank you 🤞🌞 (Divya, you made me cry)".
Sonali is undergoing treatment in New York. The actor in her tweet mentioned that her family and friends are her strength and she will take her battle against cancer head on. "We remain optimistic and I am determined to fight every step of the way. What has helped has been the immense outpouring of love and support I've received over the past few days, for which I am very grateful. I'm taking this battle head-on, knowing I have the strength of my family and friends behind me," read Sonali's statement which was released on Wednesday.
For all the latest Entertainment News, download Indian Express App