Written by
Sarika Sharma
| New Delhi |
Published: May 18, 2013 4:52:23 pm
Exactly a year after facing criticism for her drastic weight gain post pregnancy – a much slimmer and new mom Aishwarya Rai Bachchan was back at Cannes for her 12th appearance.
Aishwarya Rai,who was dressed in a black outfit worn with yellow shoes,was seen coming out of the airport at Nice,with her 18-month-old daughter Aaradhya.
Aishwarya's father-in-law and Bollywood megastar tweeted: "A joy to meet 'the little one' and Aishwarya on way out from Cannes.."
Aishwarya is the guest of honour at a special evening celebrating 100 years of Indian cinema on Sunday (May 19) and will then walk the red carpet on May 20.
Last year,Aishwarya's shape five months after she gave birth to Aaradhya had generated unusual public interest with the Bachchan bahu coming in for some criticism for the 'oodles of weight' gain.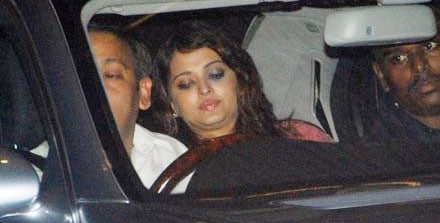 The trigger for the reactions came following the publication of some pictures of the former Miss World while emerging out of a party hosted by industrialist Mukesh Ambani in Mumbai.
The pictures set off a buzz on the internet and in the social media with articles,videos,blogs and tweets highlighting her 'oodles of weight','double chin' and calling the photos of the beauty queen 'shocking'.
Photos: Aishwarya Rai's 12 years at Cannes Film Festival
A video was also uploaded with a compilation of her post pregnancy photos.
Aishwarya's look at the Cannes have always been under the scanner and reports suggest that the former Miss World could opt for a sari this year.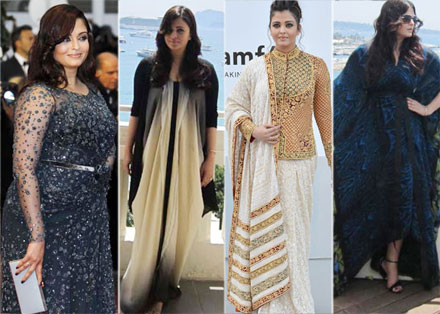 Not concerned about the fashion critics,a bold Aishwarya Rai showed off her plus size figure in a blue Elie Saab at the 2012 Cannes.
This year,Vidya Balan,Sonam Kapoor,Freida Pinto and Mallika Sherawat have wowed the audience with their ethnic dresses.
Now all eyes will be on Aishwarya Rai as the Cannes veteran returns to the red carpet. (With PTI inputs)
📣 The Indian Express is now on Telegram. Click here to join our channel (@indianexpress) and stay updated with the latest headlines
For all the latest Entertainment News, download Indian Express App.