Starring Ranveer Singh in and as Simmba, the film directed by Rohit Shetty has hit the theaters. Sara Ali Khan plays Ranveer's love interest in the film and from the trailer, it looks like Ajay Devgn's Singham will also play a significant role in the film.
Rohit Shetty's films are known for being masala entertainers and so far, the audience has enjoyed the way he presents big action sequences with high drama. Shetty's style of comedy is also loved by the viewers.
With Simmba being the last big release of the year, the audience will surely be looking forward to ending their year with a bang.
This will be Ranveer Singh's second release of the year after Padmaavat. He is being seen as a front-runner for all the awards after his performance as Khilji in Bhansali's film.
Live Blog
Follow all the latest updates about Ranveer Singh and Sara Ali Khan's Simmba.
Simmba: Our verdict
The only reason to watch Simmba then is Ranveer Singh. In his sharp moochh sticking up at both ends, shiny bronzed face, broad shoulders filling out, eventually, the khakee uniform, Singh is Simmba. Striding into cop stations, wading into 'goondas', losing his heart to the girl across the road Shagun (Ali Khan), Singh is fully alive to the moment, knowing that he is working in a template, aware that he has to keep breaking out.
Also Read | Simmba movie review: Ranveer Singh makes this jaded thing sing
Watch: Ranveer Singh and Sara Ali Khan heap praise on Simmba director Rohit Shetty
Ronit Roy on Simmba
Ronit Roy tweeted, "Simmbaaaaaaa aala re!!!!!!!! And I have a feeling it's gonna rock! All the very best @RanveerOfficial @karanjohar #SaraAliKhan #RohitShetty and the entire team of #Simmba"
Ranveer Singh is the star of our generation, says Ashish Chanchlani
Ashish Chanchlani posted on Twitter, "@RanveerOfficial is the STAR of our generation and i mean HE IS THE STAR!!! i absolutely love him and his performance in #Simmba proves that! he is hilarious,serious and powerful at the same time. Proud to be your fan❤️"
Check out this video from Simmba shoot wrap
Sara's mother Amrita Singh and brother Ibrahim Ali Khan at Simmba screening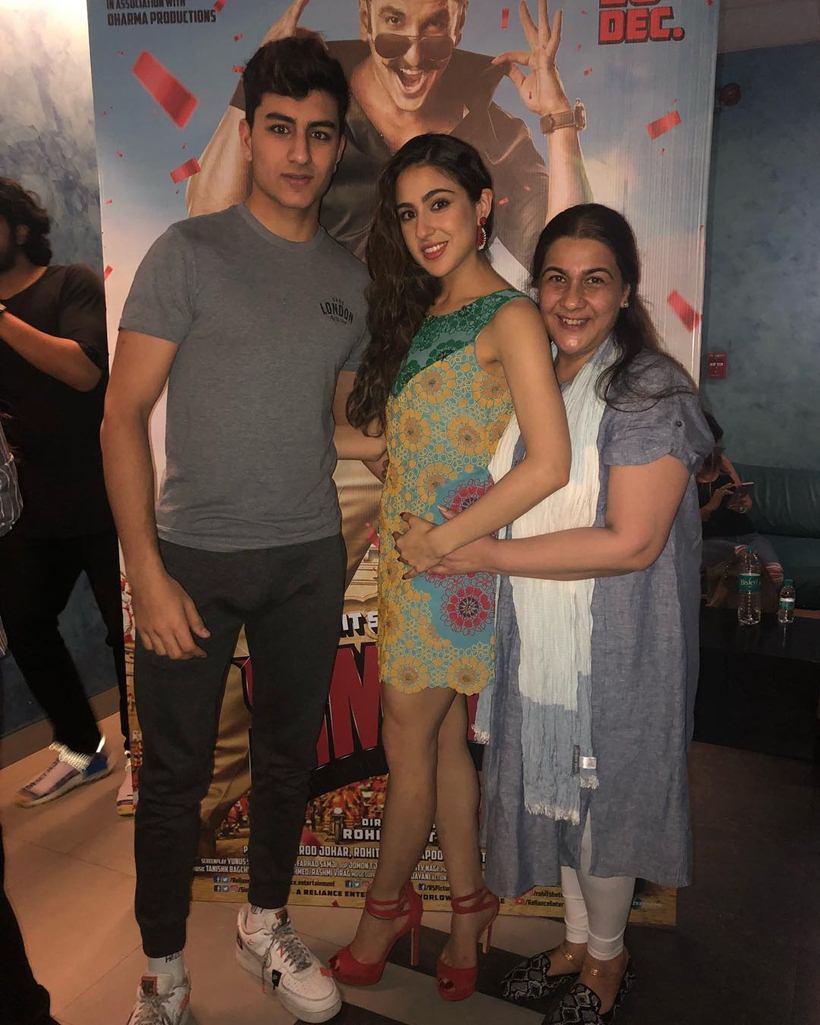 Source: Sara Ali Khan/Instagram
Karan Johar shared a photo of Team Simmba after the screening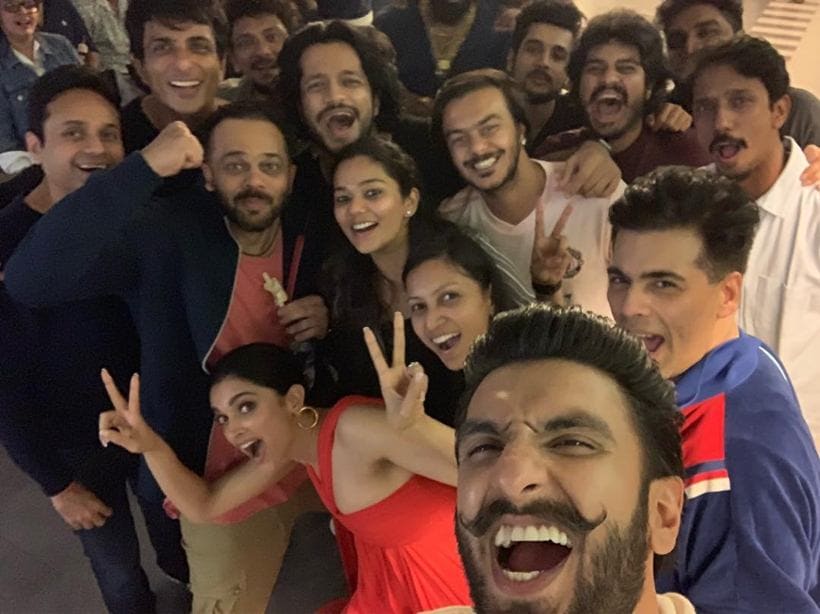 Source: Karan Johar/Instagram
Watch Simmba song Mera Wala Dance here
Rohit Shetty talks about his genre of filmmaking
In an interview, Simmba director Rohit Shetty said, "When I start writing a script and shooting it, all I keep in my mind is my audience. The people who come to watch my films are the family audience. If I were trying to prove a point, I would not have been here. There are people who will dislike what I do, but I know that there is an audience that loves my cinema. So, you have to come to terms with the fact that a certain section of the audience might not love your films. One can only hope that they like your films at some point. I deal with the problems of the middle class and that's why my films are termed massy. I can't solve their problems, but at least, I can entertain them. What I find hypocritical is, when someone curses in English, it is considered cool and not massy. However, when the same curses are in Hindi, the 'massy' tag is promptly added. I don't fear my film being a flop, but I do fear losing the audience that loves my cinema."
Ranveer Singh at the media screening of Simmba
Watch the trailer of Simmba here
Singer Harbhajan Mann on Simmba
"All the best to @RanveerOfficial for the release of #SIMMBA! @DharmaMovies @karanjohar @deepikapadukone @RelianceEnt," Harbhajan Mann said via Twitter.
Simmba finds a fan in Vikramaditya Motwane
Director Vikramaditya Motwane wrote on Twitter, "I ♥️ @RanveerOfficial more & more everyday! He's an absolute Riot in #Simmba. Its like Govinda and @AnilKapoor had a love child. Watch the film opening weekend, and watch it on a single screen please!! A couple of scenes in the second half will BRING THE F*****G HOUSE DOWN!!!"
Milap Zaveri on Simmba
Satyameva Jayate director Milap Zaveri tweeted, "Looks like by initial reviews #Simmba is gonna be another huge victory and vindication for the mass/Masala genre! Congrats @RanveerOfficial @khaansara Rohit Shetty n team @karanjohar @apoorvamehta18 @DharmaMovies @RelianceEnt @SonuSood @farhad_samji @SajidSamji 💪👏🤗"
Actor Luv Sinha on Simmba
Paltan actor Luv Sinha shared on Twitter, "Best wishes to #Rohitshetty, @SonuSood sir, @RanveerOfficial , and everyone associated with #Simmba . Looking forward to watching it at a single screen over the weekend!"
Karan Johar on Simmba
Karan Johar posted on Twitter, "TODAY!!!!!!! #SIMMBA!!! A ROHIT SHETTY FILM!!!!! @RanveerOfficial #SaraAliKhan @SonuSood"
Watch Simmba song Aankh Marey here
Ranveer Singh on Deepika Padukone's reaction to Simmba
Ranveer Singh and Sara Ali Khan give five reasons to watch Simmba
Everything in a Rohit Shetty film is big, says Ranveer Singh
Talking to indianexpress.com about Rohit Shetty, Ranveer Singh said, "I think it is correct to say that Rohit Shetty creates a larger than life world in his films. Everything in a Rohit Shetty film is big. You associate largeness, scale, grandeur, visual spectacle, an event film with Rohit Shetty. He is a director who directs large canvas films that are meant for the big screen. This man doesn't know any other way. So, his films are big."
Trade analysts heap praise on Simmba
While Taran Adarsh tweeted, "A solid, well-packaged entertainer with a powerful message... Rohit Shetty gets it right yet again... And so does Ranveer, who is outstanding... Whistles, claps, laughter assured... Expect a STORM at the BO... #SimmbaReview," Girish Johar posted on Twitter, "Congratulations to @RanveerOfficial #SaraAliKhan @RSPicturez @karanjohar @SonuSood @ashutoshrana10 @RelianceEnt 💕🌟💞 #Simmba has the right dose of masala, songs, humour, emotions & a strong message !! It will be a winner at the BO ! 💥"
Simmba box office prediction
Talking about the box office prospects of Simmba, trade analyst Girish Johar said, "The positive buzz around Simmba will lead to its great start at the box office and it will earn over Rs 18 crore on Day 1. The deadly trio of Rohit Shetty, Ranveer Singh and Sara Ali Khan, Ajay Devgn and other cameos, remixed songs, Karan Johar's association and majestic promotions, all will help Simmba to end the year on a high note."