Written by
Sampada Sharma
| New Delhi |
Updated: December 14, 2017 6:00:11 am
Winner of 15 National Awards, Shyam Benegal is known for films like Nishant (1975), Manthan (1976) and Mandi (1983) amongst many others. But for his younger audience, he is known as the filmmaker who crafted some fine films like Zubeidaa (2001), Welcome to Sajjanpur (2008) and Well Done Abba (2010). Shyam Benegal's films serve as a school of filmmaking to anyone who wishes to learn and appreciate the craft. Mr Benegal's vast filmography and awards just go to show that even though commercial cinema rakes in the box office numbers, it's films like these that are preserved for posterity. His nuanced approach, detailed eye and unique way of telling a story engages the viewer for the story itself and not the frills that make for packaging a film.
In 2001, Shyam Benegal made Zubeidaa with Karisma Kapoor in the lead role and in many ways, this was a huge leap of faith. While Kapoor was a popular actor, she wasn't known as someone who would star in a non-mainstream film. She had starred in Khalid Mohamed's Fiza in 2000 but was still perceived as the actor who could match up with Govinda when it came to dancing in the movies.
Zubeidaa is the story of a young man Riyaz (Rajit Kapoor) who yearns to learn more about his mother, Zubeidaa (Karisma Kapoor). From what we see in the film, Zubeidaa was a rebel who was probably stuck in the wrong era. She was a free-spirited woman who was bound by shackles of patriarchy and Benegal portrays this quite majestically. As a filmmaker, he does not show her as the helpless woman who is a victim of circumstances, in fact, he shows her as the woman who can take life head-on and has all the courage to fight it.
Her father forbids her from acting in films, her husband leaves following an argument, and even her second husband doesn't see her as a partner. In many ways, she is the woman who has faced a lot of rejection but her joie de vivre stays intact. Zubeidaa's search for acceptance leads her to seek validation from those around her but sadly, in a world where men ruled kingdoms and women were nothing more than their consorts, Zubeidaa's search remained unfulfilled.
The film proceeds in two timelines. While one is set in the present day where Riyaz is trying to find more about his mother, the other is set in the royal palaces that Zubeidaa once resided in. Benegal presents Zubeidaa's unrest by juxtaposing it with all the material comforts in the world.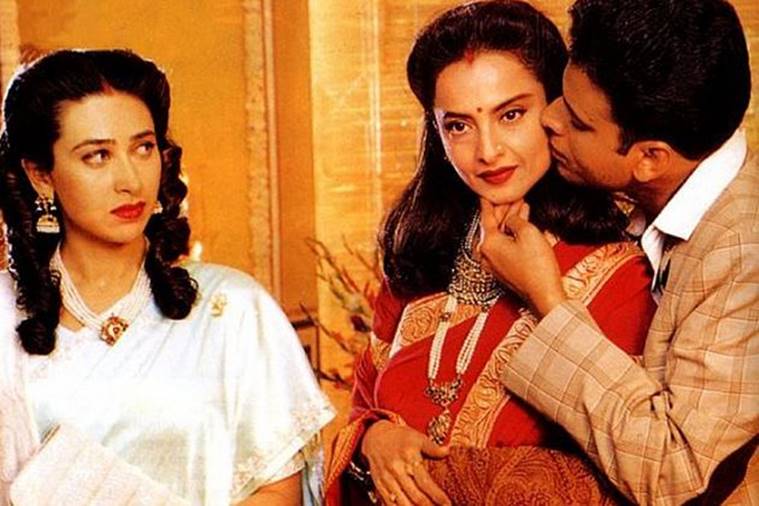 Zubeidaa is the tale of a woman who seeks love and when she sees a glimpse of that affection from Maharaja Vijayendra Singh (Manoj Bajpayee), she latches on to it. She doesn't care if he's already married with two kids, she's ready to give herself fully to the relationship. The film shows that even though Vijayendra loves her too, his confidante still remains his first wife, Mandira (Rekha). The complicated web of relationships around Zubeidaa lead her to make rash decisions but Benegal does not paint her as the woman who is clueless about her surroundings rather he shows her as the confused woman who will go to any lengths to make her relationships work.
Zubeidaa was shot in sync-sound, which means that the dialogues were recorded live on set. This was an uncommon practice during the early 2000s as filmmakers preferred to get cleaner sound via dubbing later but Benegal attempted so to capture the raw emotion of the performing actors.
Written by Khalid Mohammad, the film was auto-biographical in nature as Riyaz's story was Khalid's personal account. Benegal narrated Zubeidaa's tragic tale with a feeling of pensive sadness. The story of a trapped soul who is just looking for a way to escape, a free-spirit who does not wish to get bound and a woman who was just, at the end of the day, looking for true love.
Benegal received much appreciation for Zubeidaa. The film even won the National Film Award for Best Feature Film in Hindi. Shyam Benegal does not make as many films as he used to before but for all the legacy he has created for Indian cinema, Zubeidaa will always be remembered as the film that blurred the lines of commercial and parallel cinema.
The Indian Express website has been rated GREEN for its credibility and trustworthiness by Newsguard, a global service that rates news sources for their journalistic standards.