After leaving the Sejals of Ahmedabad asking for more, actor Shah Rukh Khan launched the new song from Jab Harry Met Sejal titled "Butterfly" in Ludhiana today. The celebratory song is flaunting all the colours of Punjab. Shah Rukh spoke about the new track and his Sardar look. But amid all the excitement around the new track, SRK also condemned the terrorist attack on Amarnath Yatra pilgrims. The superstar said that 'terrorism can never defeat the goodness and faith of the people.'
"Terrorism can never defeat the courage, goodness and faith of the people. It can never win over the faith that people impose in God and it is that faith which gives them to courage to face everything. Words are not enough to condemn the brutal attack on pilgrims. It is their faith in God which gave them courage. Terrorism can never be powerful enough to win over goodness," Shah Rukh spoke in Ludhiana, on the sidelines of the event.
The actor launched the song "Butterfly" from his upcoming film in the presence of Nooran Sisters who have also sung the particular track along with Aman Trikha, Dev Negi and Sunidhi Chauhan. Shah Rukh who has shot some scenes of the film with co-star Anushka Sharma in Nurmahal near Jalandhar said that 'Punjab has always held a special place in his films and life'.
"I have always been very close and related to Punjab and its culture. There are so many Punjabi people in my life. My wife's roots are in Punjab. I have grown up in Delhi where too I was always surrounded by Punjabi people. There is something about Punjabis and their colorful lives that attracts me. In this film too, I play a Punjabi tourist guide settled abroad but he misses home. He misses his Punjab," he said.
Check out some photos of Shah Rukh Khan while he launched the song "Butterfly" in Ludhiana.
Shah Rukh Khan also visited village Jhande of Ludhiana and rode a tractor in the fields. He said that working with director Imtiaz Ali has taught him how important each character in the script is. "Imtiaz is a very interesting writer. Everyone writes love stories but he writes different. His scripts are about characters and the struggle that each of the character goes through in his/her life. Working with him for the first time has made me realize the power of each character in a script. He is a very honest and simple guy. He is equally close to Punjabis as I am," he said.
SRK further said that initially he never understood the importance of music in his films. "Initially, I thought what is the need of songs in my films but now when I look back, I realize my career is built on songs and music. I told Imtiaz also that we can never make a Bollywood film without music but it is embedded in our culture and homes. Music holds a place in the hearts of Indians," he said.
"No wonder that a song with a little Punjabi element or bhangra beats becomes a global hit because Punjabis are ruling across the globe," he added. Shah Rukh said that he is very much interested in working in Punjabi films. "But for that I need to polish my Punjabi skills," he laughed.
Here are some more photos of Shah Rukh Khan riding a tractor in the fields of Punjab (Express Photos by Gurmeet Singh):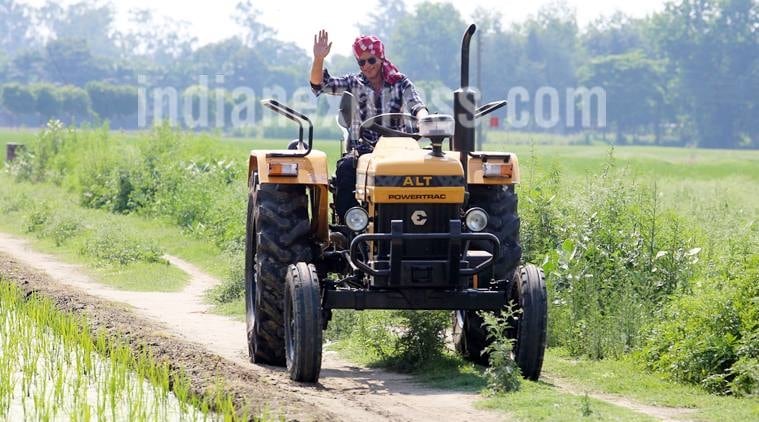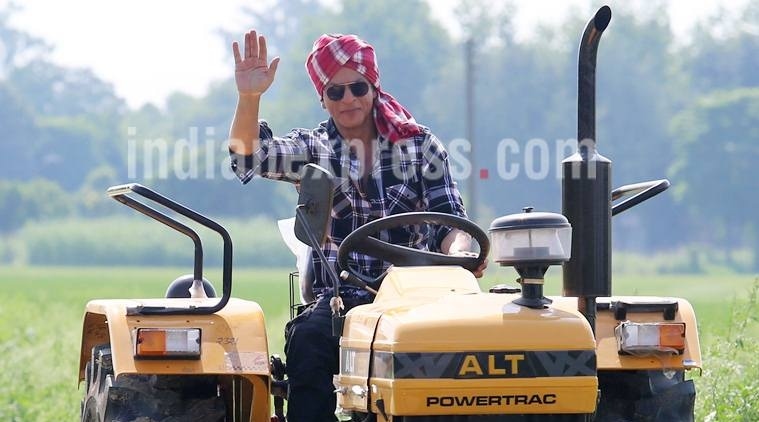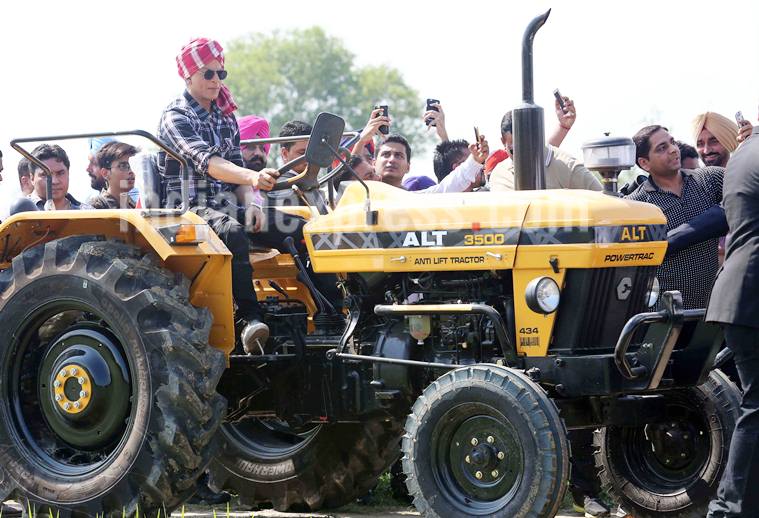 Talking about the film, the actor said that he plays the character of a tourist guide Harry who meets Sejal (Anushka Sharma). "Dev Anand saab played the role of a guide in legendary 'Guide'. Aamir Khan was too good in 'Raja Hindustani'. However, in this film we have tried to focus on a guide's life. He meets new people everyday, takes them to places but himself is very lonely. Loneliness in the life of a guide is what we have tried to bring out in this film," he said.