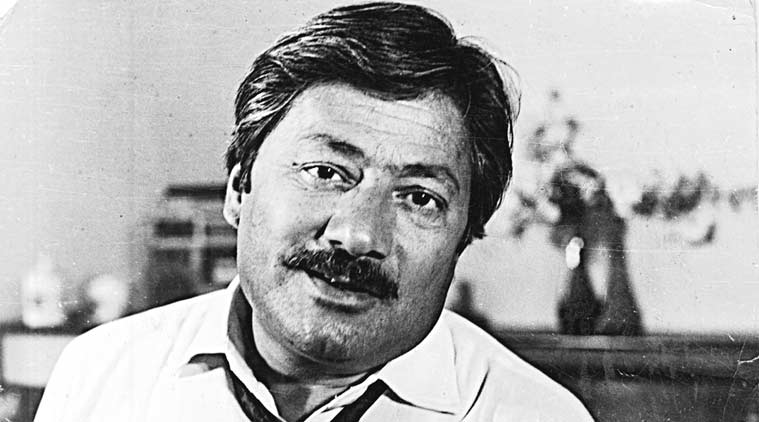 Well-known filmmaker Sai Paranjpye remembers Saeed Jaffrey as a perfectionist
It was a miniscule role I had cast him in. Saeed Jaffrey was to be Lallan Miyan in Chashme Buddoor, a paanwala who would have little more than a special appearance in this comedy about three boys and a girl next-door. He has in the film for no more than 15 minutes of screen time. But most people remember Lallan Miyan, and fondly.
For the part, Saeed was keen to study the mannerisms of typical old Delhi paanwalas. Every morning, he would visit that part of the city, and drag me along too, to sit and chat endlessly with some of the paanwalas and locals. He would listen to their stories, picking up their accent, leheza, and the words they used. In return he would enthral them with stories, speaking in chaste Urdu. This speaks of his diligence as an actor — he was somewhat of a perfectionist.
What endeared audiences to Lallan Miyan is the affability the character exuded. But it isn't a trait limited to the character. Even in other films, this remains a common thread. It perhaps stems from his off-screen persona — Saeed was an extremely pleasant and warm person who would never really hold back. This showed also in his on-screen camaraderie with Farooq Shaikh, Rakesh Bedi and Ravi Baswani.
In his gestures, his manner of speaking, he was larger than life and that, perhaps, explains what set him apart among the other Hindi film actors of the time.
'He was a fine actor himself and so gracious with his praise'
Rohini Hattangadi
The only thread that tied Saeed Bhai and I, for so many years, was and is Gandhi. I was introduced to him on the sets of the film. We were shooting the "Cleaning of the toilets" scene in Pune. Saeed bhai was watching it being shot. After we finished, he came to my husband and said, "You must congratulate your wife and kiss her today". My husband was surprised at this unexpected comment. All he managed to utter was "Why?". Saeed bhai said: "She is a brilliant actor and this scene she shot here, couldn't be more fantastic." He went absolutely gaga over the scene even later. Such a fine actor himself and so gracious with his praise. I would bump into him at get-togethers later, but lost touch in the last few years. But, this incident remains my fondest memory of Saeed Jaffrey.
'Urdu was the language of his heart while he thought in English'
Tom Alter
Inke dil ki zubaan Urdu thi, aur inke dimmag ki zubaan angrezi thi aur inhe dono mein maharath haasil thi. Parde par ho ya real life mein, unki aankhon mein jo chamak thi, aur unke zubaan mein jo ek mazedaar rang tha, wo main kisi aur mein kabhi nahi dekha. Pehli baar main unse 1977 mein Shatranj ke Khiladi ke dauraan mila. Uske baad unke saath
kaam karne ka ittefaaq nahi huya lekin hamari dosti hamesha kayam rahi.
(Urdu was the language of his heart while he thought in English and was proficient in both. Be it in reel life or real life, he had a sparkle in his eyes and a way of speaking that I have not found in anyone else. I met him in 1977 during Shatranj ke Khiladi. I couldn't work with him again, but we continued to be friends.)
'Saeed was influenced a lot by Ismail Merchant and James Ivory'
Kusum Haider
I met Saeed in England. I had moved there in 1965 after I got married. I worked with him in the play Bloody Wedding, a Spanish tragedy by Federico Garcia Lorca, in 1967. We, along with Zohra Sehgal, Roshan Seth and Indra Joshi, were the first Indians who came from India and were actively involved in the theatre scene there. Saeed was influenced a lot by Ismail Merchant and James Ivory as he had worked in their films. He was not only a co-worker but also a personal friend, who often visited us when my husband was posted in London. He and his ex-wife Madhur Jaffrey started their theatre journey in Delhi and then he shifted to England. Once Saeed entered films we did not meet as often though even now we meet Madhur when we go to New York.
Simply Jaffrey
Saeed Jaffrey was a pioneer in many ways. He was one of the first Indians to straddle the different worlds of cinema, stage and television, both in India and Britain. He also received an Order of the British Empire (OBE) for his contributions to drama. Here are some lesser-known facts about Saeed Jaffrey:
* During an interview with BBC World's HARDtalk in 1999, Jaffrey revealed that after his divorce from Madhur and his subsequent move to England, the actor was in dire straits financially. He got a job with the BBC's World Service, but supplemented his income by taking up a job at Harrod's as a sales assistant. In the interview, he recalled bumping into former colleague Ingrid Bergman. Too embarrassed to tell her the truth, he pretended to be just another customer at
the store.
* Jaffrey was a talented mimic. He imitated his teachers in school and in later years, he would often entertain people with impressions of celebrities such as Marlon Brando, Marilyn Monroe and Michael Caine.
* Jaffrey made friends easily, but there was one person he simply couldn't get along with — British filmmaker Sir David Lean, who made Lawrence of Arabia and Doctor Zhivago and who directed Jaffrey in A Passage to India. The actor accused Lean of cutting down his part to nearly half its length and giving the more interesting lines to his co-star Art Malik.
* Jaffrey was also an artist, a talent he claimed to have inherited from his mother. He was particularly skilled at drawing cartoons.