Written by
Shaikh Ayaz
| New Delhi |
Updated: June 21, 2017 12:33:59 pm
In Prakash Mehra's Zanjeer, a 1973 sleeper hit that sent Amitabh Bachchan aka Vijay exploding away on Hindi cinema screens, Iftekhar – Bollywood's favourite cop of the 1960-70s – plays (no prizes for guessing) police commissioner Singh. To give some context, the year 1973 had seen far bigger hits in Rishi Kapoor-Dimple Kapadia's Bobby, Rajesh Khanna-Sharmila Tagore's Daag and Dharmendra-Hema Malini's Jugnu. When he meets the new inspector – Amitabh Bachchan as Vijay Khanna – immediately after the opening credits, he throws around some figures to emphasise Vijay's reputation in the police department as a brutally honest, if somewhat eccentric cop with extrajudicial method of dealing with crime. 5 years. That's how long Vijay has spent in the force. 11 transfers. "And, you haven't lasted more than six months in any police station," Commissioner Singh confronts a stern-faced Vijay, going further to remind him that though he's heard that Vijay is upright he's not without his weakness. What could be Vijay's Achilles heel? In Singh's telling, the disaffected new officer considers every criminal his "personal enemy" and that sometimes, he operates outside the legal circle to dish out justice.
But before we look at Zanjeer and what it did to the then "failed newcomer" (in the words of the superstar himself) Amitabh Bachchan's fledging career, we must throw around some of our own figures. 30. That's how old Bachchan was when signed up for Zanjeer. 12. That's the number of flops he gave before Zanjeer, save Anand and Bombay To Goa – the two crucial early films that helped him break into a film industry nearly monopolised by the then-superstar Rajesh Khanna. 3. The number of stars who turned down Zanjeer, a potentially ground-breaking script by Salim-Javed at a time when romance was the genre de rigueur. According to director Prakash Mehra, Zanjeer's script was first owned by Dharmendra, and in fact, the film was even announced with Dharmendra and Mumtaz in the lead. But Dharmendra got busy with other films and kept Zanjeer on hold. Finally, frustrated with all the waiting and watching, Mehra came to an understanding with Dharmendra and the two parted ways amicably. Prakash Mehra had seen Dev Anand's Kala Pani and offered him Zanjeer, but Salim-Javed felt it would have been a casting disaster. And rightly so. Moreover, Dev Anand, regarded as a debonair romantic hero, wanted the intense character of Vijay who doesn't even smile (Pran had to break into Yaari Hai just to make him smile) to sing a few songs. Third choice: Raaj Kumar. He loved the script but, apparently, told Mehra, "I was once an inspector in Mahim. But for this film, you do the shooting in Madras!" The film was based in Bombay and Mehra was not keen to shift the action to another city. Raaj Kumar was out. Finally, Mumtaz, too, opted out preferring marriage over career.
And so, Amitabh Bachchan, the last man standing and the last choice, was fatefully cast in Zanjeer. Luckily, it seems the lanky struggler not only had Salim-Javed's professional endorsement but also colleagues Pran, Om Prakash and Ajit rooting for him. Zanjeer would become a foundation stone film for Bachchan. Talking about it, Big B has often pointed out that Salim-Javed were close to Rajesh Khanna in the 70s and could have easily persuaded the King of Romance for Zanjeer. But Salim-Javed, more than betting their money on Amitabh Bachchan, were simply committed to the cause of their script. "We strongly felt that Amitabh was the ideal casting for Zanjeer," Salim Khan has repeatedly maintained in various interviews. He went on to add, "Even in Deewaar, Rajesh Khanna was signed by Gulshan Rai (producer), but we felt Amitabh was perfect for it. We insisted on him."
Salim-Javed had seen Bachchan in Bombay To Goa, in which the future superstar was rubbing shoulders with more established names like Shatrughan Sinha, Mehmood, Aruna Irani and Kishore Kumar. Years later, Bachchan recalled the fight sequence in Bombay To Goa that landed him Zanjeer. "Salim-Javed saw a fight sequence in Bombay to Goa where I was chewing gum throughout the fight, as an indicator that I would be the right choice for Zanjeer."
Luck, of course, was in favour of the gum-chewing dark horse. When Mumtaz opted out, Jaya Bhaduri agreed to play a small but crucial role as Big B's love interest. They were dating at the time and she said yes instantly for the sake of her future husband. The story of Zanjeer, in some ways, is also the story of Amitabh and Jaya Bachchan. As in the film, she became his acerbic-tongued, knife-sharpened (pun intended) life partner who speaks her mind freely. Like in the film, she remained firmly in the shadows of Bachchan while the star conquered one milestone after another. Like her screen character Mala, Jaya has retained her sharp edge and original feisty voice.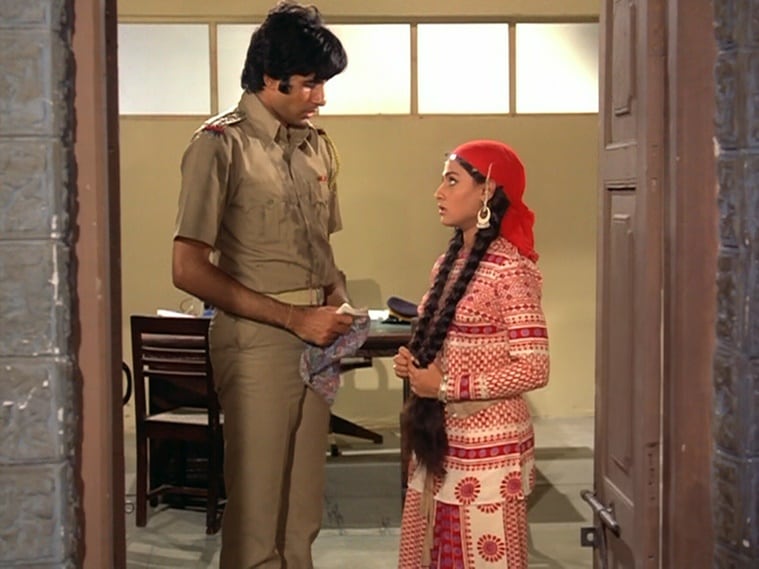 Coming to Zanjeer, the film opens on a happy Diwali night. Tragedy strikes when Vijay's father, who has just turned his back on the world of crime, is killed by the mafia boss Teja (Ajit). The young Vijay grows up craving for revenge. Nightmares of his father's killer torments him. He hates crime and can go to any extent to weed it out. He tells Sher Khan (Pran) if he wants his hand of friendship, he will have to quit his crime business.
Undeniably, Amitabh Bachchan is central to Zanjeer and the film made him but it has wonderful little touches and cameos that have passed into the collective memory of film-goers over the years. For starters, there is Pran, who modelled himself on the day's Pathan crime lords. Pran has always been known for his fancy get-ups. For Zanjeer, he parted his hair from the middle, put on a hennaed wig and picked up deliciously Afghani-inflected patois filled with inner-city phrases like 'bacche', 'biraadar", 'khhabees ki aulad' and "Vijay Khan." You could argue that the portrayal was stereotypical but not over the top. He gets the film's most memorable song, Yaari Hai and the most amusing lines ("Sher Khan ne shaadi nahin ki toh kya hua, lekin baaratein bohot dekhi hai." The scene in which he donates his blood to Vijay (the logic for them having the same blood group being that "we are both tigers") to save his life finds an echo in a similar sequence in Amar Akbar Anthony. Then, there's Om Prakash, a shadowy apparition, who dawdles around in a graveyard passing on key information to Inspector Vijay. The most shocking cameo, however, comes from Keshto Mukherjee, Bollywood's go-to boozer and comic relief. He does two out-of-character things here: first surprise, he is sober and second, betrayal. For his hateful negative role, even today, you can imagine the Zanjeer fans shaking their head in disbelief, 'Why did he do it? Why did he betray Amitabh?' Keshto is just one of the henchmen doing the dirty job for Ajit's Teja. With his refinement of language, what you might call 'tehzeeb', Ajit changed the face of Bollywood's bad man. The sophisticated Teja (moll Mona Darling in tow) belongs more to the world of Bond than Bandra. In Zanjeer, he makes the presence of a villain so charming and full of entertainment.
Despite memorable performances from nearly everyone in the film, Zanjeer fixed Amitabh Bachchan's image as a volcanic and cynical angry young man in the minds of the Indian audiences. It inspired a series of anti-establishment diatribe starring Amitabh Bachchan as the explosive Vijay. It set a new trend that blurred the lines between hero and anti-hero. It was a frustrating cross to bear even for the writers Salim-Javed who conceived the hard-hitting, 'angry with the system' Vijay. Javed Akhtar once conceded that Bachchan played the angry young man in very few films and yet, we still remember him by those films even though he was a much more versatile actor than we give him credit for. By way of example, Akhtar mentioned Mili where he's truly an angry young man but nobody talks about that film! Our guess is that could be due to Mili's lack of political and social context. It was the raw intensity of Zanjeer that directly led to Deewaar, Trishul, Don, Sholay, Kala Patthar and Shakti. Zanjeer was a turning point not only in the life of Bachchan but also of a waiting-in-the-wings Tamil superstar called Rajinikanth. Thalaiva's directors cast him in the mould of the 1970s Bachchan, a fact Rajinikanth acknowledges to date.
While Zanjeer built Bachchan's career, it nearly destroyed Rishi Kapoor's. Rishi survived the onslaught purely on the strength of his chocolate boy charm and talent. Although Bobby was a bigger blockbuster in 1973, making Raj Kapoor's son an overnight sensation, there's no doubt that the decade belonged to Bachchan and his brand of brooding, rebellious films.
Reportedly, Zanjeer became a hit in Calcutta but didn't pick up pace in Bombay until a week later. Amitabh Bachchan was in a trauma, as the same year his other film Bandhe Haath had flopped. Poet Harivansh Rai Bachchan's elder son, once dismissed by producers as "too thin and too tall to be a hero" was in desperate need of a hit. According to Mehra's past interviews, Bachchan was down with fever the week Zanjeer had released. When the film gradually became a hit in Bombay after a slow start, the leading man couldn't believe his luck and the shock of his newfound stardom caused his fever to worsen. Finally after the hysteria over Zanjeer settled down Bachchan recovered. But Hindi cinema and its audiences never fully recovered from the after-effects of Amitabh Bachchan and Zanjeer. For, this relatively small film not only introduced a brand new beast called the Angry Young Man but also confirmed the arrival of a new Bollywood hero.
(Shaikh Ayaz is a writer and journalist based in Mumbai)
The Indian Express website has been rated GREEN for its credibility and trustworthiness by Newsguard, a global service that rates news sources for their journalistic standards.