Written by
Shaikh Ayaz
| Mumbai |
Published: May 29, 2017 11:09:50 am
When we talk of Hindi art-house cinema, two names overwhelmingly emerge as the most popular faces – Om Puri and Naseeruddin Shah. The two giants of the parallel cinema may overshadow the third one in terms of popular appeal but not in terms of sheer talent. The third man we are referring to is Pankaj Kapur. He is hugely gifted, rarely seen (he picks his projects carefully) and is widely respected for his commitment to good cinema. He's the actor's actor, Bollywood's Brando who can dazzle you with his understated menace (Maqbool), dead-face humour (Jaane Bhi Do Yaaro and Office Office, the TV show) or drunken buffoonery (Matru Ki Bijli Ka Mandola). On his birthday today, we pay tribute to one of India's finest actors by picking his five best roles that are a must-watch.
Jaane Bhi Do Yaaro
Kundan Shah's madcap Jaane Bhi Do Yaaro is a sum of many small elements, the most ensemble of ensemble and among the many stars who shine bright in it, one is Pankaj Kapur. A corrupt builder, Tarneja (Pankaj Kapur) deadpans his way through the lunacy, an outlier in a film where nearly everyone else is colourfully absurdist. If JBDY were an asylum ward, Kapur would be the slimiest (and Ravi Baswani the most maniac). Kapur uses his two great skills delightfully and those skills are the most potent weapon in his histrionics arsenal – understatement and deadpan. Watch JBDY for an inspired performance by him, and others.
Ek Doctor Ki Maut
Kapur is a master of understated elegance and nowhere is it more at display than in this Tapan Sinha classic. Released in 1990, it went on to wow critics and award juries. Kapur plays an ordinary doctor who is conducting scientific research. His lifelong battle has been to find a cure for leprosy. With support from wife Seema (played by Shabana Azmi), he goes about it passionately, more like a duty towards humanity than anything else. However, being a government doctor his research is not seen as credible and questions are raised and doubts expressed. Dr Dipankar who has spent his life in the lab needs to confront the dirty politics of the world outside and the selfish motivations of man. Kapur plays Dr Dipankar with the earnest dedication that the character deserves. This is a man who is out to prove nothing to the world. He's just a common man who wants to serve humanity. At some level, he sees his work as not something glorifying but simply as something that must be done. Mysteries of the science must be solved and unsung scientists like Dipankar are at it all the time.
Maqbool
Pankaj Kapur's Abbaji could be a colonial cousin of The Godfather. Or brother from another mother. He rules the underworld with an iron fist but also takes (grudging) part in family affairs. Vishal Bhardwaj's haunting tribute to Macbeth, Maqbool contains some of the finest performances. Just read its credit – Irrfan Khan, Tabu, Om Puri and Naseeruddin Shah. And yet, it is Pankaj Kapur's show all the way. The film could well have been titled Abbaji and not Maqbool, played by the fiery-eyed Irrfan Khan who will be seduced by Tabu at dargahs and mehfils to kill the Don. The 'gilori' scene is a highlight of the film. Kapur's menace is visible, a seething anger but expressed through his trademark deadpan expression.
The Blue Umbrella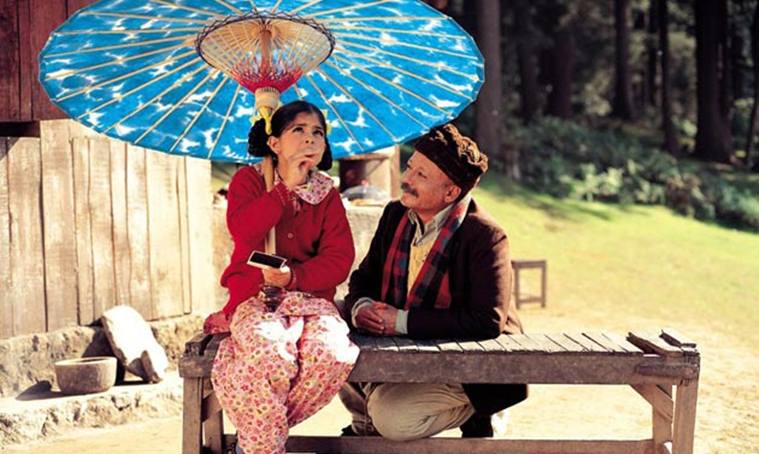 Vishal Bhardwaj's return to children's territory after Makdee, The Blue Umbrella, based on a Ruskin Bond short story, is a fable. Kapur plays a shopkeeper who falls in love with a blue umbrella owned by a little girl and wants to possess it. To do so, he steals it! So powerful was Kapur's performance that it drew universal acclaim from critics. In his review, Rajeev Masand couldn't stop admiring Kapur's vast talent. "If there's one reason to watch Blue Umbrella then that reason is Pankaj Kapur who plays Nandu the shopkeeper so perfectly, he brings that character to life in front of your eyes. His look, his body language, his accent, his dialogue delivery, it's all first-class. This is what you call acting, and Pankaj Kapur's performance in Blue Umbrella is like a textbook for young actors."
Office Office
Mussaddilal is a common man, straight out of a RK Laxman cartoon. But his problems always land him in uncommon troubles. A laugh riot, Kapur delivered, episode after episode, a marvelous performance with a straight face. There's no slapstick here. Just classic Pankaj Kapur deadpan humour. The show's strong writing and performances remind you of the Doordarshan days. Though it's off air the show continues to have fans and has developed a cult following over the years, thanks to Kapur and his hilarious antics.
For all the latest Entertainment News, download Indian Express App