Yesteryear's actor Geeta Kapoor, who has worked in films such as Pakeezah and Razia Sultan, has been abandoned by her children after her son got her admitted to a hospital. The actress has been in hospital for more than a month now and the bill has reached over Rs 1.5 lakh but there is no information about the actress' son, Raja Kapoor. Reports say that he has left his residence as well and is not answering his phone. A police complaint has been filed even as the hospital has started looking for an old-age home for the actress as she is recovered now.
Speaking to a daily, Geeta Kapoor said, "He used to beat me up as I did not approve of his philandering ways. He would give me food once in four days, and sometimes, even lock me up for several days. I was not ready to go to an old-age home, that's why, he planned all this. He deliberately kept me hungry and I fell ill. Then, he got me admitted and fled."
Meanwhile, friends of the family have appealed to Geeta's son to come back and take care of his mother.
CBFC member Ashoke Pandit and filmmaker Ramesh Taurani have paid the hospital bills of the veteran actor. Speaking to indianexpress.com, Pandit said, "I came to know that an old lady named Geeta Kapoor has been abandoned in a Mumbai hospital by her children only after reading about it in the newspapers. I didn't know Geeta Kapoor is the Geeta Kapoor from Pakeezah. After reaching the hospital I cleared the bills, and I wanted to tell the hospital guys that she will be taken care of, so there are no insecurities from the hospital's side and they would continue treating her. Paying the bills was not a big thing, really. I saw my mother in her."
Here the latest photo of actor Geeta Kapoor: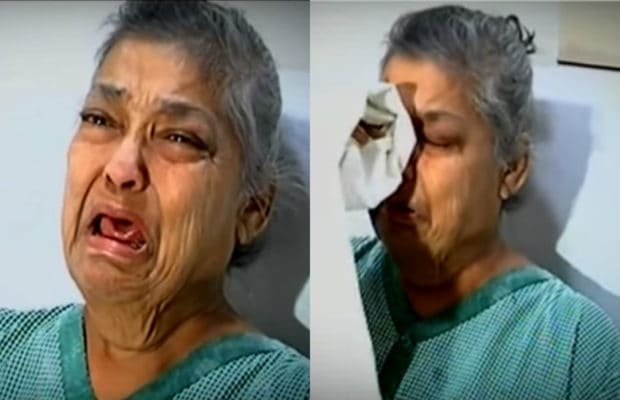 Geeta has worked in over 100 films with a major role in Kamal Amrohi's Pakeezah where she played Rajkumar's second wife. The film had Meena Kumari in the lead. Her son, Raja, is said to be a choreographer. Her daughter, Pooja, is a airhostess.
The doctor treating the veteran actor said, "Raja got her to us, lying about him being an army officer and she needing urgent treatment. He was asked to pay a deposit and complete the formalities. He left saying he would get money from the nearest ATM, but never returned. We had no option but to start the treatment as she was in a bad shape."
The Indian Express website has been rated GREEN for its credibility and trustworthiness by Newsguard, a global service that rates news sources for their journalistic standards.