In February, the author Aatish Taseer – renowned for his political commentary, views on literature and his trenchant writings on Pakistan – picked an unusual subject to write about. The subject was Karan Johar and the article, published in the New York Times, had nothing to do with Johar's popcorn blockbusters or celebrity status as a chat show host back home. It was about Karan Johar's sexuality and why the Ae Dil Hai Mushkil director is unable to utter, according to Taseer, the three magic words that India badly wants to hear from him: 'I am gay.' Lauding his life and work as a "portrait in courage" Taseer went on to note, "For all his contradictions, he is a man who has done more than anyone to make India safe for love. One wants him not merely to be brave, but happy — and, needless to say, gay."
There's little disputing the fact that Karan Johar, who turns 45 today, is both brave and unconventional and a man who has shaped India's idea of love, save for Yash Chopra – Johar's mentor and father figure and to whom he dedicates so much of his cinema even today. While Chopra's love was mature and adult and for an entirely different set of audiences, Johar's was more of a millennial love. However, the emotional core of both filmmakers' work comes from human relationships, unrequited love and friendship. Johar knows a thing or two about being madly in love and being rejected.
Never was there any doubt in the audience's mind that Johar is the flag-bearer of the Yash Chopra tradition. Like Chopra, Johar's films are labeled as "designer" – what Johar calls "First World" – and only about the rich and their complicated love life, inviting criticism for lacking depth and substance. Why is an Anurag Kashyap film superior to Karan Johar's only because his characters are poor? Johar has often wondered aloud at this but has marched on, irrespective of the flak.
From his blockbuster debut of Kuch Kuch Hota Hai, an Archie comics redo to Student of The Year, in which he has gifted Bollywood its three current superstars, the campuses of his films remain as overwhelming and larger-than-life as ever. But there are also stark changes washing up the Johar shore. Critics have called Ae Dil Hai Mushkil, his last film, as a maturing point in his long and gloriously successful career. Before that, his story in Bombay Talkies received immense critical attention.
He isn't afraid of conceiving gay characters. Although the bromance in Dostana was scoffed at (Abhishek Bachchan and John Abraham pretend to be gay) and the effeminate Rishi Kapoor of Student of The Year was panned for being too stereotypical, Johar's production, Kapoor & Sons had a subtle but powerful moment when one of the Kapoor brothers finally comes out to his mother. He's tired of living under a false sexual identity. Was he a stand-in for its producer? Johar himself has never denied his homosexuality but he has also never confirmed it either. He has encouraged the conjecture over the years. "Everybody knows what my sexual orientation is. I don't need to scream it out. If I need to spell it out, I won't only because I live in a country where I could possibly be jailed for saying this. Which is why I Karan Johar will not say the three words that possibly everybody knows about me," he wrote in An Unsuitable Boy, his recent memoir. It was expected to be his coming out party. But unfortunately, it wasn't as explosive as the public had wished for it.
Despite the fame and what looks like a perfect life Johar has never shied away from bringing attention to his acute sense of loneliness and solitude. What could Karan Johar, the prince of all good things, be possibly lacking in his life to feel this way, those who don't have that kind of a life often wonder. He has compared being a star to role-playing.
"As I watched the producer among his friends, now a star lovingly nurtured, now a hero, aging but still handsome, I became acutely aware of his solitude," Taseer writes in the NYT piece. "He is of that generation that came of sexual age maybe five or 10 years before the freedoms of this recent time burst upon us. That meant that Mr. Johar, though he has tried actively to find love — even, as he writes in his memoir, resorting to an agency that deals exclusively with the ultrarich and famous — faces the prospect of growing old alone. It's a theme he returns to again and again in the book, as does his desire to have children. I hope he does." And so it happened. Johar became a father to twins via surrogacy earlier this year. Fatherhood has filled that vacuum in a way, he confessed recently.

Looking at Karan Johar's life closely, you can easily see why he's a very unusual personality in a way most Bollywood stars are not. He speaks his mind and is as candid as honesty allows him to be. His life choices are out in the open, making him an outlier in an industry otherwise known for its practiced sophistication and scripted political correctness. Johar has often ironically remarked on this aspect.
See a few pics of birthday boy Karan Johar: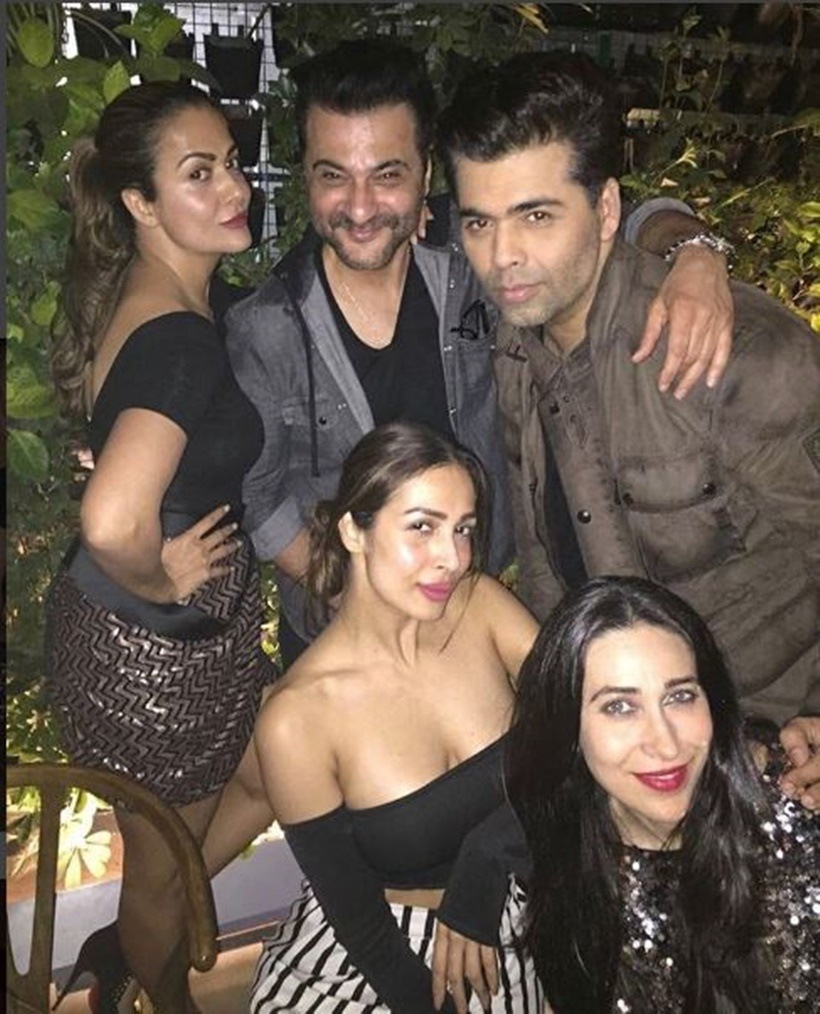 When he claims "I don't fit in here" people take it as a joke. But he knows he's only playing a role, after all and he's playing it to the hilt. The private Karan Johar will always remain a mystery and out of reach.
(Shaikh Ayaz is a writer and journalist based in Mumbai)