Hrithik Roshan and Kangana Ranaut's battle makes for a unique case study. Their nasty separation and subsequent court battle are hogging the limelight like their films. With 'new facts' being reported almost everyday, here is a compilation of the events and how people have reacted to this.
Kangana and Hrithik have worked together twice, first in Kites (2010) and then in Krrish 3 (2013). During Kites, Hrithik was rumoured to be involved with his co-star Barbara Mori. Reports of Hrithik-Kangana affair started doing the rounds after Krrish 3. They are said to have come close to each other during the shooting of this film. The Hrithik-Kangana affair rumour gained momentum after the actor officially separated from his wife Sussanne in December 2013. (Read: Vital facts about Kangana's leaked image suppressed, says Hrithik Roshan's spokesperson)
For most part of 2014, their relationship was a hush-hush affair as Hrithik stayed low profile with only one release that year in the form of Bang Bang, while Kangana grew strong with Queen. The rumours about their affair became the talk of the town only in 2015 when speculations became rife about them seeing each other. (Also read: Won't be giving any more statements to media: Kangana Ranaut)
When asked about Hrithik in June 2015, Kangana responded by saying, "Ab main kya bolun? I don't want to comment on this. Jo hoga pata chal jayega."
Hrithik Roshan was quizzed about Kangana only on one occasion when he and Sonam Kapoor were present at an event to launch his single, Dheere Dheere. Hrithik was asked if he was dating Kangana and the actor replied, "Oh my god, what do I say." Before he could say anything, Sonam intervened and said, "Guys he just said that he is single a little while earlier."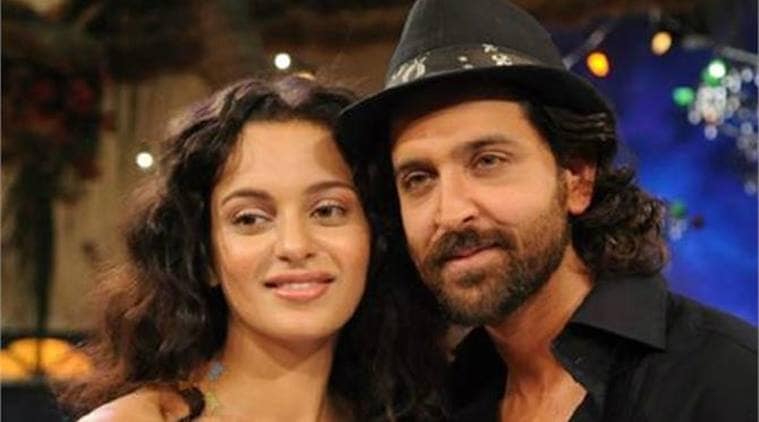 Fast forward to 2016, the Hrithik- Kangana rumour reared its head again when speculations about Hrithik having ousted Kangana from Aashiqui 3 started doing the rounds. Hrithik never officially reacted to it. But Kangana did in her own way on January 28 when in an interview she said, 'Yes, many lame rumours are doing rounds, even a dumb ass can tell where these rumours are coming from. I don't know why exes do silly things to get your attention. For me that chapter is over and I don't dig graves.'
Kangana smartly avoided mentioning Hrithik's name in her quote although it was evident that she was hinting at the actor being her ex. Hrithik reacted to this quote by tweeting that very night. "There are more chances of me having had an affair with the Pope than any of the (I m sure wonderful) women the media has been naming. Thanks but no thanks."
On February 16, Hrithik Roshan sent a legal notice to Kangana asking her to apologise for damaging his reputation through the 'silly ex' quote and also clarify that she wasn't referring to him as her ex. He threatened to sue her for defamation if she didn't comply.
Kangana responded with a 21- page legal notice saying she nowhere mentioned his name and charged Hrithik with criminal intimidation and threat.
Hrithik's version:
Sources close to Hrithik have been saying at a party Kangana met Hrithik and thanked him for congratulating her via email for the National Award win for Queen. Hrithik, however, told her he had never emailed her. It was then brought to her notice that she had been receiving emails not from his original email but that of an imposter. Hrithik disclosed to Kangana his original email ID and sources claim thereafter Kangana started sending an average of 50 mails per day to Hrithik on his original email including titillating videos of herself.
Hrithik has officially spoken only once when he sent out his statement via his publicist on March 17 saying:
"Anything private that becomes public gives rise to speculation and unnecessary controversies simply because the general public are not privy to the whole truth.Out of respect for everyone involved, I followed the legal path to resolve the matter in question so as to keep it private. It was a breach of ethics to reveal the contents of a private legal notice. Dignified silence is dignified up to a point, but there comes a time when the silence needs to be broken to protect one's name, family and image.The crux of the matter is that the mail id hroshan@email.com does NOT belong to me. I had filed a complaint in this regard with Mumbai Cyber Crime cell on 12 December, 2014 when I learnt of this impersonator communicating with said person. I have absolutely NO CONNECTION with this ID. The entire issue stems from a case of identity theft which has carried over to me. My complaint was reactivated on March 5, 2016 and the crime unit has made headway in tracking this person down. Once that is done, the matter can be laid to rest. And finally, I believe that mental health is a grave and crucial issue which merits serious discussion. I would never address it flippantly nor use it as a personal attack. Any allegation to the contrary is a misrepresentation of facts. I was requested to keep silent and I did so for 2 years."
Kangana has reacted only once in this matter on March 22 at an event where she told The Indian Express that despite being strong such things can be overwhelming and she requested for privacy and her own personal space in this matter.
On March 30, Hrithik was slapped with a legal notice by Abraham Mathai for suggesting that Pope is gay through his tweets aimed at Kangana.
Five days later on April 3, Hrithik Roshan delivered an apology.
On April 22, a trail of emails sent by Kangana to Hrithik were made public. In the e-mails, Kangana purportedly writes to Hrithik, "Sometimes I feel so unsure of everything. Does our love really exist or it's just a fantasy? Is our love for real or is it an imaginary person that I talk to? Why don't you ever talk to me? If our love is real then why is it intangible? Real things are tangible, aren't they? What if someday I meet you and you tell me that you haven't received anything, you don't even know me, you never loved me. What will I do then? Will I ever recover from that revelation of that fatal reality. Will I get another chance to start all over again? Or will my life just be a broken dream?"
On April 26, an image of Hrithik sharing an intimate moment with Kangana was leaked online. (Read: Hrithik Roshan, Kangana Ranaut's intimate picture leaked)
On April 27, team Hrithik released a series of pictures to prove that the intimate picture was a zoomed in and cropped one and was a part of group pictures clicked at a party in 2010.
Hrithik's ex-wife Sussanne too jumped in the fray by tweeting a picture of herself and Hrithik from the party. (Also read: Sussanne supports ex husband Hrithik Roshan in fight against Kangana Ranaut; calls pictures photoshopped)
Hrithik received support from his industry friends yesterday namely Sanjay Gupta, Goldie Behl and Karan Johar.
WATCH VIDEO| Take 7 : Kangana Ranaut

On April 28, Kangana's ex Adhyayan Suman, in an interview, said Kangana practised 'black magic' and was 'abusive' towards him during their relationship.
In this ensuing battle, Kangana's lawyer Rizwan Siddiquee was engaged in sending press statements almost every other day. Hrithik's lawyer Dipesh Mehta was a subdued party and used to sparingly reply to Kangana's lawyers statements. In this melee, Hrithik orchestrated two changes. He hired a new publicist and lawyer.
The Indian Express website has been rated GREEN for its credibility and trustworthiness by Newsguard, a global service that rates news sources for their journalistic standards.