The Greek god of Bollywood, Hrithik Roshan, and the Vicky Donor beauty Yami Gautam are promoting their upcoming film Kaabil. Sit down with both of them and it feels like a mutual admiration club. Here's what they have to say…
About their characters in Kaabil
Hrithik: "We play very simple people and they are both blind. Despite being visually impaired, my character is very independent, and at no point will you think that this man is helpless or needy. When we did our research, we learnt that the blind in the world are not like how we imagine them to be. So it was our responsibility to project the truth to the society. I would like to re-emphasise that they are differently-abled, they are 'abled', but differently. They are very independent individuals, and that's the reason we made our characters just like us.
Watch Hrithik Roshan's Unending Praises For Kaabil Co-Star Yami Gautam⁠⁠⁠⁠
Hrithik Roshan on Yami
Hrithik: Working with Yami has been one of the most enriching experiences of my life. She is not only an excellent actor but also an excellent human being. She has the abandon, innocence and the courage to be vulnerable. So working with Yami has been beautiful, because she also agrees with the thoughts I had about the characters and has really taken it forward. I think she's going to go a long, long way. Maybe after 3-4 years, I will be proudly saying "You know, I worked with her!
Yami's fan-girl moment with Hrithik
Yami: Working with Hrithik was like a rediscovery for me as a person, and as an actor. When Hrithik works, he is never about 'I', he is always about 'us', and that I think only a sincere and selfless person like him can do. With these traits, you not only excel at what you are doing but also elevate the other person's work. The reason why he is loved so much by every generation is because of his qualities, and he has all these labels because of the undying passion he has for everything he does. And only after working with him I came to know why he is 'the' superstar. You call him whatever you want, the Greek god, or the god of dance, he has earned it and he deserves every bit of it, and much more, and the love is not going to die we all have for him.
Also read | Kaabil's song Mon Amour: Hrithik Roshan, Yami Gautam do the Tango and sweep us off our feet, watch video
On their chemistry
Hrithik: I and she (Yami) were not there only, we were constantly our characters. Our characters Rohan and Supriya are so vulnerable with each other and so respectful of each other and that seeped into our chemistry on set too. While working we connected beautifully, but we were mostly taking from the characters and interacting like them!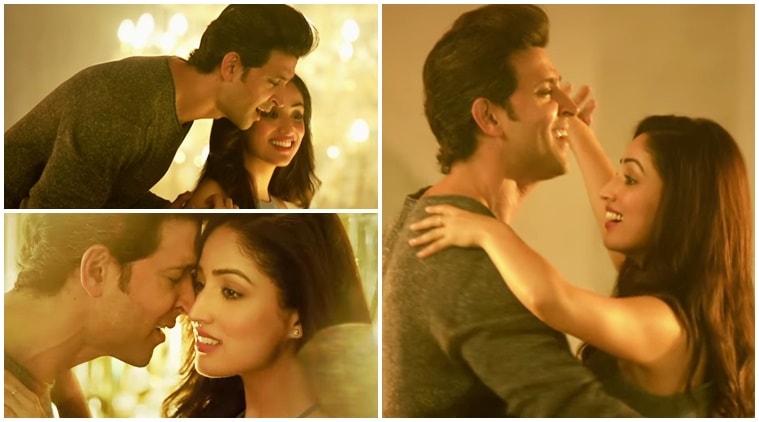 Yami on dancing with Hrithik Roshan
Hrithik: Yami is a great dancer. I was matching up to her steps. I am a good dancer, but in this song, I saw what she was doing, and I liked that more. We both were doing the same step, but her style was more fun. She has a natural flair because she is a very happy person, and she radiates that joy. Seeing her do what she was doing, I wanted to do it her way. So I asked her to show me what she was doing and I copied that.
Yami: I have a very weird equation in my head about him (Hrithik). I wondered if I had to come even half close to how good he looks, I'll have to put in more than double the effort; because he works too hard and that's the reason he is one of the superstars we have. He reinvents every time he acts or dances, he doesn't cease learning or practising. He doesn't take anything lightly. When you see Hrithik Roshan putting his heart and soul, and all those hours into it, it inspires you to give your best too!
Also read | Hrithik Roshan opens up about Kaabil, clash with Raees and staying dignified during controversies
Hrithik's Amitabh Bachchan moment
Hrithik: I had to take out Mr Bachchan's voice in a scene from Kaabil. It was one of the most difficult things to do. Initially I thought that there was nothing to worry since we would request Mr Bachchan himself to lend his voice for this piece and I would only act. But for the set, I still had to rehearse, so I took my dictaphone, and one whole day I practised. When I heard myself, it was not sounding too bad, I kind of liked it. But I needed feedback, and then next day I practised again, and when Sanjay heard it, he was convinced that I can do it and said, "he is not getting it dubbed by Mr Bachchan, you are going to do this!" It was a great learning experience for me.
Also read | Raees vs Kaabil: Shah Rukh Khan, Hrithik Roshan launch dialogue promos. Who wins?
Hrithik Roshan and Yami Gautam, play Rohan and Supriya respectively in Kaabil. Hrithik also said that while he doesn't run behind box office numbers, they do exist and are a good evaluation for the hard work that goes in a film.
Kaabil is set for 2017's first big clash at the box office, with Shah Rukh Khan-starrer Raees, on January 25.
For all the latest Entertainment News, download Indian Express App