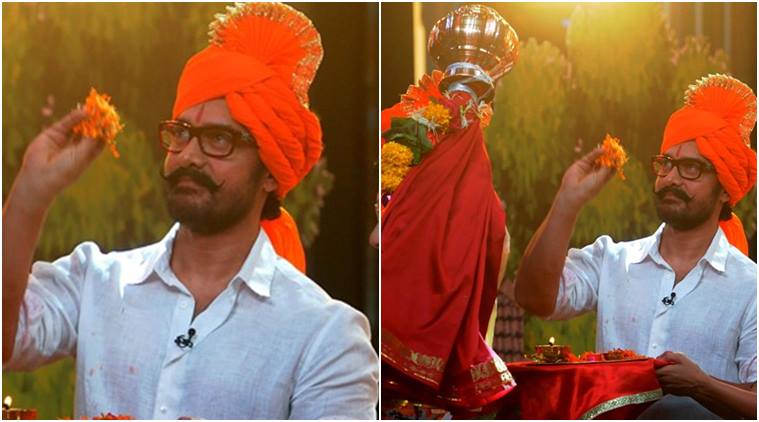 Aamir Khan appeared on Marathi television show.
Aamir Khan and Amitabh Bachchan coming together for the first time ever was enough to keep us excited about their film, Thugs of Hindostan. However, as the actor is prepping up for his role in the film, all kinds of rumours are coming to life. Recently, there was buzz that Big B would play Aamir's father in the film. But when indianexpress.com asked Yash Raj Films, they quashed the rumour saying, "While it is confirmed that Amitabh Bachchan and Aamir Khan are working together in Thugs of Hindostan, Bachchan playing Khan's father's role, in the film, is still a speculation."
Another rumour that has all of us excited is if Mr. Perfectionist Khan playing a Marathi man in the film. Recently, he made an appearance on a Marathi show, Chala Hava Yeu Dya, where he also spoke about the change in Marathi film industry, "Marathi industry is churning out brilliant films and I would also like to produce or do one. I am learning Marathi and by the time I do one, I will be fluent."
The 52-year-old actor also spoke about his favourite films from Marathi cinema. He listed Ravi Jadhav's 2010 film Natrang, Nagraj Manjule's 2013 film Fandry and the romantic blockbuster from last year, Sairat, as his favourites. On the show, which is hosted by Nilesh Sable, the Dangal actor crooned the song 'Apsara Aali' from Natrang, and surprised everyone on the sets of the show.
Also read | Aamir Khan on nepotism: I try not to let emotions interfere with my work
Meanwhile, Thugs of Hindostan is supposedly an adaption of Philip Meadows Tailor's novel, 'Confessions of a Thug', which revolves around the thuggee cult in the times of British Raj. The film is scheduled for Diwali release in 2018.
For all the latest Entertainment News, download Indian Express App