Richa Chadda is vegan, and feels very passionately about her work, her stand in the industry and her colleagues who speak up for themselves. In a freewheeling conversation, the Masaan actor talks about the CBFC, her work and aspirations, what she thinks is wrong with the content on Indian TV and cinema. She also questions why people are so excited about GST that will be launched in India from July 1, 2017.
How was it working on your first web-series after working in mainstream cinema?
It is a longer commitment. Inside Edge is not actually a web-series, it is like a VOD, you have to subscribe to Amazon to be able to watch it. It is different because you work in a film for two to three months, and then meet the team for promotions before release, but here we must have shot for ninety days, and that's a long time. I have not worked for so long for any film, I have never even had a technical commitment for a film for so long, barring Gangs of Wasseypur but that we were shooting two parts together. So this was different for me, and it was difficult because we were working in a new environment, with new budgets, it was an experimentation for both the makers and the actors. So what happens is you go on sets and you want things to happen in a chronology, but it is not possible to shoot episode 1-2-3. I had to sometimes jump from episode 1 to 5 where something has happened, some manipulation has happened, or whatever, then jump to 9 to 2, so I have to remember how my relationship was with a particular character in a particular episode. We were given the script beforehand, and had workshops, so when I told the director that he is working too hard, he said this is because we won't get time on sets. And still they shot extensively, they shot eight or nine days per episode, and that's not what anybody in India does anyway. To make it look real, we had to remember how your character's equation was with another character, you have to not only remember your graph but also the graph of every character. So it was quite challenging.
What attracts you to take up a certain role? With the kind of films you've been doing you come across as an actor over being a star, is this your conscious decision?
I would like to be a star, but I would first like to be a good actor, somebody known for good acting. Stardom is great, very seductive but it is also fickle. See for example when we talk about cricket since Inside Edge is a cricket drama, Sachin Tendulkar was booed away in Wankhede Stadium and now we are watching his biography. So I don't really run behind stardom, ten years down the line when people realise that I am the girl who did Masaan, Gangs (of Wasseypur), and Oye Lucky, all landmark and cult movies in their own right and have been appreciated here and everywhere, I would like to be known for that. What will I do with say a seventy-five-crore worth movie, and I made shi* loads of money, I'll buy a big condo and click pictures to show my big golden sofa, or I can take a big vacation, or live in luxury? What if you're not into those thing? I believe in wealth in abundance, but I can't be running behind that all the time. When I die all these things are pointless for me, I don't know if I'll have children or not, so for me, I want to chase what I really love chasing, which is being a really good actor. I was born to be an actor. So I am doing what I always wanted to, and getting paid for it, what can be anything better than that?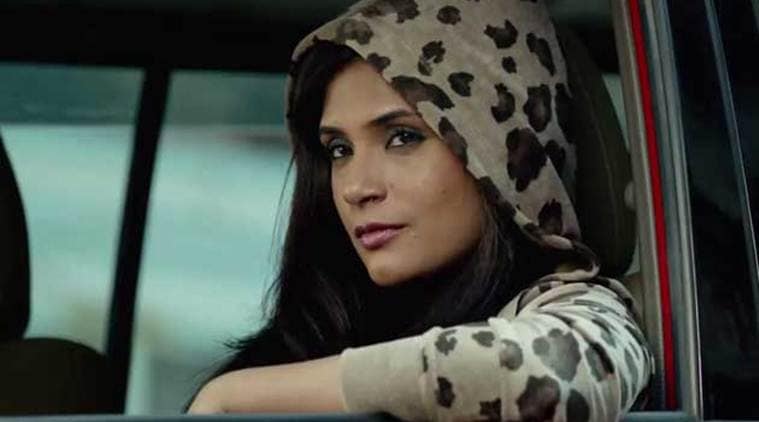 Digital content comes across as progressive and experimental, while we are churning out the content for it, do you think we have the audience ready for it?
Ya ya, of course! We have you, me, four more people in this room who do not watch daily soaps on television, we just can't watch them. Something happened and there was a shift on Indian television, and all good content was kind of lost. I love TV, it generates so much work and huge star with great access, but maybe I am not the person who wants to do that. So what about Indians like us who like to watch content in English and in Hindi, but because we don't have to chose, we watch American content all the time.
Are you sure people are watching Western content because they don't have anything to choose from Indian content, or it is genuinely that people choose Western content over Indian content?
I don't think so, it's not true! People do not have the choice all the time, hence they watch Western content. Tell me where do we have a show like this where cricket and Bollywood world's are shown with a mystery backdrop? I would watch it for my contemporaries, I'd watch it because it is made in India. It is not a web-series, it is serious drama, and that for me is so exciting. Even before Amazon and Excel approached me, I was on the show because I am a visionary. This is not the future, this is the present, because Indians are watching more and more digital content and the number is only growing, and we are talking about India where we complain about lack of electricity and smartphones, and we are still fighting between 3G and 2G. This does not mean that cinema will die and wither away, cinema has it's flaws and it needs to fix, especially Hindi cinema, like the number of screens, piracy, taxation, cost of tickets, and more, it's like the bigger people don't care or the government doesn't care.
Since we are talking about taxation, you think GST will affect Bollywood?
GST aa raha hai kya? Final ho gaya? (Is GST finalised?) Why is everyone so excited about it? It is like you pay Rs 5 ten times or you pay Rs 52 at once to make it simple. You are still paying that Rs 2 extra, right?
What are the positives and negatives of Zarina, your character in Inside Edge? Does Richa Chadda have any Zarina shades in real life?
Positives are that she (Zarina) is very resilient, she has a great capacity of taking in a lot of humiliation and torture. Negatives are that she has pride, she might think it is self-respect, but too much of it can become pride. I generally see her as a nicer character than negative. Sure she is gray but she is more white and black. I'll tell you what Zarina shades I have. She loves animals, she is an actor, and like all actors I can get very insecured and irritated, that's all we both have in common. I am not blindly ambitious like her, and I don't manipulate on her level.
You almost always come across as a woman who speaks her mind. You think the industry is ready for women who do that?
I only have my own mind, so how will I speak anyone else's? Infact the industry should be ready for men who talk their mind. Because all my colleagues are talking, Sonam's talking, Anushka's talking, Radhika's talking, Deepika's talking, where are the boys, they don't say anything? Kangana's talking, she is screaming infact! So, I think the audience and the industry are ready for women who speak, I think the boys need to be less afraid. Truly, I mean it! Girls are speaking up far more than the boys! They all talk like 'I am so thankful to my mentor', 'I am a virgin!', etc etc, whereas girls are doing the actual talking!
Inside Edge won't have to face the CBFC, how do you look at it?
Yes! It is also free from the 'No Smoking' ticker! I am sure the CBFC will try to do something for digital content also, but for now we are releasing on July 10th. There are many directives for digital content as well. Isn't the CBFC only supposed to certify a film, and not censor? For instance there was a controversy regarding Masaan, and the first ten minutes of the film were cut, and after that my character became meaningless, nobody knows why I am a 'Dukhiyari'! My relatives who watched the screening understood the film after they watched it online, because those first ten minutes we're retained when the film released online. So that's a problem with random censorship. I feel like censorship is great, but it has to be productive. I can understand if there is censor on something that is insisting violence or creating a gender stereotype or making fun of dark people, if it is racist, derogatory, regressive, misogynistic​, then they should step in and fix that. But apart from that, things like how long or short a kiss should be on-screen, that's just beyond me!
📣 The Indian Express is now on Telegram. Click here to join our channel (@indianexpress) and stay updated with the latest headlines
For all the latest Entertainment News, download Indian Express App.