Written by
Alaka Sahani
| Mumbai |
Updated: September 18, 2016 8:40:00 am
Did you have any apprehensions about playing the role of an icon as popular as MS Dhoni in Neeraj Pandey's film MS Dhoni: The Untold Story?
You must believe me when I say that I had no fear. I am a selfish actor and only a few days prior to the release of a film, anxiety kicks in. I start thinking that everyone is now going to watch this film. Otherwise, my thoughts are about the kind of films I want to do and how to do them properly. If it is successful at the box office, I will be happy. Of course, there is a sense of responsibility — since we are claiming that we have made a good film, we should try to deliver a good product. After all, the audience will be shelling out money to watch it.
Since your last film was Detective Byomkesh Bakshy!, what kind of preparation has it taken to play MS Dhoni, in which you have a very different look and physique?
This is the 53rd character I play in my acting career spanning theatre, television and movies. People who watch my performances already know how I behave. I realised that in spite of acting well and playing good cricket in the film, I might still not be convincing. Imitating Dhoni alone would not have worked. So, I tried to slip into the character more organically by convincing myself that I am Dhoni. That was tough since I have been a Dhoni fan for many years. Over several months, I watched footage of about 1,000 hours featuring Dhoni on the cricket ground as well as off it. At the same time, I had to cultivate a skill since just believing that I am a very good cricketer would not make me one.
Tell us about the training you went through for this.
I used to play cricket but was not particularly good at it. Though the film is not about cricket, there are cricket scenes. Most of us know how Dhoni plays. The biggest challenge of the film is to make the audience believe what they are watching is true. That's why we had former cricketer Kiran More training me. There was a physio expert and an analyst. I was 29 when the preparations started. My body was not used to such training. It was intense and demanded long hours. Wicketkeeping is a different skill. There were professional bowlers bowling at me. The first four months were devoted to training in batting and wicketkeeping. After that period, the analyst would break down the shots — frame-wise — carefully explaining them to me.
How much do you enjoy these processes that certain roles demand?
I understand a few things about a character or a script but don't get a lot of it. In order to understand them fully, I devote time to preparing for them. Ishaan in Kai Po Che was different from Shudh Desi Romance's Raghu. So are my characters in Detective Byomkesh Bakshy! and MS Dhoni. My next six films are going to be very different too. Raabta releases next. After that, I will shoot for Homi Adajania's next, Takadum, with Parineeti Chopra, and Tarun Mansukhani's film for Dharma Productions. I play an astronaut in a film titled Chanda Mama Door Ke and the title role in the biopic of Murlikant Petkar, a paraplegic athlete who won an individual gold medal in the 1972 Paralympics. Petkar was serving the Indian Army when he was severely injured in the 1965 Indo-Pak war. There is another film in the pipeline that I am going to produce as well as act in. These movies are scheduled to be wrapped up by February 2018.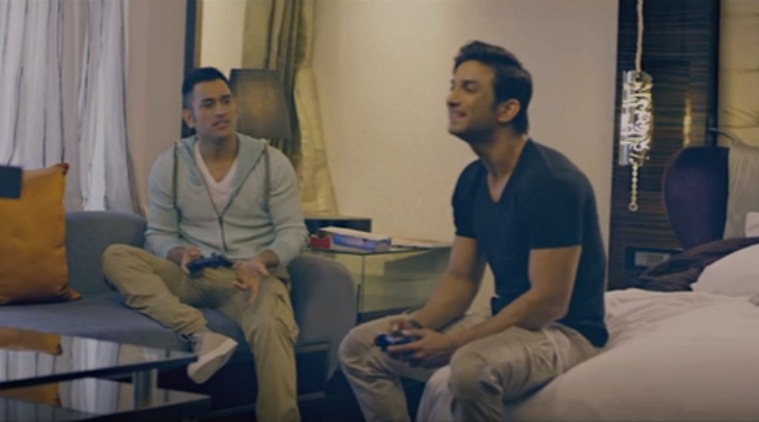 What made you go for these roles?
Excitement. We can only look at our past and analyse it logically. You can only take your work seriously, because there is no other way to go about it. You can obsess over it and get a high out of it. But, even as one does that, it is necessary to find a way not to take oneself seriously. I have a strong tendency to do that. So, I try to think of the present and make it exciting by being 100 per cent there. I don't know how things will turn out. The only thing I can decide is which films to take up and that's what I have done.
Before I started preparing for the character of Dhoni, I was preparing for Shekhar Kapur's Paani. But that film did not work out. I don't regret it as the kind of conversations I had with Shekhar completely changed me as an actor. I realised how rigid and wrong I was about various facets of acting.
You were a good student. What drew you to drop out, learn dancing and later take up acting?
I am still a good student (laughs). I come from a big family — I have four elder sisters. I have led a sheltered life. During my school days (St Karen's High School, Patna and Kulachi Hansraj Model School, New Delhi), I struggled to communicate. Since the only way I could be noticed was by scoring good marks, I focussed on my studies. However, when I was 18 and a student at Delhi College of Engineering, I performed for the first time for a Shiamak Davar show. Immediately afterwards, I performed in a Barry John play. That's when I discovered other methods of expression and communication. When I was dancing, I realised I could get people to notice me. I thought with acting I can better that.
Even when I started acting, I never stopped feeling like a dancer. Dance has given me a sense of rhythm. That's the first thing I work on while building a character.
When did you nurse the dream of becoming a film actor?
In 2005, I moved to Mumbai and joined Nadira Babbar's Ekjute. Balaji Telefilms people were watching one of my plays at Prithvi Theatre and asked me to audition. If I could act in front of a live audience, I thought I could act in front of a camera too. The television shows brought me a few film offers. I was not excited about them till I got Kai Po Che.
Television also got me good money. Money has made a major difference to my life. I come from a big family, there are certain things I could not do as I did not have enough money. Money can decide the way one thinks. But it does start losing its value the moment you acquire the kind of money you wish to have. I hit that mark thanks to television, so I could experiment with my choice of films.
What were your takeaways from television?
That there are two ways of approaching a character. First, you have to convince yourself about the role. This remains the same for every medium. When acting in a play, I have the responsibility of conveying my emotions to the audience sitting in the last row. Television goes for extreme close-ups. If you are pretending, you will be caught. Measuring what works and what does not is something I learnt there. That apart, I earned a certain amount of money to make it completely irrelevant for the rest of my life.
You wanted to join a film school. Have you dropped the idea now?
I thought of going to University of California, Los Angeles, as I was not getting the kind of films that I wanted to do. Before I joined, I signed Kai Po Che. Acting in films is like being in a filmmaking school. Today, I understand a lot more about how to say the same thing in a more effective way.
Kai Po Che also changed people's perceptions, not just about me, but about television actors. Those who hire us started to believe actors from television can do movies. Also, it motivated other television actors to believe they could do it too.
Three years ago, you had said you want to be on the cover of film magazines. Has the goalpost shifted?
(Laughs) It was important to me then and that desire stayed with me for many gullible and formative years. If you strongly desire something, then you should really go for it to let go of the baggage.
The Indian Express website has been rated GREEN for its credibility and trustworthiness by Newsguard, a global service that rates news sources for their journalistic standards.