Hema Malini, Bollywood's Dream Girl is living one of the happiest moments of her life. She is excited to be a grand mom for the second time. All her time and energy goes behind the Indo-Georgian-Russian dance show she is arranging as India's cultural ambassador. In an interview with indianexpress.com, the 63-year-old veteran actor talks about what dance means to her, and why it is important for the world to recognise Indian classical dance forms along with the increasingly popular Bollywood numbers.
You are a dancer and that's a great spiritual journey in itself. What does dance mean to you personally?
I have been dancing ever since I was a little girl. I practice every day. But I need to perform, because if one performs one takes the art seriously. If I don't perform for a month, I don't feel the connect to myself. I need to perform to feel good about myself, otherwise I feel disconnected to myself.
You are doing a show to bring dance from around the world to India. Tell us about that.
I have just organised this show, and I am very keen that it goes very well. I want the entire country to watch this program. Forty Georgian artists are coming all the way to perform here. It will be an amazing experience for all because their dance style is very different, something many of us haven't seen. Recently, I went to Russia for some Parliament work, and I was mesmerised by their ballet. And invited them along with the Georgians to come and perform at the show.
The Indian culture is now influenced a lot by the western culture, and that's great. But, one should not forget the lovely art and culture India has, we have such beautiful traditional dance forms. There are many dancers who learn and follow these dance forms, like Bharatnatyam, Kathak, but the audience is appreciating these dance forms alarmingly less. Of course, there are shows and performances for Indian classical dance, but it's kind of niche. On TV, and reality shows Bollywood dance has taken over. People are so used to Bollywood that they also can't help it, really. Bollywood dance is becoming the Indian identity, people abroad think Indian dance means Bollywood dance. This is the phase of Indian culture globally. While Bollywood's popularity is of course great, I think Indian classical music and dance needs a window too.
To make sure we bring Indian classical dance in light, we decided to do the show with the Georgian and the Russian dance groups, Indian dance becomes a part of it. The fusion of these cultures will be a great cultural exchange.
Hema Malini is also going all out and promoting Indian dance forms all over the world. The all time 'Dream Girl' of Bollywood has invited SUKHSHVLI, a Georgian national Ballet dance company to India after 50 years. Raj Kapoor had done the same in his time. With this the Baghban actor aims to dedicate a cultural Odyssey that will expose the world to two ancient cultures, India and Georgia, giving a platform to showcase their talent.
In your time you started working soon after you had a baby. Was it this glamorous even then? Today, women in the industry are scrutinised for how they look, their weight loss or gain, etc.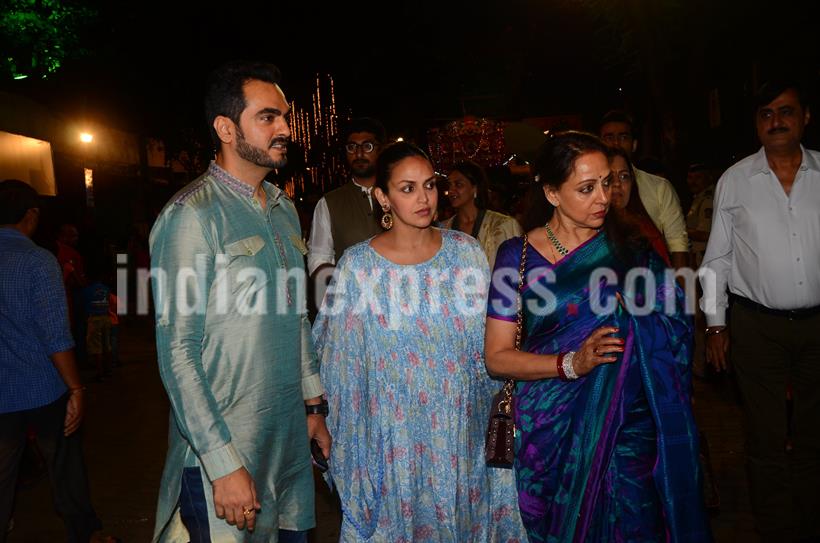 See, even a labourer's wife, women who work in construction sites are working after having babies. So many women join office shortly after delivering a baby. So there is really nothing glamorous about starting to work after having a baby or not having a baby. Yes, it is looked up today as a glamorous thing, at least, in the industry. But all boils down to one thing that how you are taking care of yourself, and how much time you can dedicate for work. You always need your family's support, a woman cannot be expected to take care of everything at home and outside by herself. The moment I had delivered my baby Ahana, I was doing a TV show. I was shooting for a film when I was pregnant, and got back to shooting in a month after I delivered. So work was always work for me, and I don't understand the hoopla about work after having a baby, now. People would say I am looking more beautiful when I joined work after having a baby, but I didn't understand that, I had that compliment always. Pregnancy was not overwhelming. I have my family to fall back on, and people to help me, I can't do any of these things alone.
You are going to become a grandmother for the second time. How excited are you for Esha's (Esha Deol) baby?
I am just waiting for Esha's baby! I already have my little guardian (Ahaha's son, Darien), he is a wonderful kid, my grandson! He is very fold of everybody in the family, but I like to believe that we both have a special bond. I like to make sure that kids have a little spiritual inclination, so Darien folds his hands and wishes people, has prashad I offer my Laddu Gopal (God idol). I don't know if they will believe in God as they will grow up, he of course doesn't understand spirituality now, but it is beautiful to see my grand children growing up so well. If Esha has a boy, I will have one more grandson, and she has a girl I will definitely teach her Bharatnatyam!
📣 The Indian Express is now on Telegram. Click here to join our channel (@indianexpress) and stay updated with the latest headlines
For all the latest Entertainment News, download Indian Express App.