Written by
Samarpita Das
| New Delhi |
Updated: November 14, 2016 5:33:45 pm
Over the years, both Hollywood and Bollywood have treated us with memorable films, many of which would not have been complete without having kids as a prominent character. These child actors managed to make a mark in our memories. Eventually, while many of these kids continued to act in movies, some of them chose different professions for themselves. On Children's Day, let's take a look at all these actors who once stunned us with their performances.
Darsheel Safary, Taare Zameen Par
Remember the boy who made you cry when his wretched father failed to understand him and felt boarding school was the solution to his problems. Darsheel was one of the finest child actors we've had. When he smiled you smiled with him, when he cried you were heart broken. Darsheel Safary of Taare Zameen Par fame is all set to essay the role of a teenager smitten by love in a new TV series Sun Yaar Try Maar.
Jibraan Khan, Kabhi Khushi Kabhie Gham
It wouldn't be completely wrong to say Jibraan was one of the cutest child actors Bollywood ever had. And that's not al. Well, he even made not just Indians but even the British stand up in respect for our National Anthem. Jibraan played Shah Rukh Khan and Kajol's son in Kabhi Khushi Kabhie Gham at the age of seven. Now he is 22 and works as a trainer at Shiamak Davar's dance studio, where he himself was once a student. He has trained himself in martial arts, Kathak, and horse riding to make himself fit for a Bollywood debut.
Parzan Dastur, Kuch Kuch Hota Hai

"Tussi jaa rahe ho? Tussi na jaao." Just one line from Parzan had melted many hearts. He is the same little kid who used to count stars in Kuch Kuch Hota Hai. He later appeared in movies like Zubeidaa (2001) and played the titular role of Parzan, a boy who goes missing during the Gujarat riots, in Rahul Dholakia's Parzania (2005). According to his Facebook profile, he completed his studies from H.R. College of Commerce and Economics but has no immediate plans of returning onscreen.
Sana Saeed, Kuch Kuch Hota Hai

We loved Sana Saeed when she became a matchmaker for Bollywood's most loved on-screen couple, Rahul and Anjali. Fourteen years later we saw her in an absolutely astonishing and glamorous avatar in Karan Johar's Student of The Year. She went on to participate in television dance show Jhalak Dikhhla Jaa and some other reality shows. Her transformation has been drastic that even SRK once joked about how sexy his onscreen daughter had become now!
Ayesha Kapur, Black

Ayesha Kapur was a show stealer in the award-winning film Black. For a child of her age, she couldn't have been more convincing in the role of a blind and a mute girl. She was all set to feature in Shekhar Kapur's new movie Paani opposite handsome actor Sushant Singh Rajput but the film faced its own share of troubles. Ayesha continues to do modelling and endorsements.
Jhanak Shukla, Kal Ho Na Ho

We all loved Jhanak Shukla when she appeared as the lovable robot Karishma in the show Karishma Kaa Karishma, which was inspired by American show Small Wonder. She also appeared as Preity Zinta's cute sister in Kal Ho Na Ho. This 'karishma'tic child actor has grown up to be a vivacious, young history student. Amidst a handful of cameos here and there, she has decided to ditch the most obvious route of acting and pursue a career in history instead. She has said previously that she had an interest in archaeology. She is the daughter of documentary filmmaker Haril Shukla and actress Supriya Shukla.
Ahsaas Channa, Kabhi Alvida Naa Kehna

Funny but true, Ahsaas used to play a boy during her days as a child actor. Do you remember the kid who played Shah Rukh Khan and Preity Zinta's son in Kabhi Alvida Naa Kehna? It was Ahsaas! She even played Sushmita Sen's son who made friends with ghosts in Ram Gopal Varma's supernatural thriller, Vastu Shastra. She is all grown up now and, well, a pretty girl. Gumrah, Devon Ke Dev…Mahadev, Webbed and Fanaah are just some of the shows she has worked in. More recently, she was seen in Girliyapa's, The Period Song.
Kinshuk Vaidya, Shaka laka Boom Boom

We are sure you remember, Kinshuk Vaidya, the boy who played Sanju in Shaka Laka Boom Boom. As kids, we regularly followed the boy's exploits and adventures courtesy his magical pencil. Although, we don't know the whereabouts of the pencil, tracking Kinshuk wasn't difficult. The cute little boy is now a dashing handsome man. He completed his Bachelors in Mass Media from Mumbai in 2012. He has appeared in a popular show Pyar Tune Kya Kiya.
Hansika Motwani, Koi Mil Gaya
We loved Hansika Motwani when she came as Karuna on Shaka Laka Boom Boom. She was also one of the kids in Hrithik Roshan's gang of little friends in Koi Mil Gaya. Well, she grew a little too fast and stunned everyone with her sudden entry into Bollywood as a leading lady in Aap Kaa Surroor (2007). Now an established actress in Tamil and Telugu cinema, Motwani is doing immensely well for herself.
Shweta Basu Prasad, Makdee
She won a National Award for Makdee. She convinced in her double role, one as the mischievous Chunni and then as a timid twin Munni in the film. Shweta Basu Prasad appeared in the popular television show Karishma Kaa Karishma too. She was seen at an AIB video Creepy Qawwali too. Currently, she has returned to television with Ekta Kapoor's historical drama Chandra Nandini.
Watch: Shweta Prasad in Creep Qawwali with All India Bakchod
Macaulay Culkin, Home Alone series
Home Alone has been a Christmas staple for generations. Those long holidays are never complete without revisiting memories of Macaulay playing the role of Kevin McCallister in the family comedy. Too many kids, Kevin is a hero of sorts. He single-handedly takes on burglars and has a kickass presence of mind. His methods are ingenious, enterprising, and extremely entertaining, to say the least. Kevin McCallister is all grown up, and from what we see here, things aren't good at all from his point of view.
Watch the video :"Just Me In The House By Myself" starring Macaulay Culkin & Jack Dishel
Daniel Radcliffe, Harry Potter franchise

Many may not know that Harry Potter and The Sorcerer's Stone was not Daniel Radcliffe's first film. His first step in show business was in David Copperfield (1999) and in Taylor of Panama he had a minor role. Harry Potter franchise was the platform through which the British hunk gained fame on an international platform. The actor is thoroughly in love with acting and it does not seem like he has any other alternative plans in his career as of now.
Emma Watson, Harry Potter franchise
Accept it or not but at some point in your life, you did fall in love with this enigmatic woman. The Hermione Granger of the Harry Potter film series is one of the most lovable characters in the film. She is the UN Woman Goodwill Ambassador and she is soon to treat us as Belle from Beauty and the Beast.
Rupert Grint, Harry Potter franchise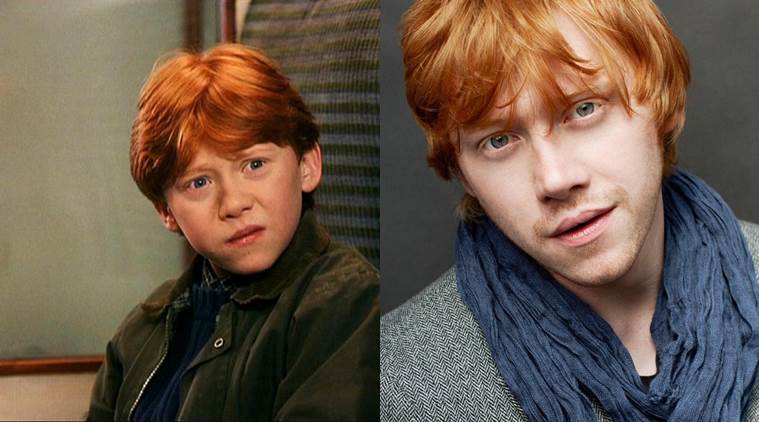 Perhaps no one was better suited for the role of Ronald Weasley in Harry Potter film franchise. He will be making his Broadway debut in the revival of Terrence McNally's It's Only a Play.
Cole Sprouse, FRIENDS
Remember Ross Geller's son Ben from FRIENDS? Yeah that's him. Cole Sprouse and his twin brother Dylan Sprouse appeared in The Suit Life of Zack and Cody. One of them even played the role of Julian in Adam Sandler's Big Daddy.
Mary-Kate and Ashley Olsen, Full House

The two sweethearts first came on screen as Mitchell in Full House. The twins acted in several films like When In Rome, Our Lips Are Sealed, It Takes Two, New York Minute and many more. They have also become fashion designers. Jokes about their career switches are often hinted in Fuller House which is the sequel of Full House.
Tiffany Brissette, Small Wonder

Before Karishma Kaa Karishma, there was Small Wonder. A show that many of us connect with more than its Hindi version. Vicki the robot, along with her family, entered our lives through the TV screens and made us fall in love with her. She may have seemed emotionless, but she did get our emotions going. As of now, Vicki the robot is a grown woman of 40 and has disappeared from the limelight. In 2007, Tiffany Brissette was working as a nurse in Boulder, Colorado.
The Indian Express website has been rated GREEN for its credibility and trustworthiness by Newsguard, a global service that rates news sources for their journalistic standards.