Written by
Sonal Gera
| New Delhi |
Updated: November 3, 2015 8:46:08 am
You can't really call yourself a Bollywood buff until you have binge-watched Shah Rukh Khan's movies and become his admirer, for his style of extending arms or the dimpled smile can anyday entice you into falling in love with him.
Add to this his inimitable charm and incomparable wits, and you are left with nothing but wonder and in awe of this superstar.
Belonging to a humble household from Delhi, SRK, like a true superstar, excelled in sports and academics and received the highest honour of his school. A bachelor's degree in Economics and rolling in for a masters' in Journalism go on to prove the wits he had. (See Pics: SRK @ 50: Bollywood superstar's style file)
SRK had his share of struggle. His father died of cancer in 1981, and his mother died in 1991 from complications of diabetes. After the death of their parents, his older sister, Shahnaz Lalarukh, born in 1960, fell into a depressed state and SRK took on the responsibility of caring for her. Shahnaz continues to live with her brother and his family in their Mumbai mansion.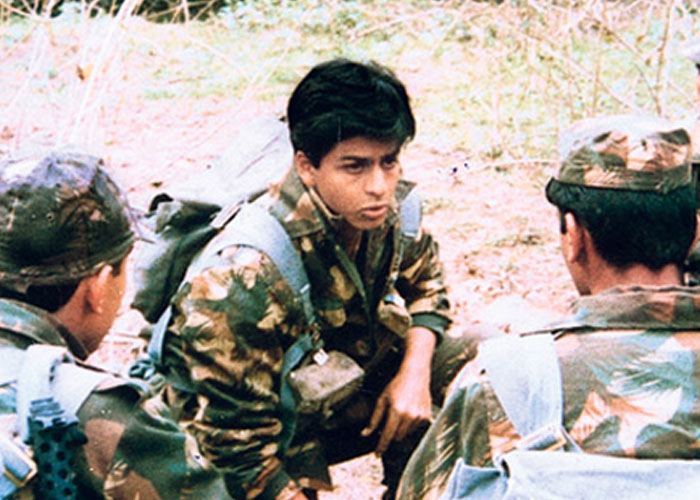 But these problems were soon over when he got his break for a TV show 'Fauji'. Portraying the role of Captain Abhimanyu Rai, SRK made his way to the audiences' hearts and producers' mind. (Pics: SRK @ 50- King Khan's top 10 roles)
His debut movie 'Deewana' became a hit soonafter. It's said that SRK's wife wasn't quite pleased with the success of the movie, for he then stayed back in Mumbai. But as destiny had it, even his movies as the solo male lead like 'Dil Aashna Hai', 'Chamatkaar' and 'Raju Ban Gaya Gentleman' scored well at the bo office. And the rest as they say is history. (Pics: SRK's best moments with his family)
Recently, when SRK gave his address at the University of Edinburgh, he intercepted his speech with references from his movies. But if his whole journey through all these years is traced, many a lessons can be derived. For one, when he acted in his first collaboration with Yash Raj Films 'Darr', many said that this decision would take his rising career down. But contrary to the popular belief, not only was Shah Rukh praised for his acting in the movie, there also began SRK's life long association with YRF. (See Pics: SRK celebrates birthday with fans)
His another negative appearance in 'Baazigar' opposite Kajol gained applause from all quarters.
Always ready to take risks and spread his wings, when SRK was offered YRF's 'Dilwale Dulhania Le Jayenge', already rejected by Hollywood superstar Tom Cruise and Bollywood star Saif Ali Khan, he accepted the challenge of transforming from a murderer to an absolute lover onscreen.
And that paid him extremely well. Not only is DDLJ a cult classic in itself, it's also responsible for giving SRK the stature of the most romantic hero in Bollywood.
With movies like 'Dil Toh Paagal Hai' and 'Kuch Kuch Hota Hai', Shah Rukh Khan just raised the bar of romance in the country and became, perhaps, a bane for all the men in the country. Girls were then swooning over SRK and dreaming of a partner like Raj or Rahul, immortalised by SRK.
"Publicly, I'm fantastically confident but sometimes I get weirded out by all the attention. I can't disrespect the fact that there are these people out there… not just the screaming, selfie-loving fans, but people who seem to truly love me. I can see it when the aunties come and the mothers come and the children come. They hug me, and sometimes they start crying. I don't know which is which… so, I make it a point to meet everybody with a lot of love," SRK was quoted as saying in an interview to Vogue magazine.
The roles in this phase of his career, and the series of romantic comedies and family dramas that followed, earned Shah Rukh widespread adulation from audiences, particularly teenagers. Yash Chopra, Aditya Chopra, and Karan Johar, moulded his image and made him into a superstar. And he became a romantic leading man without ever kissing any of his co-stars, although he broke this rule in 2012 for the movie 'Jab Tak Hai Jaa', after strong urging by Yash Chopra.
After a series of flops, and critical acclaim in 'Hey Ram', Karan Johar's 'Kabhi Khushi Kabhie Gham' and Aditya Chopra's 'Mohabbatein' brought him back to the game. Sanjay Leela Bhansali's 'Devdas', Nikhil Advani's 'Kal Ho Naa Ho' and Aziz Mirza's 'Chalte Chalte' further enhanced his stature.
It's often said that SRK is a star, not an actor. And for all those who really believe it, SRK's movies 'Chak De! India' and 'Swades' form the ideal anti-thesis. As an emotionally conflicted NRI NASA scientist in 'Swades' and the retired Hockey player in 'Chak De! India', who is fighting for his honour, SRK proved to the naysayers how he is a whole package and a phenomenon to reckon with.
With movies like 'Jab Tak Hai Jaan' and 'My Name Is Khan', SRK has consolidated his position as the ruler of Bollywood.
His luck and charm seem to rub off on his leading ladies too. He worked with debutante Deepika Padukone in 'Om Shanti Om' and Anushka Sharma in 'Rab Ne Banaa Di Jodi', both of which are the leading ladies of today's times.
SRK's stint with TV with 'KBC' and 'Kya Aap Paanchvi Paas Se Tez Hain' among others might not have been as successful as his movies, but his wits and spontaneity have always been a subject of adoration amongst his fans.
He is the most favourite host for the award events too. Be it his one liners or sarcastic comebacks, Shah Rukh Khan never ceases to be the quintessential "intelligentia" of the B-Town.
Not only SRK, with his charm and dimpled smile, has managed to sweep the lady in his movies off her feet, he has done it with every cinegoer in India and across the world. With the most fan following in American and English states, SRK stands tall as the most loved Bollywood star internationally.
His 'palat' from 'DDLJ' or 'K K K Kiran' from 'Darr' has hit a chord with every section of the audience, demographically and geographically.
The biggest lesson that SRK teaches, hence, is success might be elusive to you for a moment, but the way you approach it will define it for you. SRK defined it with sheer dedication, immense love and charm and loads of perseverance.
And despite all the love he receives, SRK never refrains from showing love to his family and especially his children. A doting father, SRK is always seen tweeting and talking about his sons Aryan and AbRam and daughter Suhana. When the actor isn't sharing his daily words of wisdom with the world, he's connecting with his fans between shoot breaks.
A day in one of the many SRK's followers gets more interesting with posts about his newly acquired honorary degree from the University of Edinburgh, a budding friendship with author Paulo Coelho and photographs with India's very first life size 3D print.
It's all about loving your family and SRK, quite effectively, convinces his fans, followers and admirers to learn that.
Today, when the superstar turns 50, here's wishing him a very happy birthday and happier times and thanks him for all life lessons that he imparted.
📣 The Indian Express is now on Telegram. Click here to join our channel (@indianexpress) and stay updated with the latest headlines
For all the latest Entertainment News, download Indian Express App.