Written by
Priyanka Sundar
| New Delhi |
Published: August 3, 2017 11:59:40 am
Bride And Prejudice and Bend It Like Beckham fame Gurinder Chadha's Viceroy House saw a star studded premiere in London and the Huma Qureshi, Om Puri starrer is looking forward to release in India on August 18. The Hindi version of the film is titled Partition 1947 and the director is happy to see that the film is releasing in India. The film is about the final Viceroy of India, Lord Mountbatten played by Hugh Bonneville and his role in the Partition.
A documentary for BBC was what kicked off her idea to make a film about Partition. She said, "I had grown up under the shadow of Partition as my ancestral homelands are Jhelummand Rawalpindi, now in Pakistan. Growing up in the UK I never had an ancestral homeland to go to, but when I did a BBC documentary I visited there for the first time and found other refugee families in my Grandfather's home. That's when I decided to make a film on Partition. A very human film that looked to show what happened and find a way to heal the wounds and scars of 70 years ago."
Inspiration behind the script:
"For the script, Paul and I (Gurinder Chadha) had been doing extensive research around the topic, reading books, watching films, plays and interviewing survivors of partition and their relatives. Originally, I had the option for the book 'Freedom At Midnight'. Whilst writing the first draft of the script, I happened to meet Prince Charles at a charity event for the British Asian Trust at St. James's Palace. I told him I was preparing a film about his favourite uncle, Lord Mountbatten, and he was interested in what source I was using for the film. He told me I needed to read Narindra Singh Sarila's The Shadow Of The Great Game because it showed how Mountbatten was used by the British Establishment. I was surprised to hear this from Prince Charles and managed to find the book the next day after scouring every bookstore in London."
Intention behind making this film:
"From the outset my intention was to show how partition impacted ordinary people. I wanted to tell the Upstairs-Downstairs version of Viceroy's House – so you have the political leaders making these huge decisions upstairs while their staff downstairs are left wondering what's going to happen to them after India is divided. When there is a war or political crises, life doesn't stop for ordinary people. We continue to fall in love, get married, have children. So, it was important for me to show a British-Asian perspective on the end of empire and how politicians on all sides determined the fate of real people around them."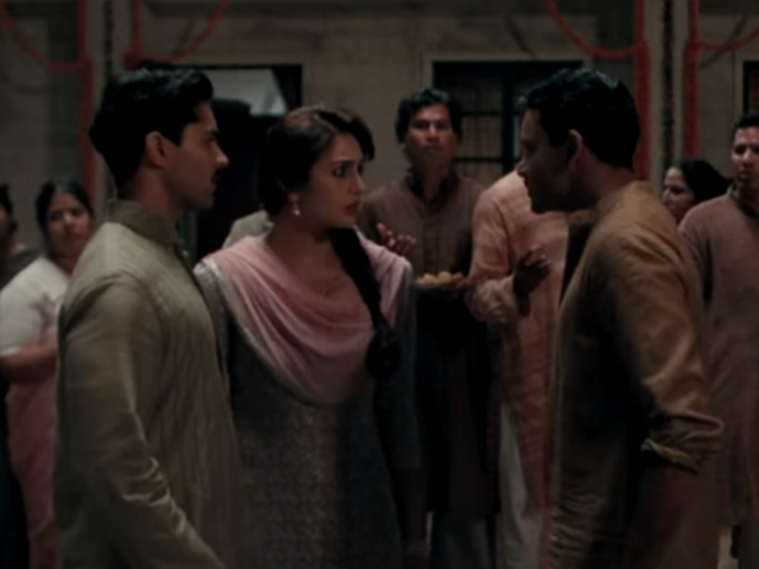 Does the film reveal the real reason behind partition?
"At school, the little I was taught about partition claimed that it happened because Indians were fighting amongst ourselves and the British has no choice but to divide the country because of the communal violence between Hindus, Muslims and Sikhs. So, it was somehow our fault.  What I realised during the research is that the history that I had been taught was totally a lie, complete lie. Partition was not about neighbours suddenly attacking each other after living together for centuries. It was a political act done deliberately for British strategic interests in India. So far people of all ages are enjoying the film because it shows our shared history from a different perspective. It is essential that we know our history and pass those stories on to future generations."
Watch | Partition 1947 trailer
Creative license or complete research?
"We did extensive research while developing this film: reading books, watching films, plays and interviewing survivors of partition and their relatives. These stories all influenced the final film. For drama, we have created some new characters but everything is based in research."
Why is Partition 1947 important?
"Most people in the world have no idea Partition even happened. This film has generated an incredible range of discussions in the UK and Australia, where it released earlier this year. I want people to be talking about partition, whatever their perspective, so we can ensure tragedies like this don't happen again."
Censor Board certification and the political situation in India – Does this beg for art to speak up?
"Art has always done that. Today is no different. My challenge is always to tell stories and record my history from a British Asian perspective. This is my cultural paradigm. Already my films have recorded our British Asian presence and view of the world – without them that visual history would be gone."
📣 The Indian Express is now on Telegram. Click here to join our channel (@indianexpress) and stay updated with the latest headlines
For all the latest Entertainment News, download Indian Express App.